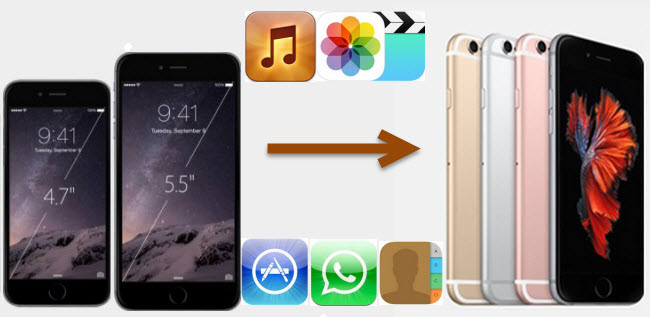 Congratulations to you on having a brand-new iPhone 6s at hand! You can take brilliant 4K videos and experience its magic 3D Touch screen technology and 12Mp iSight camera. All these wonderful experiences will almost make you forget how troublesome it is to switch from an old phone to the new one. However, one issue you still have to face is how to transfer data from old iPhone to iPhone 6s. In order to make it clear, the following content will introduce you three different ways to move data to the newly purchased iPhone 6s.
Easy Guide to Transfer Data from Old iPhone to iPhone 6s
1
Most Efficient Method– Apowersoft Phone Manager
This Phone Manager is perfect iPhone management software available on current market. It receives big name for its powerful transfer function. You can quickly transfer files between iPhone and PC and it usually takes a minute to switch from one phone to anther by using this transfer tool.
Download this application from the download button below and install it on your PC.
Connect both your old iPhone and iPhone 6s to computer through USB cable.
This app clearly categorizes the iPhone files into "Music" / "Pictures" / "Videos" / "Contacts" / "Messages" / "Notes" / "Apps". You can select the files you need to transfer from old phone to PC by clicking "Export" button. Next you can choose "Import" button to transfer these files to your iPhone 6s. Just a minute, you can transfer old iPhone data to iPhone 6s.

Once completed, choose "Disconnect" button to disconnect your iPhones from PC after completion.
This phone manager is also very versatile in many aspects. It allows you to backup mobile files like a breeze and makes it easy to restore files stored on computer. Besides, you can use it to transfer Android contacts to iPhone 6s or other Android files to iPhone. Or you can directly delete unwanted files to free up space or mirror your iOS device screen on PC in real time. With this handy tool, you can make full management of your iOS devices.
2
Traditional Method – iTunes
Connect both your iPhones to PC with the latest iTunes. Select the old iPhone in iTunes under Devices and further choose "File" > "Devices" > "Transfer Purchases" to backup those files you've downloaded from the App Store or iTunes Store. Finally, click "Back Up Now". To check whether your backup is successful or not, you can click iTunes "Edit" > "Preferences" > "Devices". Then you will view the name of your old iPhone and the latest and current backup.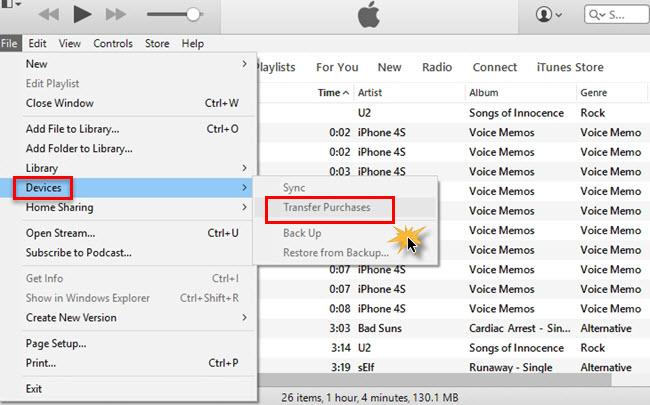 Now switch to your new iPhone and follow the on-screen instruction. When you are prompted to "Set Up iPhone", please select "Restore from iTunes Backup". Finally select the backup of your old device and choose "Continue" (Make sure that iTunes is displaying the latest backup of your old iPhone). After the restore is finished, your new iPhone will restart and it will be ready for use. You have to connect your new iPhone to iTunes to sync data which are not contained in the backup.
Be patient when you are restoring from the iTunes backup, because it is time-consuming to succeed transferring data from old iPhone to iPhone 6s. The time depends on the size of the backup and the speed of your Internet connection.
3
Fast Option– iCloud
In the past, iTunes was the only fairly straightforward method for iPhone users to move one iPhone's files to another. Luckily, now there are many other better options for user to end up a day-long ordeal and turn it into a simple transferring process. iCloud is such a good option. iCloud with its larger device capacity sizes, enables you to transfer your saved text messages, pictures, notes, email accounts and other personal settings to your iPhone 6s.
Run the "Settings" app and further navigate to "iCloud"> "Storage & Backup" or "iCloud" > "Backup" in iOS 8 or later. Finally click "Back up Now" to backup your old phone. The time spent depends on the data amount to be backed up. Next open your new iPhone. Connect to Wi-Fi, click "Set Up iPhone" and finally hit on "Restore from iCloud Backup". In this way, you can transfer data from old iPhone to iPhone 6s by using iCloud.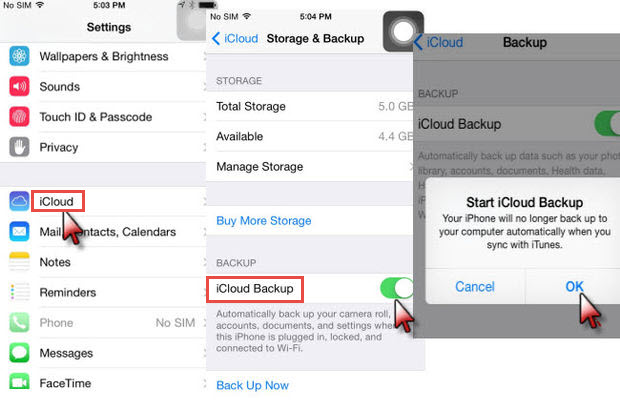 Conclusion and Comparison
when you use iTunes and iCloud to transfer data from old iPhone to iPhone 6s, it is highly recommended that you update your old iPhone to iOS 9 (rather than iOS 9.0.1) to make sure that you do not have any compatibility issues while moving data from your old iPhone on iOS 8 or lower to iPhone 6s running on iOS 9. While if you use Apowersoft Phone Manager, it can be more convenient and efficient, as it supports different iOS above 7.0 and just a few steps, you move data from one phone to another.