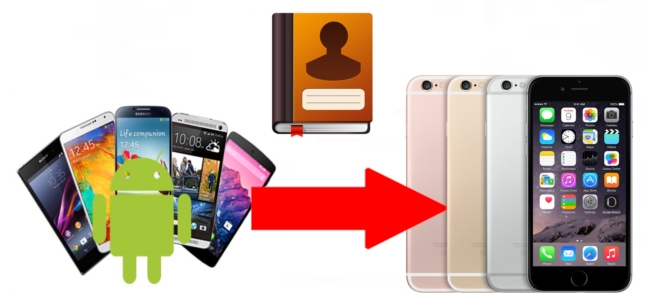 This September, Apple released iPhone 6s ceremoniously in San Francisco. Before long, it will be put on sale all around the world. For those people who would like to switch old Android to it, moving all the important data into the new iPhone is very necessary. Beyond all doubt, contacts are a part of them. If you are puzzled about how to transfer contacts from Android to iPhone 6s, find the right solution in this article.
Two methods to move contacts from Android to iPhone 6s
1
Using Apowersoft Phone Manager
This software is used for managing Android and iOS devices on the computer. The contents you can manage contain pictures, videos, music, contacts, messages, notes, apps, books, and files. With it, you can easily transfer these files between mobile phone and PC, or backup and restore data with one click. Besides, its interface is very user-friendly. In order to copy contacts from Android to iPhone 6s, you can follow this guide.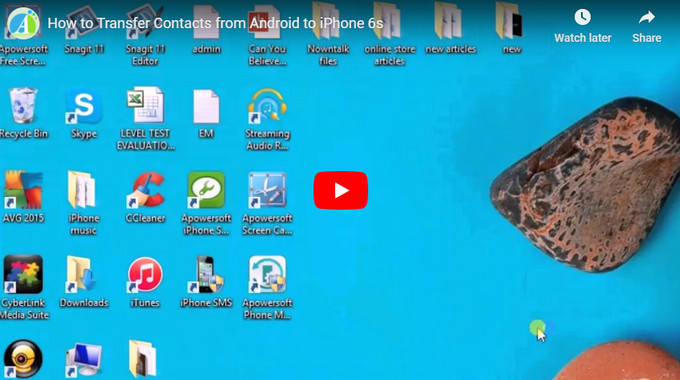 Download it on your computer. Then run the program.Download
On your Android, turn on "USB debugging" option. Connect your Android to computer with USB cable. Tap "OK" to build connection when windows pop out on your phone.
Once connected, click "Contacts" tab. Wait until all your contacts are loaded successfully. Select the contacts and click "Export". Choose a format and transfer.
When all the contacts are transferred to the computer, disconnect your Android and plug in your iPhone 6s. Tap "Trust" when a dialog appears on your iPhone.
After successful connection, click "Contacts" again and then click "Import". Choose the exported contacts and move them into iPhone. That being done, you can disconnect your iPhone.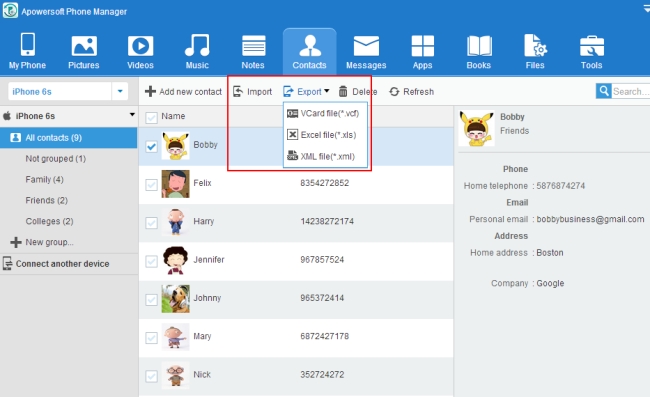 This tool can make sure that during the whole transferring process, no data will lose. That is the most attracting part for most people. Moreover, it transfers more than just names and numbers. Other information such as email, home address, company, department and so on will be synced simultaneously.
2
Using Move to iOS
If this is the first time you set up the iPhone, a smart and fast way to move contacts from Android to iPhone 6s is to make use of an app called "Move to iOS". This application is offered by Apple to help users to transfer content from Android to iPhone or iPad. It is compatible with Android 4.0 and up. Besides contacts, you can also use this practical tool to transfer messages, photos and videos in Camera Roll, mail accounts, web bookmarks and calendars. To know how to do it, read this instruction.
Download the app on your Android from Google Play.
Start your new iPhone 6s. After the standard process of setting up the language, country and Wi-Fi network, it will provide you four choices about Apps & Data: "Restore from iCloud Backup", "Restore from iTunes Backup", "Set Up as a New iPhone" and "Move Data from Android". Select the last one. Afterwards, tap "Continue" and a 10-digit code will come out.
Open "Move to iOS" on your Android and enter the code provided by the iPhone. Once the two devices are paired, choose "Contacts" and wait for the transfer process finishes.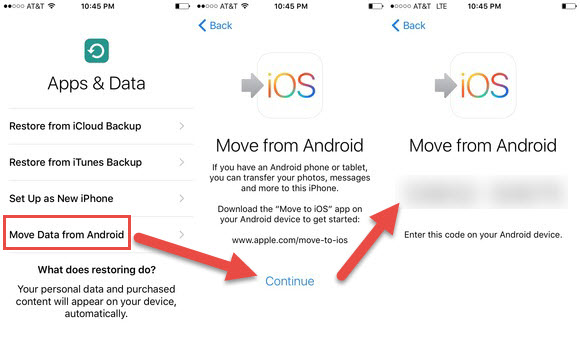 As you can see, the operation is quite simple. However, one of its biggest restrictions is that it only works for new or reset iOS devices. That means if you have already finished the setting-up steps, you are not able to use this way anymore. Apart from that, it is useless if you want to move music, downloaded videos or photos.
To export Android contacts to iPhone 6s, you can adopt either method introduced above. Personally, I think Apowersoft Phone Manager is more suitable for the public, as it is applicable for both new and old iPhones and it can transfer more contents with less time.