Ask
I recently bought a new Windows phone, so I hope to download some MP3 songs for it. See that I am a great music lover and I always enjoy listening to good quality music. I hope you can help me with this one. BTW, if you can suggest free tools to use that would be awesome. Thanks.
Answer
With iOS and Android getting a huge market share when it comes to mobile smartphones, the aggressive response of Windows phone can be greatly felt. More and more people tend of move their media entertainment onto smart phones including all well-known models like Nokia Lumia, HTC 8X, SamSung ATIV and others. It has also been quite easy for people to turn their mobiles into a portable music station, but there're questions on where to get the resources. Even though there's a parallel music store like iTunes for Windows users, we all want to get something free, so you may wonder how to proceed free MP3 downloads for Windows phone. Basically, there are two ways you could employ:
First is to download music files online then have it transfer to your phone using USB cable or similar software. This way enables users to save infinite music resources from the web free and quick.
Second is to install a Windows music app on your mobile device and use it to directly search, download or purchase files. This is good for everybody but not all music files from the app store are free, most of them come with a price tag.
Download MP3 for Windows Phone Online (Comprehensive ways)
Streaming Audio Recorder
Streaming Audio Recorder is a premium software which supports to download MP3 to Windows phone in a high efficient way. Say it in details, it provides three ways to download MP3s and facilitates to batch download MP3. Besides, it can record both internal and external audio files in a stunning 1:1 quality. Convenient batch downloading of MP3s, ultra-fast downloading speed, great Windows and Mac compatibility, ID3 tagger, music editing, and dedicated MP3 searching are just some of its features you can enjoy. Let's see how to utilize it in different ways:
Record MP3 – Play the MP3 you want and click the "Record" on main interface to grab the file.
Search and download MP3 – Switch to "Search" interface. Enter artist or song name in search box, click "Search Music" icon. Select MP3s in result list and click "Add to download" to start downloading.
Get MP3 from online video via URL – Simply copy the URL of the video containing music file. Click "Download" tab on interface, choose "Video to MP3 converter" and paste the URL into the popup Windows. Set the desired audio quality and save your file.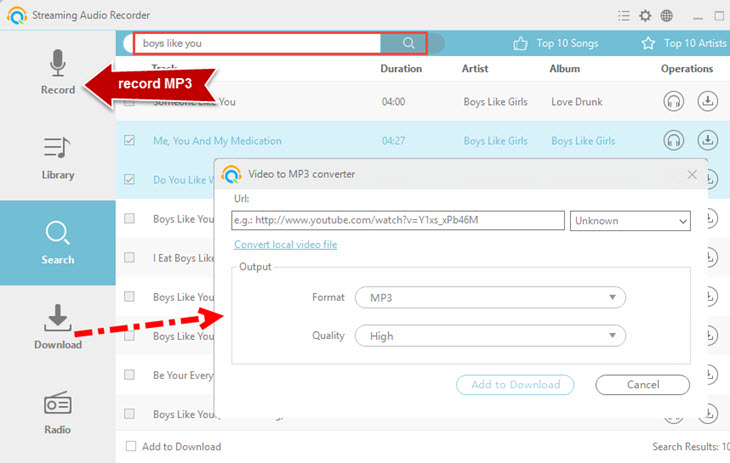 Apowersoft Video to MP3
If you neither want to install apps on your Windows Phone or setup a program on computer, you can use the Apowersoft Video to MP3. This web-based app is highly compatible with any computer operating system and can be used on any browser directly. It features a powerful MP3 search engine together with an online file converter so you can grab and convert all at the same time. Using this application is very easy, just follow the guide:
Open the main page of Apowersoft Video to MP3.
Type related keywords into the blank search bar.
Hit the "Convert" button and permit the launcher.
Choose the matching MP3 file from the results displayed on your current page and download it.
Open your local folder to find the downloaded MP3.
Connect Windows phone to your computer using the USB cable.
Open Zune and sync your files.

Apowersoft Free Online Audio Recorder
Unlike the first mentioned MP3 downloader for Windows phone, Apowersoft Free Online Audio Recorder features a high quality audio recorder that can copy MP3s played on your computer or microphone. You can even create scheduled recordings as well as convert files. To download songs from popular streaming websites such as MySpace, Spotify, YouTube, online radios and many others, refer to the detailed instructions below:
Launch the program by clicking "Start recording" on free audio recorder page.
Select the right audio source input on the tool's interface.
Play the MP3 you want to grab from their respective websites.
Click the "Record" button on the main interface.
Click "Pause" or "Stop" to finish the recording.
Locate the file on your hard drive then transfer it in your Windows phone.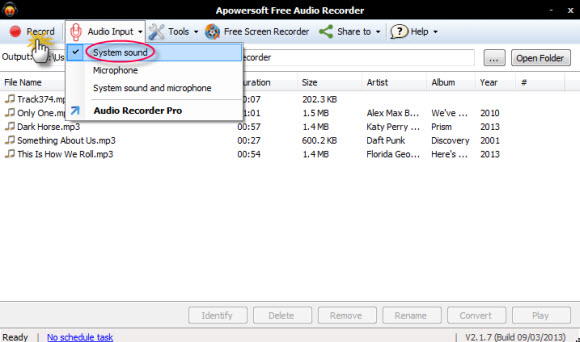 Fast Ways to Download MP3 on Windows Phone (Fast Ways)
Assuming that you don't want to download MP3 on computer then transfer it to Windows phone. You can use the mobile music apps to realize the one-stop MP3 downloads.
Groove Music – this application allows you to download songs to Windows phone as easy as counting 1-2-3. All you need to do is to install the program then search millions of songs ranging from classical ballads to rock music. The application itself is free from Windows Phone store but you need to have an Xbox Music Pass to be able to use this service. After which you can now purchase MP3s and download them directly on your mobile.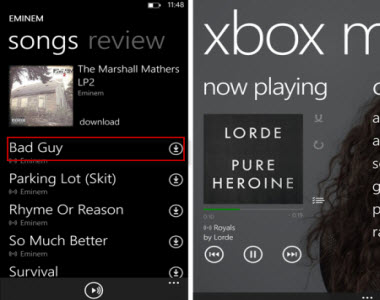 Amazing Music – if you don't want to purchase MP3s, try another great MP3 downloader for Windows phone which is named Amazing Music. Although it not a real music downloader, you can use it to stream music contents without paying a single cent. Yet, be reminded that this app uses internet connection so data charges may apply depending on your carrier.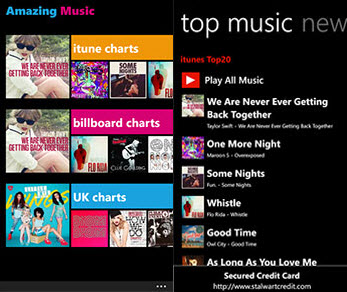 With so many available solutions, you can choose the most suitable one according to need.