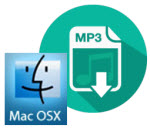 Listening to music is something that a lot of people love to do, including Mac users. They wish to download MP3 on Mac for listening songs on Mac and portable devices offline. That being said, a reliable MP3 downloader is needed. If you're one of these Mac OS X El Capitan, Mavericks or Yosemite users, there are various applications that you can use to save the songs you like. This review will give you a better idea on what your options are, so take a look and pick the best application that suits your needs.
Amazing Desktop Mac MP3 Downloader
1. Apowersoft Audio Recorder for Mac
Apowersoft Audio Recorder for Mac is a wonderful program that perfect for any type of user whether technically savvy or not. It has several advantages over online applications since you don't have to worry about the tool being down while making your download. Moreover, it records high quality sound like you're listening to the original source. Track information is automatically detected so you don't have to search or write them manually. Furthermore, it allows you to schedule recording, which is convenient if you wish to save music from an online radio station or web video. It's very powerful but it doesn't take a genius to use it.
Using this program, you not only can record sound from Mac, but also can record the voice coming from Microphone. Play the audio that you wish to record and click the red round button on the main interface. You can pause and resume, or stop once done. Go to the "Library" to check your downloaded files.
2. Jaksta Music Miner
The next MP3 downloader for Mac we will get to know is Jaksta Music Miner. When you open this tool, there's an "On/Off" slider at the lower left of the interface. Turning it on will enable the miner to automatically download music that you play online from compatible sources, including YouTube and Pandora. When it's turned off, it will not download. You will see the iTunes icon when you hover you mouse next to the downloaded track. Clicking this will automatically copy the song to your iTunes. However, it cannot save music on all sites or from external devices, and it also doesn't have a schedule option.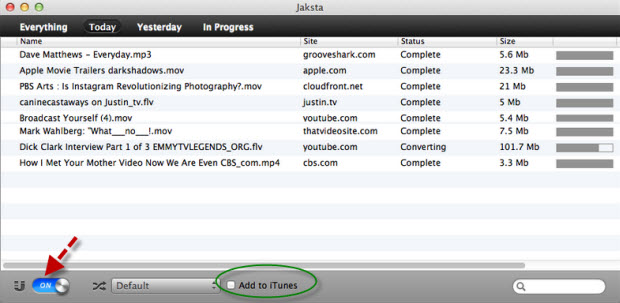 Cool Sites for Free MP3 Downloads for Mac
The three options that we'll be tackling are web based applications. The biggest advantage of them is that you don't need to download them as all you need is your browser and Internet connection. In this case, they overcome the issue that some music programs don't run stable on the latest OS X El Capitan. Let's take a look at them one by one.
1. Apowersoft Video to MP3
This free MP3 downloader for Mac is very straightforward. Enter the title, artist or album of the song you wish to download on the appropriate field under the "Search" tab and click "Search" button, the result will display and you just have to click on "Download" below to the file you wish to save. Besides, the site provides you the chance to listen to the files first before downloading them so you can test the audio quality at will. The app is totally clean, just assured that you won't be bothered by useless ads and harmful viruses during the operating.

2. Jamendo
Our next option is for those who would like to support independent and budding artists. Jamendo is a platform for these artists to promote their music and get popularity. Search or browse on the songs and then when you play one, you would see a "Download" icon at the left side of the title. Click the said icon and choose "Free download" on the window that pops up. That's how easy it is to save a song, although you wouldn't be able to download a part of music free.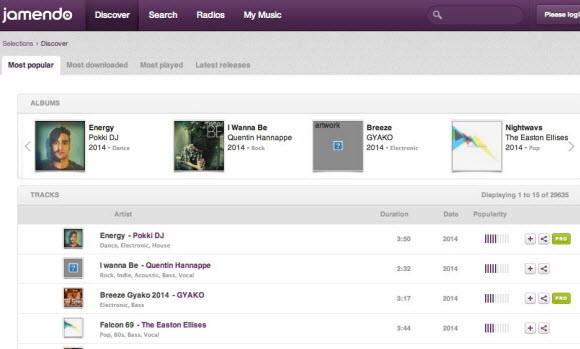 3. ListentoYouTube
Like the above tools, ListentoYouTube is also very basic. The site can be served as a music search engine, MP3 downloader and video to audio converter. With it, you will be able to convert YouTube, Vevo, Facebook, Metacafe videos to all the audio formats with ease. Just input to URL to the download field and choose "Go", you will be asked set the output format. Then, make your choice and save the song on your Mac. In addition, you can enter the song title to find the targeted music video and save the video or MP3 as you like.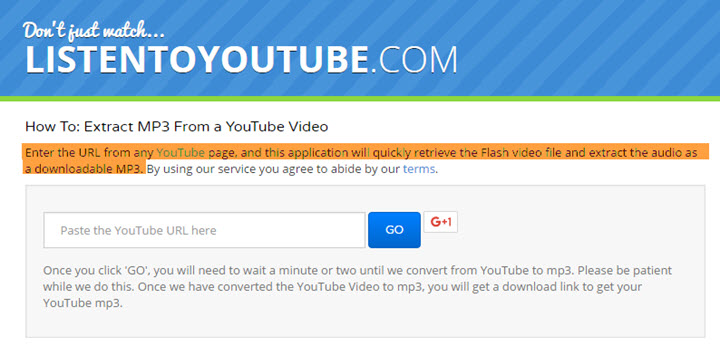 Conclusion
After read the review about best free MP3 downloader for Mac, we will know that the online sites are ideal if you prefer not to make any software download. However, bear in mind that these tools sometimes may go down and you will not be able to use them. Jaksta Music Miner is a good option if you prefer to download music from video hosting sites. Yet, if you need more features like scheduling downloads, ID tagging and audio managing, then Apowersoft Audio Recorder for Mac is the best choice for you.