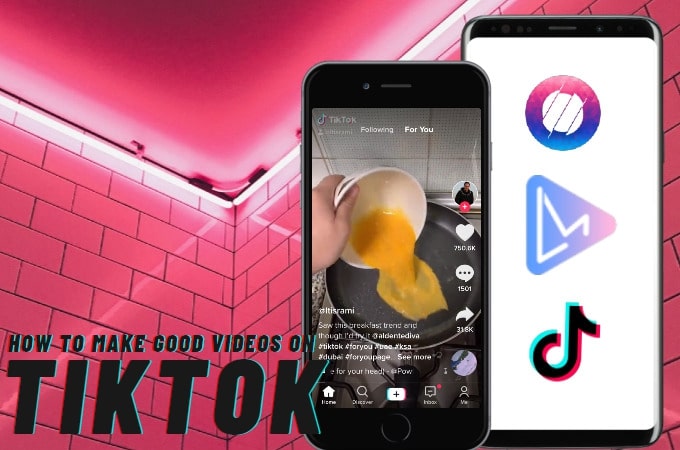 TikTok is one of the most downloaded social video sharing apps by teenagers. Although it is one of the latest apps, it's actually more popular than others like Snapchat, Instagram, and Musical.ly. Furthermore, this app lets users share short videos of dancing or singing. With its rising popularity, people are looking for the best way on how to make videos on TikTok. Despite this, there are only limited apps that can help you edit your TikTok video. Luckily, we have gathered the best mobile app for iOS and Android platforms that you can use to create excellent videos on TikTok.
3 Apps for Making Videos on TikTok
How to Make Videos on TikTok
LightMV
LightMV is a professional video editing app that you can rely on to create good videos for TikTok. Not to mention, its user-friendly interface is great for first-time users just getting started. Moreover, it provides well-design video templates that you can use to create videos for business, casual occasions, TikTok, and more. In addition, its cool features will transform your footage into a fantastic TikTok video. Besides, you can save the video in Full HD and share it to Facebook and Twitter instantly. You can see the simple steps below on how to create videos on TikTok using LightMV mobile app.
First, go to Google Play Store and App Store to download and install the LightMV app on your mobile phone. Then, launch the app to access its main interface.
Second, choose your preferred template for your TikTok videos.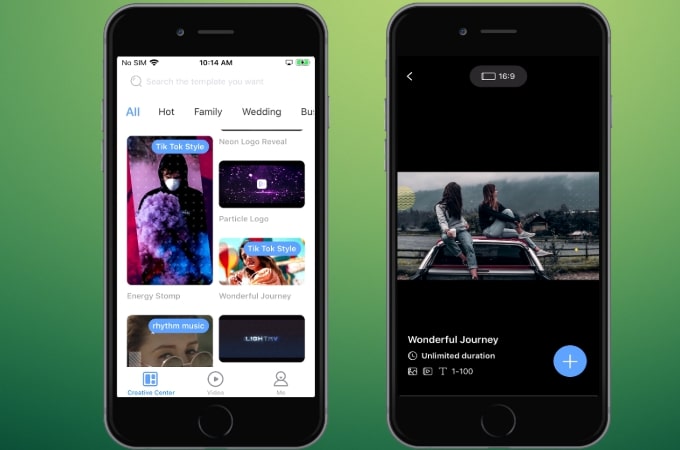 After choosing a template, tap the "+" icon to upload photos and videos and proceed with its editing function.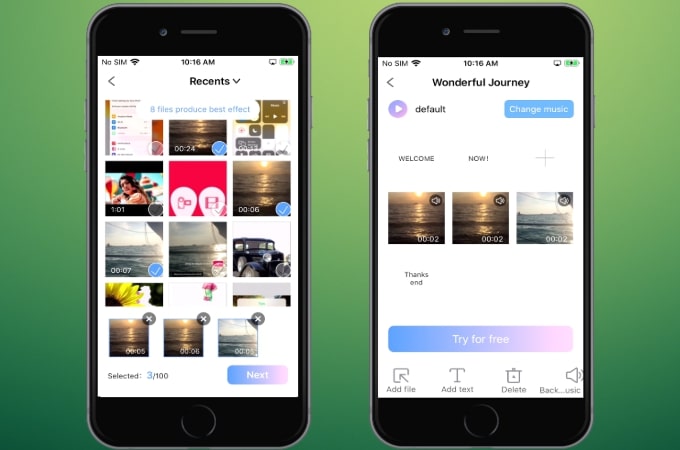 From here, tap the "Add text" button to insert the text you want to include in the video. Next, go to the "Change music" option and hit the "Upload music" to import the audio clips on your mobile phone.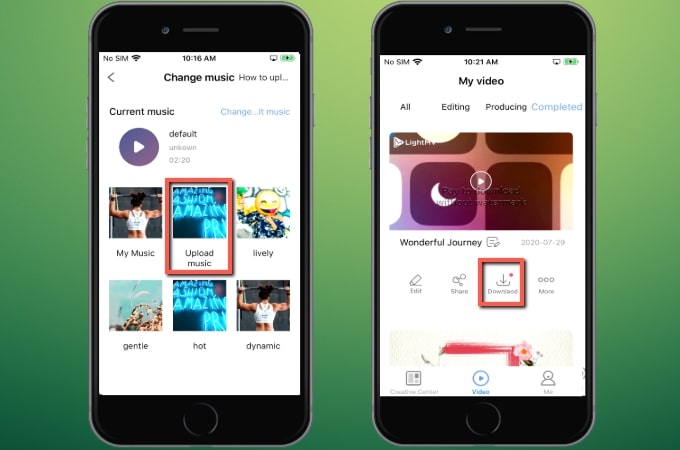 Once done, tap the "Try for free" button to process the video. Lastly, hit the "Download" button to save the video on your mobile phone.
TikTok
As stated above, TikTok is one mobile video-sharing app that allows you to create short videos for 15 to 60 seconds. Furthermore, it has some simple editing functions that you can use to improve the video while dancing, lip-syncing, and many more. You can cut, trim, and adjust the video to remove unwanted scenes from video. Meanwhile, you can insert multiple elements to the video, including text, filters, effects, and stickers.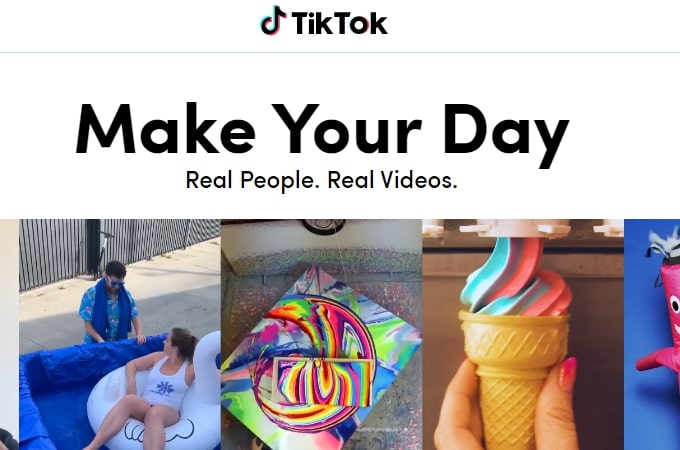 Features:
Its intuitive user interface.
Accurate facial recognition feature.
Rich collections of filters, effects, and stickers.
Extensive music library.
Triller
Triller is another social video platform like TikTok that you can use to produce a video with background music. This mobile app is downloadable for both iOS and Android devices. Also, it allows you to create videos in just a few taps for trends like the Savage and InMyFeelings challenge. In addition, you can also share videos on different social media platforms like Instagram, Twitter, and Facebook.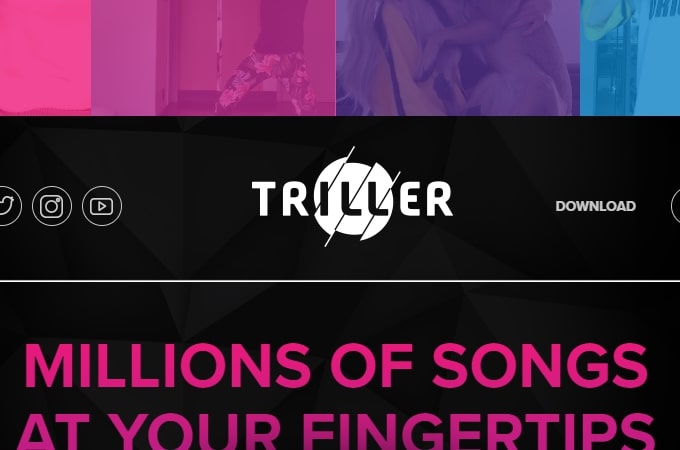 Features:
Unique auto-editing algorithm feature.
Capable of editing with your colleagues.
Provides top trending tracks on its music library.
Supports social media sharings.
How to Make Good Videos on Tik Tok
Now we want to list a few simple tips to make an excellent video on TikTok. Furthermore, these will help you to create amazing content for different purposes on your TikTok. Lastly, you can see the tips on how to make good videos on TikTok without experiencing any hassle.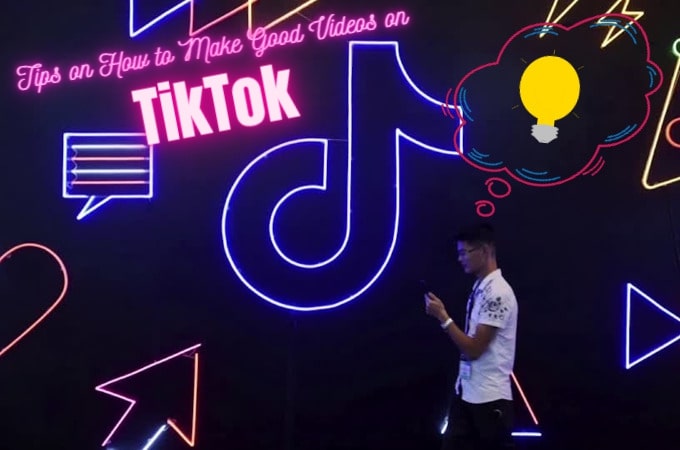 Keep it informative
Most of us think that the videos shared on TikTok were created just for fun. But actually it's also one of the perfect platforms to share some knowledgeable content. Try to create engaging content with valuable information using its built-in video editor.
Make a video tutorial
For an excellent video, create a video  tutorial to explain trending challenges on the TikTok app. For example, make a tutorial about dancing, cooking, cleaning, workout tips, and many more. Meanwhile, you can insert text using different font styles to make the tutorial video more interesting.
Involve current events
Try to include current events on your videos to attract more viewers and wider audiences. Moreover, covering popular events can have a significant impact on your popularity. Also, you can tackle some issues related to a specific event to engage your viewers.
Create or join viral craze
It is important to join some of the viral dance crazes on TikTok like Renegade, Say So, and many more. Or, you could also start your own dance craze using some of the popular soundtracks available on TikTok. In addition, you can invent some tricks or moves for eye-catching videos.
Collaborate with other creators
Lastly, try to collaborate with other TikTok users. This is one great way to gain more popularity on TikTok. Working with others will open you up to different audiences. With that, you can easily promote your channel.
Conclusion
As we mentioned above, these are the most beneficial apps that can help you with how to do videos on TikTok with great ease. Aside from that, we also listed some things you can consider in making good videos on TikTok. However, LightMV is the best app that you can rely on to create excellent videos on TikTok. In addition, this offers highly-customizable templates that allow you to create videos using your Android and iOS devices.