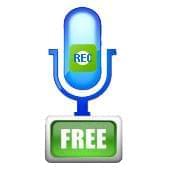 A music lover probably wants to record online songs from music-sharing sites like Pandora, MySpace. A guy who keeps up with current event possibly likes to record Internet radio from his favorite radio channels like VOA, CNN. A foreign language learner is likely to record his or her own voice to check out pronunciation and intonation of his or her speaking. Out of interest or out of necessity, most of us record voice a lot.
To record voice, you may have applied a quantity of tools including smartphone or desktop client with costs. As far as I am concerned, among all those tools, Apowersoft Free Online Audio Recorder would be your superiority considering its wonderful practicality.
The Main Features of Apowersoft Free Online Audio Recorder
For your convenience, Apowersoft Free Online Audio Recorder provides a web-based service without any payment. Namely, you are allowed to free record voice online during the whole process. Let me have a description on its main features.
Firstly, user-friendly enough, it is easy to operate. Even by clicking two buttons successively, "Start" one and "Stop" one you would have the voice recorded. With the app, you are free of downloading or installation.
Secondly, it has no limitations on recording time. You could record voice clips online as much time as you want. When finishing recording, the app also supports you to convert recorded audio format to another one.
Thirdly, it is able to record system sound, microphone sound and the combination sound of the two. Whichever, the high quality sound is surely guaranteed.
Fourthly, it enables you to create scheduled tasks. Only if you have set a time specifically, the app would record system sound at that time automatically though you are not at the computer table.
Fifthly, it is highly compatible with both Windows OS and Mac OS. It performs well on either system with any web browser including IE, Chrome, and Firefox.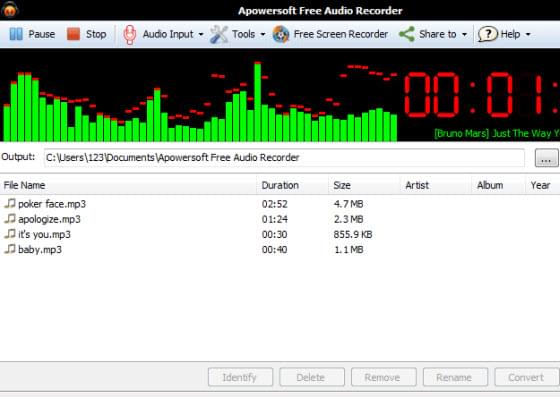 Tips on How to Record Voice Online with the Application
At the first place, basically you are suggested to have a look on "Audio Input", making sure the right audio path you have selected. For example, if you want to record vocal online, you should choose "Microphone" on drop-down menu so that you could successfully record voice from microphone.
Afterwards, go to "Options" on the "Tools" tab to choose audio format if needed. The app tends to record voice online as MP3 file automatically. So if MP3, the default one is not exactly what you want, you could change it to WAV, OGG or others. Besides, you could do other settings including keyboard shortcuts at your will.
Next, click "Start" button to start recording and "Stop" button to finish it. In this way, the recorded voice on audio format is automatically saved. During the process, you could have a pause at any time. So you are able to have a rest on halfway when you record vocals online.
Conveniently, as I mentioned above, you are suggested to create schedule tasks as you incline to record voice clips online at a specific time. Only if you set start time and stop time of a recording (duration of the recording), it would start on time whether you are at computer table or not at that moment.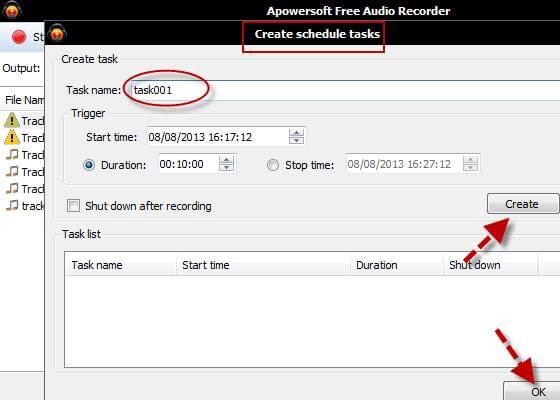 With concise interface and easy operation, Apowersoft Free Online Audio Recorder is one of the most practical tools. It is worth to be the top choice for you to free record voice online.