The technique of extracting audio from MP4 is gaining popularity and we see many people often do this job. Well at the very behest the question that comes to mind is why people have this need? What are the key advantages of it?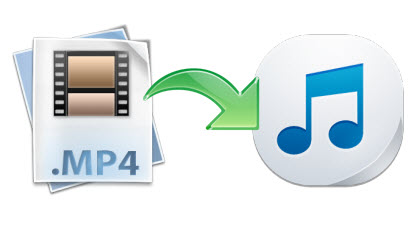 Compress file size: As a result of this the storage of music digitally becomes a lot more convenient, and space availability is a major plus.
Flexibility: Once users extract sound from MP4, it gives a lot more flexibility. You can easily enjoy the audio on your computer and transfer it to other portable devices like iPod, iPhone, PSP and Zune, etc.
Easy to deliver: Last but perhaps the most important, the audio is easy to share on social network sites with more people, and you can send it to your friends with ease.
Comprehensive Ways to Extract Audio from MP4 Video
1. For local MP4 files
When you need to extract audio from local MP4 files, Apowersoft Free Online Video Converter is one of the primary options. It is absolutely free with no limitation. The best feature is that it is capable of converting MP4s to any type of audio format like MP3, WAV, WMA, FLAC and OGG. High quality output, easy operation and a simple user interface are the other benefits. Just follow the guide to extract audio from MP4:
Step 1: Open the online converter, click the "Browse" button, choose the MP4 from your hard drive disk.
Step 2: Once you have located the source video, choose the output format you would prefer.
Step 3: All you have to do now is to click "Convert" button and wait for the conversion completes.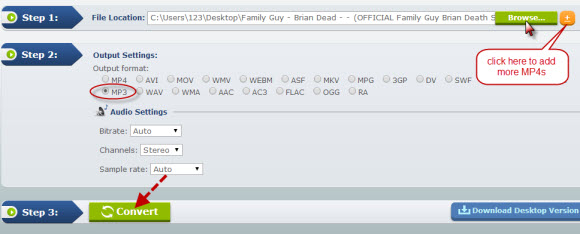 To improve the efficiency, you can add several MP4s and extract the audios at the same time.
2. For online MP4 videos
Nowadays, watching web streaming videos is a popular activity. If you wish to extract audio from MP4 online, here are two options:
a. Apowersoft Free Video to MP3: This app allows users to convert online videos to any audio formats of choice. It does not require installation of any plug-in and very intuitive. Compatible with all web browsers and operating system is a big positive. It can convert online videos from YouTube, Vimeo, Dailymotion, Vevo and others.
Copy the video url from the website/online source and paste it in the download box on the MP3 extractor page.
Just click "Convert" and adjust the default settings according to your preference.
The final step is to hit "Download", and choose a folder for placing the extracted audio.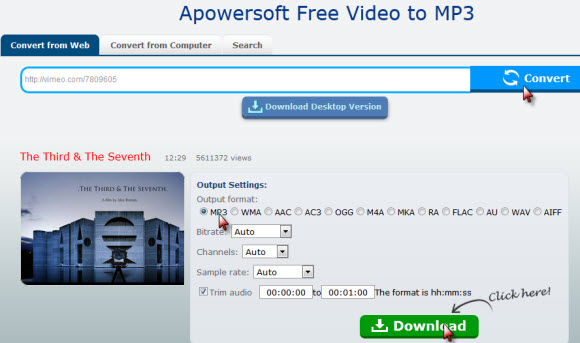 Except extracting audio from MP4, some of the additional features of this app include:
It helps to trim audio online.
It supports to search for music videos from the wide range of video websites.
b. Streaming Audio Recorder: Streaming Audio Recorder is a comprehensive program. It can record audio from your computer's sound card as well as the microphone and then convert it into a desired format. One of the most striking features is that it can extract audio in batch. According to your need, you are allowed to do this job in different ways. First download the software:
Below are the two ways to extract audios.
The first method is to use the "Video to MP3" function, just select it from "Tools", then a window will show up. Paste the url of the source video into the address bar and choose the target format and quality. Next, click "Add to download" to extract audio from MP4.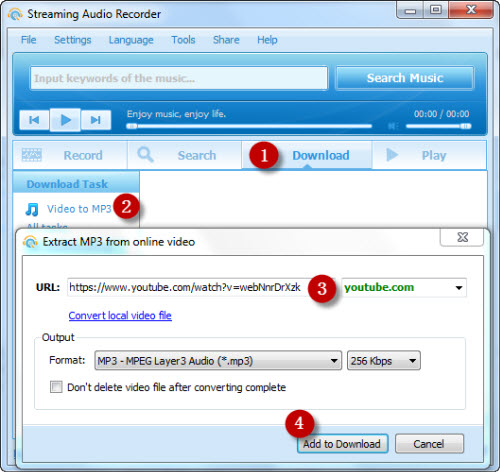 Note: You even get the option to save your preferred videos, just tick "Don't delete the video file after converting completes" before hitting "OK".
However some online MP4 are encoded and you may not be able to download using the above mentioned method. In that case it, "Audio Recorder" function comes in handy.
Tap the "Record" and hit "Settings" on the interface.
Set the audio input source to "System Sound".
Play the web video and click "On" to save it as audio.
End the recording procedure by clicking "Off" icon.
Hit "Open Folder" to find the audio that you just recorded.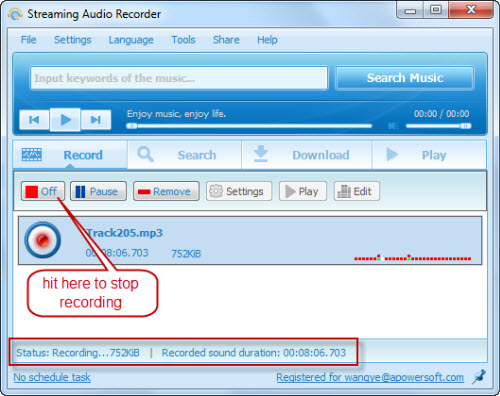 Conclusion
We all know that there are various of online tools and desktop programs that can extract audio from MP4 video. The merits of online tools are that they don't need to install extra extension which means that they can be used directly. However, they can be unstable at times and the speed is being restricted. Then, if you have advanced needs, the program like Streaming Audio Recorder is highly recommended.