Being an electronic form, PDF form can be used to collect any type of data which anyone can share with other users through email or over the internet. There are some reasons why users prefer to export PDF form data which include the following:
By exporting PDF form data, it's easy to share data with different users since the newly created file will be smaller in size compared to the original file.
If you extract PDF form data you can use it on other applications such as spreadsheets and databases including MS Excel and MS Access.
Below are some of the software and applications you can use to export data from PDF form.
PDFill PDF Form Filler (free)
Using PDFill PDF Form Filler is very effortless especially because the application is available freely. Below is the procedure on how to export PDF form data.
Open the Particular PDF form using PDFill and fill it out.
Go to File option. Choose Import/Export Forms Data. Then click the option Export and export the PDF form data into a text file.
Choose a specific location on your computer and save the new file either as an Excel or txt file.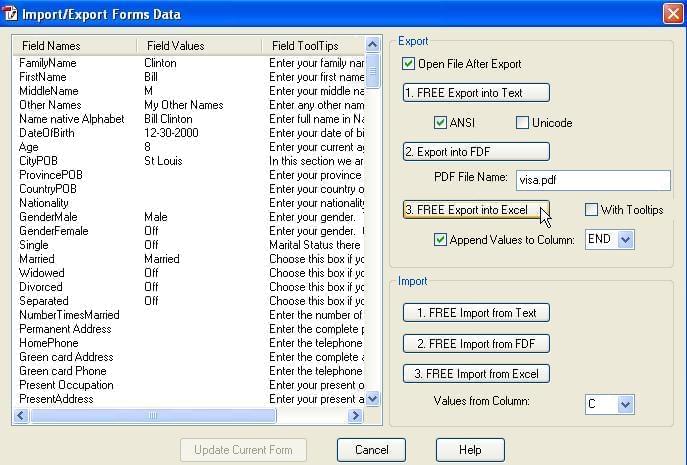 NB: To make sure the extract/export data from PDF form procedure is done properly; make sure the original form for the export and the other form match exactly to prevent any data from being ignored.
Using Adobe Acrobat to extract PDF form data
Before you export PDF form data to excel, make sure you have installed Adobe Acrobat on your computer. Using the steps outlined below, start the export/import process of the data from your PDF form.
Start by opening the PDF form from which the data is to be extracted using Adobe Acrobat.
Then click Export found under the option File on the menu. This immediately opens the various available options for export of data.
Choose either Text (plain) or text option which allows you to save the new file in a specified location on your computer. Thereafter, you can choose to import the data into other spreadsheet, database and many more applications on your computer.

Using Apowersoft PDF Editor to export data from PDF form
With Apowersoft PDF Editor, you can easily edit your PDF forms, import and export data. First, you can use the application to design your own PDF forms from readily available templates. Next, you can edit, fill in and save your PDF forms with this shareaware. On the other hand, using the 6 interactive fields provided by Apowersoft PDF Editor which include radio button, list box, button, text fields, check box and drop down you can either export/extract data from PDF forms to other applications such as Excel or FPF.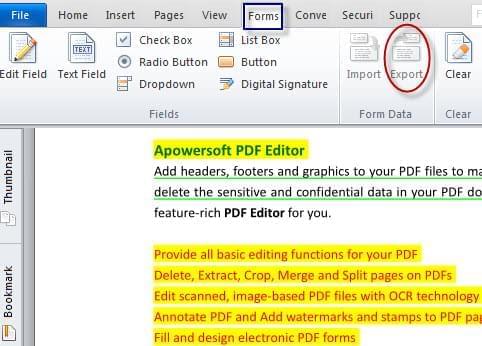 Other advantages associated with using Apowersoft PDF Editor include the following:
With very high conversion speeds, the application also allows you to convert PDF files into other formats applicable with other programs such as Word, Excel etc.
The application utilizes OCR technology which makes it easier to access text available on images.
Using Apowersoft PDF Editor you can also manipulate PDF files by cropping, editing, deleting or adding text.
Lastly, the application, allows you to sign and secure your PDF document by creating passwords and signatures.
In conclusion, compared to PDFill and Adobe Acrobat, Apowersoft PDF Editor is the best choice for extracting or importing PDF form data, thanks to the various advantages that necessitate the basic functions.