PDF files are accepted universally because they can be opened with various OS systems or devices such as iPads, iPhones and computers. Some of the advantages of using PDF files include the following:
Compared to the original files, which may be Word documents, they are smaller in size. Once a file is converted into PDF, there is no change in the format used.
PDF files provide safety and security because the creator can add passwords to prevent other people from manipulating his/her document in any way. Therefore, it is difficult to change text in PDF file, which also prevents crimes such as plagiarism etc.
Free software has been invented to aid in reading PDF files since they are universally accepted. Once the owner downloads and installs any of the PDF readers, he/she can access PDF files from any devices such as computers, iPads or smartphones.
As what mentioned above, modifying a PDF is not easy. Are you also looking for a way to change the content in PDF file without any hassles? Don't worry! ApowerPDF can easily help you make it possible. Also, in this article, we provide another two solutions.
How to Change Text in PDF with ApowerPDF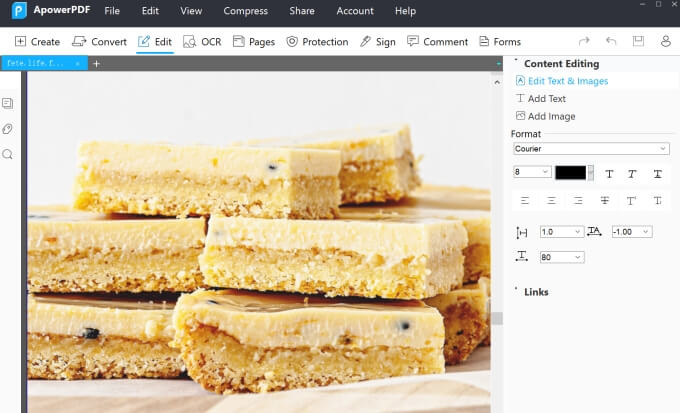 ApowerPDF, developed by Apowersoft.Ltd, provides many simple and advanced functions to help you change text in PDF file. Apart from editing texts, you can also use this PDF editor to change text color and font size in PDF. If you want to emphasize the importance of any text in the PDF you can easily add strikethroughs and underlines to any text. add images and text. And you are able to insert, move and delete text and image in PDF and many more. This program now has Windows, Mac and iOS version, they are all easy to figure out how it works, here we will take Windows PC version as an example to help you learn how to change text in PDF file with ApowerPDF.
If you want to learn how to change text or edit PDF on other devices, you can check the articles below:
Get the program on your PC.
Open a file with the program and go to the "Edit" tab.
Click the "Edit Text & Images" button and hit the content in the text box to change text in PDF. If you want to change the font, you can select the text and then change the font size, color and more.
Other features of ApowerPDF you can use to modify your PDF file include the following:
Enables to change the font size in editable PDF forms by double clicking the text fields – go to "Appearance" in "Properties".
Provides security by allowing the user to sign the PDF file, providing a password to protect the document etc.
Converts documents into other editable formats such as Word, Excel or PowerPoint.
Alternative Programs to Change Text in PDF File
Adobe Acrobat DC
Adobe Acrobat is renowned for the best PDF reader or editor. However, Adobe product may be a little expensive for common PDF users. Adobe Acrobat DC is a new version upgraded from the previous Adobe PDF products and improves in function and interface. Now let's use Adobe Acrobat DC to change the text in PDF file.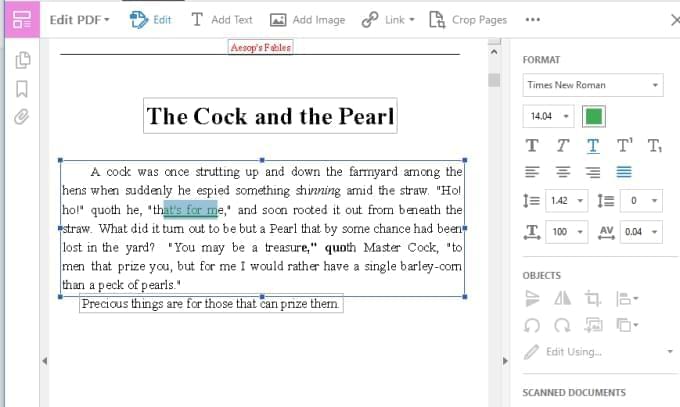 Launch Adobe Acrobat after installation. Open the PDF document you want to edit with the application.
Go to Tools and click "Edit PDF".
Add the text or modify the content in a PDF according to your need. Also, you can change the font of the words.
Open Office
Using Oracle PDF Import Extension in Open Office, you can easily change PDF text for free. Using this program you can convert all PDF files, edit objects in PDF format and also convert images in the PDF document to vector images. This free program is also available for multiple OS including Mac, Windows etc. Use the steps below to change text on PDF using Import Extension in Open Office.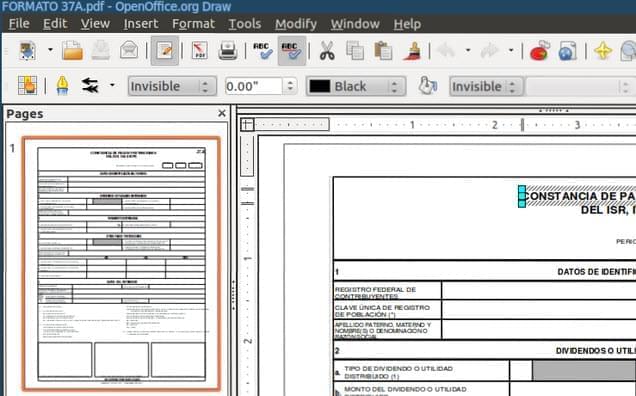 Download and install the Open Office application in your computer. Launch the PDF Import Extension.
Go to Open Office Draw and open the application. Next, open the PDF file you want to edit or modify.
Double click the preferred text for edit and change it accordingly. If you want to add new text to the PDF file, choose the text link found at the bottom side of the window and click where you want to add new text on the PDF document.
Export the file as a PDF by clicking the PDF link after you have completed editing the PDF file.
In conclusion, there are various reasons why anyone may want to change text in PDF file. For instance, you may want to edit, modify, delete or insert new text to make your document better. Thanks to the software and applications listed above, you can easily manipulate any text in PDF documents accordingly.