Online music playlists have become increasingly popular because they listen to their favorite songs in organized ways with great convenience on web. Creating an online music playlist doesn't take up precious space on your computer, so it's really an ideal option for streaming music online or listening to music files in local drive.
If you want to listen to your playlist created on radio station or other media sites, downloading them is the best way to enjoy music anytime you want. After you download music playlists, you can save dozens of songs and add to your collection easily. Plus, you can choose to transfer the downloaded tracks to your media players or smartphones so you can listen to music while on the go. A great way to download entire playlist is to use a reliable program that can download multiple songs easily and quickly.
Online Application to Conduct Free Music Playlist Downloads (For Windows)
Apowersoft Free Online Audio Recorder is a free web-based tool that lets you record songs online from your computer's system sound or microphone. It's very easy to use as it only takes a few clicks to download playlist songs.
Here's how you can use this online audio recorder to record your playlist:
Click "Start Recording" on audio recorder page and wait until the application loads completely.
Click "Audio Input", choose whether you'd like to record from your system sound, microphone or both.
Click "Start", and play your desired songs to start recording, click "Stop" once done.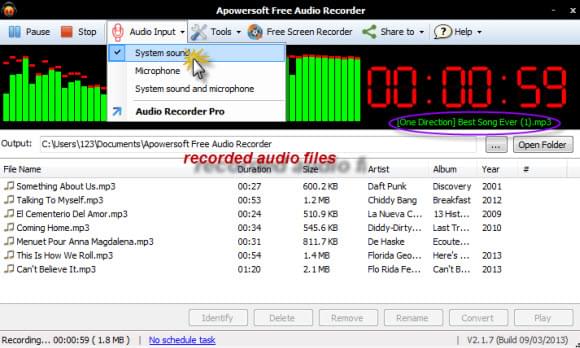 And that's it. Repeat the operation to record as many songs as you need in the music list. Your downloaded songs will instantly appear on the list. You may right-click on each audio file to play, rename, delete or convert.
The main advantage of using this application is that you don't need to install any software or plug-ins, and it's free of charge. You can download music in HQ and convert audio files to different formats at will. There's also no limit to the length of recording time. However, the major disadvantage is the considerably time-consuming process. You'll have to spend plenty of time to play the entire playlist in order to download all of the songs. Also, if you're a Mac user, this software may not work for you.
How to Download Music from Playlist Efficiently (For Win/Mac)
Streaming Audio Recorder is a powerful program works on both Windows and Mac, it records audio from system sound and microphone, converts audio files into a wide selection of formats, and features a search function that lets you find your favorite songs. It can also edit music and even burn songs to CDs.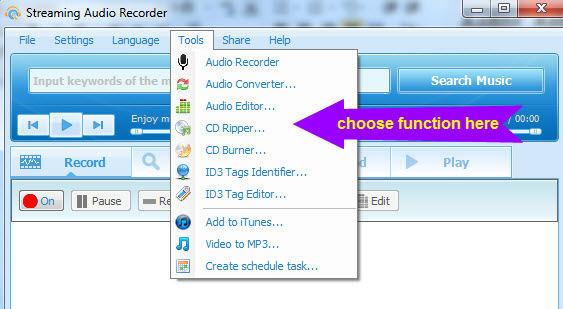 The main advantage of using this tool is that it doesn't simply allow you to record your playlist, it also lets you search and download music from various online sites. Plus, it offers numerous genres of radio stations that you can add to your list of favorites, record, or share with friends on social media sites.
After successful installation of the program, follow these steps to download music playlists using Streaming Audio Recorder:
Option 1: By recording
Play music playlist online. Then, back to Streaming Audio Recorder interface, click "On" under the "Record" tab to start recording songs. While recording, you can pause and resume the process if necessary. When it completes, hit "Off" icon to stop playlist record.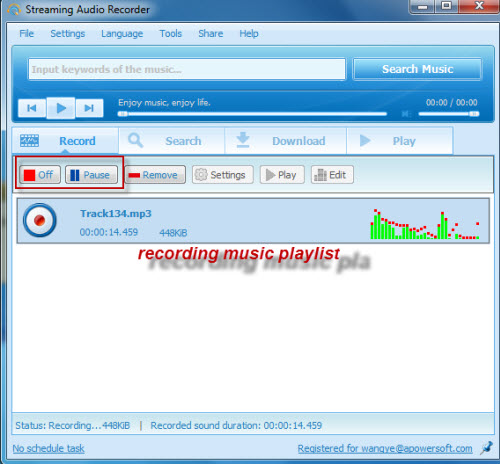 Option 2: By downloading
Find your desired music playlist, copy the link address on the webpage. Then click "Download" tab on program's interface, choose "Video to MP3" function and paste the URL into the popup window. Select output format and quality, click "OK" to download the playlist. When the download completes, click "Open Folder" to find the songs in the destination directory.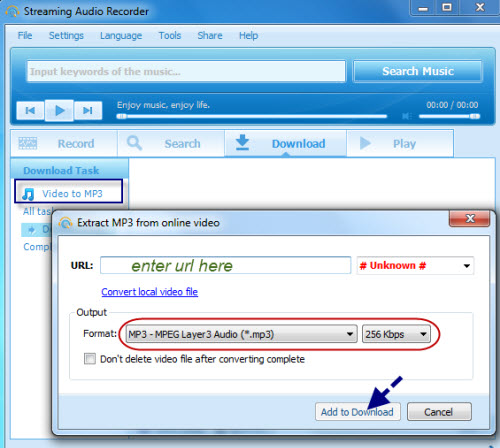 It's the easiest and fastest option to download music and convert into MP3. Comparing with recording songs, this option allows you to download songs from playlists in batch.
After downloading your music playlist, you can transfer them to Apple devices with this tool. Just choose "Add to iTunes" under the "Tools" tab, load the audio files in playlist, then click "Start" to convert playlist and sync it to iTunes library. The last thing is to connect your gadget to computer and update the music data. Okay, now you can enjoy wonderful music whenever and wherever.
Compare the Two Ways
Apowersoft Free Online Audio Recorder is a basic tool that offers useful features such as recording audio and converting music into different formats. If you don't want to install anything, and you're looking for an online application that you can use on your browser directly, then this is a good tool to use. On the other hand, if you need better features and functions like downloading MP3 directly, editing music, creating new playlists, and burning songs on CDs, then Streaming Audio Recorder is a much better option. It's a versatile and highly recommended program that lets you do more than just download music from playlist.
Related Topic: Sites with Free Music Playlists
Stereomood – This site allows you to search music playlist by artist, theme and mood. On the homepage, you can see a blank search box. Then just type your mood into the box, the site will help you turn your feeling into related music. While listening to the playlist, you can add the tags to it and save it to collections. Besides, Steremood is able to memorize your browsing history. Once you open the site, it will load the playlist which you played last time.
Mixmule – Mixmule has versatile content for it is a user's-generated site. It updates in the real time, so you can find the latest playlists and most popular playlists on the homepage easily. Except of listening to the list, you also can share it to Facebook, Twitter, Hi5, Bebo and other social networking sites.
8tracks – Similar to Stereomood, 8tracks also lets you search playlist by mood and activity. On this site, you can make your own playlist with a few clicks. If the playlist is loved and shared by more than a thousand of users, it will be recommended by the staff. If you want to enjoy the playlist on the go, you can download 8tracks app for smart phone.
Listube – This is a user-friendly site which has simple but powerful functions. One special function is that you can track what others are listening now. Another interesting function is, the site will play the related music videos while you listen to the songs.
Saavn – Saavn is a site which put emphasis on providing Hindi and Bollywood music. In order to find playlist on it, you should click "Browse" and choose "Featured playlist" in the dropdown menu. The playlists are mainly categorized by languages, artists and genres. On the cover, you can check the detailed information about the music playlist.