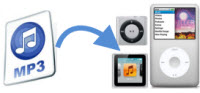 Designed by Apple with the first version released on October 2001, iPod is a portable media player that can hold thousands of songs all in one very compact and slim device. Currently, it has four versions ranging from the smallest iPod Shuffle down to the more advanced iPod touch. Every iPod has storage space which allows to hold hundreds of songs depending on the specific capacity.
There are many ways on how you could download MP3 to iPod. The first method is by purchasing MP3s from the Apple Music store named iTunes which will be directly transferred to your device. The other one is yet more popular and widely used than the former. In brief, you need to download MP3s from the internet, save it on your computer and transfer it to iTunes then on your device. Obviously, grabbing songs from the internet is more practical than the first mentioned, because it is a easy and low-cost way. However, users should have a great MP3 downloader for capturing audio files online.
High-Efficiency Way to Copy MP3 to iPod
For those who need a professional and smart MP3 to iPod downloader, check out Streaming Audio Recorder which is made not only for iPod but also for iPad, iPhone, Windows, Mac, Android, PSP, and all other multimedia devices. The Streaming Audio Recorder features capturing of live streams and radio recordings, batch file conversion, ID3 tagger, built-in audio editor, CD burner, and free smart music downloader.
Different from the others, this software can download multiple MP3 files simultaneously which makes it very efficient if you have bulk of free MP3 downloads for iPod. To grab MP3 songs in batch and to easily transfer them on your iPod, all you need to do is:
Download and install Streaming Audio Recorder.
Open the program, enter the "Search" panel. Type your keywords in the search bar on the top of the interface.
Hit the "Search Music" icon and choose your desired MP3 from the results.

Click the "Download" button and repeat the procedure for grabbing other songs.
Right click files and hit "Add to iTunes" for easy file transferring. You can also edit ID3 tags, edit or convert audio files before sending them on your iPod.
The newest version of Streaming Audio Recorder has been more powerful than any version before it, improvements had even made it more powerful. Now there are tons of new MP3s recommended for users, you can click "Search" tab, check top 10 songs, latest popular albums and download them in one click.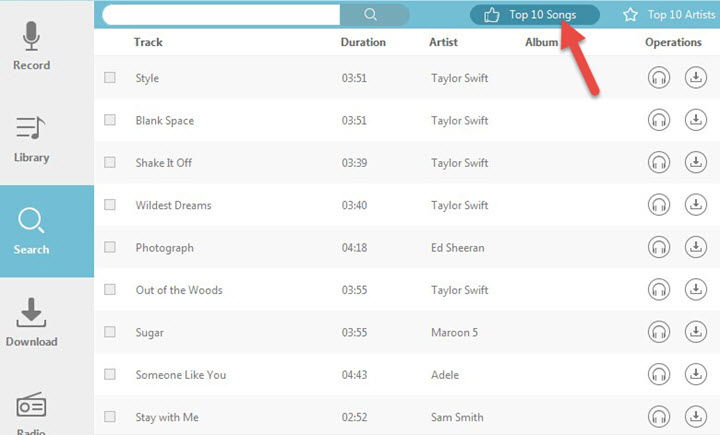 How to Download MP3 to iPod Free
There are several ways in which you could download songs on the internet then transfer them on your iPod. You could install dedicated PC music programs or search files using torrent but the most convenient one would be using specialized MP3 grabbing tools. Below are two very simple applications to help you get started.
Apowersoft Free Online Audio Recorder
If you want an efficient program that supports free MP3 downloads for iPod, the Apowersoft Free Online Audio Recorder is just right. Different from the other tool which works by searching for music resources over the web, this one can directly record the sound of any playing audio and generate your own music file. Again, this tool is free to use and it doesn't have time restrictions on recording, so you could literally record a whole album plus more without even paying a single cent.
Apowersoft Free Online Audio Recorder features recording from PC or external sources and one-click sound grabbing. Using it is easy, here are the instructions:
Click the "Start recording" button on audio recorder page, select the audio input as you like.
Permit the launcher to run, then the interface will appear.
Play the music file you want to download.
Hit the "Start" button to begin recording, hit "Stop" when it's done. The downloaded audio will be automatically saved on your hard drive.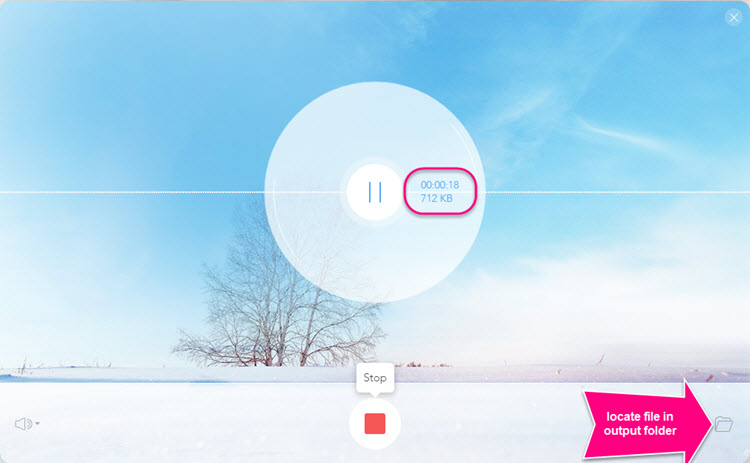 After successfully saving your song, it is now time to transfer your MP3 to iPod. You can use iTunes for this or any other application that supports PC to iPod file transfer.
Apowersoft Video to MP3
With the Video to MP3, you don't need to install anything on your PC just to grab high quality audios for your iPod. It is a web-based application that does everything in the cloud. Moreover it is free to use with no limitations, memberships or even registrations. This tools works as searching and downloading songs from web to your computer. The built-in search engine only requires you to type a few words and can precisely get you the internet resource of your desired music.
Search – On Video to MP3 webpage, simply type the MP3 title, artist, or any related keywords to the search bar and hit "Search". It will returns results of songs hosted on other web servers that match your keywords, then hit the "Download" button to save your file.
Rip MP3 from Videos – If you have the specific URL or web address of the music file you want to download, just put URL into download bar. Then press the "Convert" key, waiting for processing. You could set the output settings at will, then save MP3 into your local folder.

Due to its portability and ease of use, the Video to MP3 is recommended for novice as well as on-the-go users. On the other hand, advanced users are suggested to download MP3 for iPod with audio recorder because it can grab online songs, capture audio files from external sources and support more functions.
With the above applications, how to download MP3 to iPod is deemed to be stress-free. You can opt for free PC tools packed basic functions or go premium where you could do more stuffs aside from downloading MP3s for iPod.