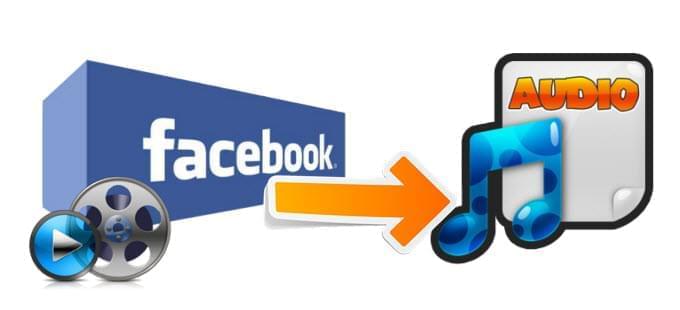 To the netizens, Facebook doesn't need any introduction as it is the leading social media site on the Internet with millions of active users that log in to their accounts everyday and continuously growing. People use the site to connect with their friends, play games, shop and share information, photos, links, music and videos. You might find an uploaded audio or music that you would like to save on your computer. While there is no available Facebook audio download option on the site, there are applications that you can use to make this possible.
Some of these tools are web based so they are instantly available online. Others require download and installation, though they usually offer more features. Weigh your options and determine the best tool to download music from Facebook.
Ways to Download Audio from Facebook
Apowersoft Free Online Audio Recorder
This is a free online application that you can use for recording and saving audio on Facebook. You can even use this to download Facebook video to MP3 or other audio formats that you prefer. So if a music video is uploaded on the site and you wish to download only the audio part, this is possible using Apowersoft Free Online Audio Recorder.
Since it is web based, it does not require installation. You can go to its homepage and start recording instantly. It's very easy to use. The options are intuitive so you would immediately know what they are for. It does not just record audio playing on your system, but also from outside sources as well, if you have a built-in microphone or one that is connected to your computer.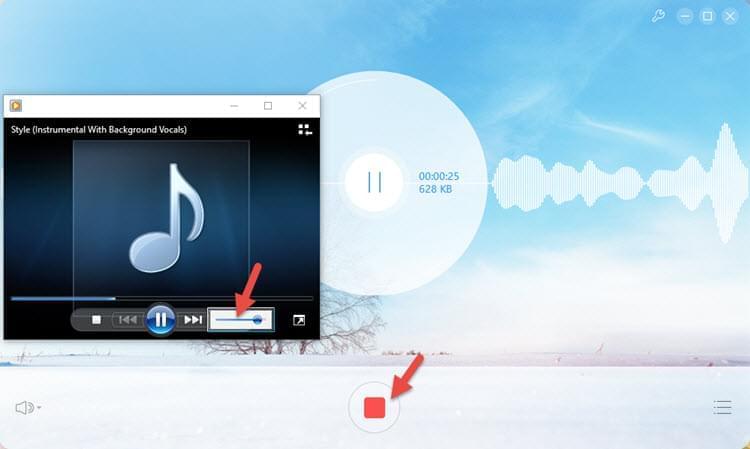 If you wish to only download audio from Facebook, please follow the instructions below.
Click "Start Recording" button on its webpage to launch the app.
Then, select "System Sound" on the audio input windows.
Next, play a video or an audio file on Facebook site.
By clicking on "Start" button, the recorder will start capturing any audio on your computer. Files are automatically saved to MP3, which is a format that is supported by most audio players. Plus, there is no limit on the number of audio files that you can record.
When needing to end the recording, click "Stop" button.
Now, you can enter the "Recording list" and click "Open Folder" to locate the recorded files.
Here is a video guide for you can learn more.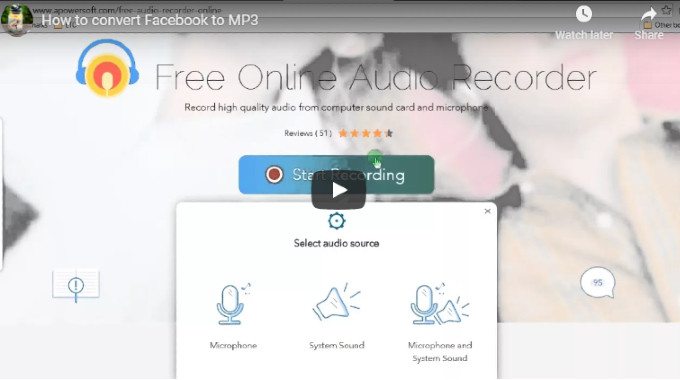 Streaming Audio Recorder
Streaming Audio Recorder is a powerful tool that you can use for downloading music from Facebook to MP3 or other formats that you prefer ensuring quality output. Actually, it can record not just audio from Facebook but any sound that plays on the computer or from outside source using your microphone.
Generally speaking, you can get Facebook audio in two ways with this software.
The first way is by recording and the operations are similar to the first introduced method. The alternative ways is to convert video to MP3. You should enter "Download" interface and select "Video to MP3 converter" option from the top of screen. Another window will show up, there you can enter the URL of Facebook video. To start downloading, just click "Add to Download". When download finishes, you will find it in "Download" – "Completed" interface.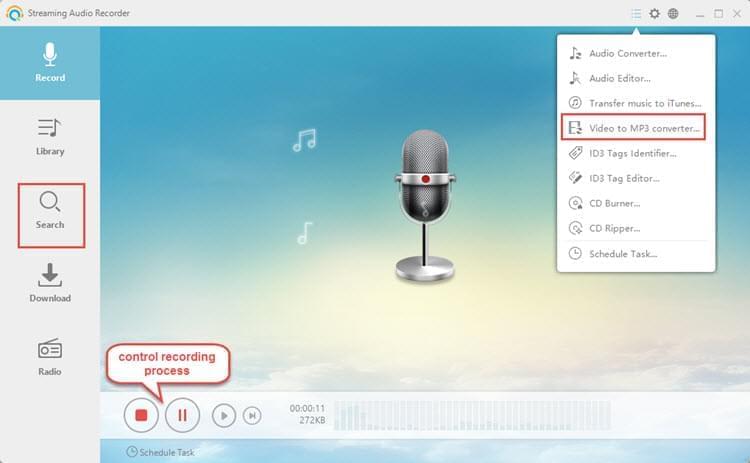 Moreover, it offers other features that you will find helpful including the option to edit audio files to your own style. Like the online way, it can also be used to download audio from Facebook video. And you can listen to various radio stations streaming music online. Recording songs from these stations is also possible. If you are a music enthusiast, you will love this tool as it offers free downloads of popular songs, which you can easily search by artist name, title or album.
Other Similar Sites to Facebook
Aside from Facebook, there are many other social media sites like MySpace, Google+, Twitter, Tagged and Bebo that let users connect with each other and share information, as well as various media files. If there are audio files or clips that you wish to download from these sites or you would like to extract the audio of uploaded videos, the two ways I talked above are always available to you.