iPhone is probably the most popular phone in the world today. And for millions of iPhone users, iTunes is an awesome program which is capable of managing audio, video and photo feed, e-books, contacts, messages and many more.
However, there are still some who are not so happy with the limitations that iTunes has. People like me would rather look for programs like iTunes for iPhone but with less restrictions to transfer file. Alternative programs do not just do what iTunes does, but also offer better design and advanced options that are not available with iTunes.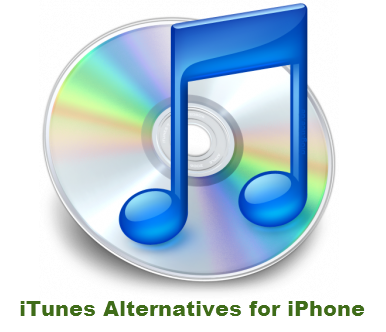 Why do you need iTunes alternative for iPhone?
What is iTunes all about anyway?
iTunes is a pre-bundled music player, media downloader, photo and video manager and mobile syncing platform for iOS device. And even though Apple does regular updates to improve this application – iTunes 11 is the newest version of this app – iTunes still lacks many features that some advanced users just can't live without. Aside from that, most people find iTunes to be not so "user friendly". And probably the biggest limitation iTunes has is that it doesn't let any iPhone, iPod or iPad user to grab photos, videos, voice memos, etc from their device and transfer it to their PC or Mac.
Apple won't allow file transfer from any iOS device to PC or Mac using iTunes for security and copyright reasons, which is quiet understandable, but many iDevice users still think that Apple needs to re-evaluate their security limitations and let its user have more freedom on their device. And for such reasons, users tend to seek for iTunes substitute for iPhone and other iOS device.
Top 3 iTunes alternatives for iPhone
There are thousands of iTunes replacements for iPhone, some paid some free. We've come up with the top three iTunes alternatives for iPhone 5s, iPhone 5, iPhone 4s, iPad and iPod that you shouldn't miss because of their boundless capabilities and user friendliness. They give every iOS users less pain in managing and synchronizing their devices.
1, Apowersoft Free Online iPhone/iPad/iPod Transfer
First off, Apowersoft Free Online iPhone Transfer, this light, simple but very powerful software is considered as one of the most impressive iOS transfer tools. This app can perform everything that iTunes can but plus so much more. It is very light that you can even launch the application online through its website.
Steps for how to use Apowersoft Free Online iPhone/iPad/iPod Transfer: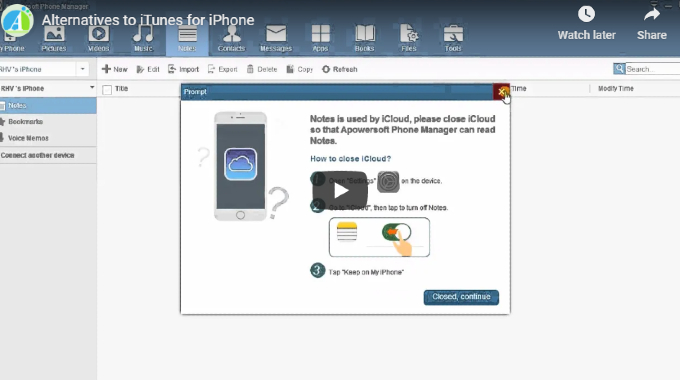 Step 1: Use USB cable to connect your iDevice to computer. Launch this Transfer and then it will detect your iDevice soon.
Step 2: To transfer files from iPhone to PC or vice versa, just select them and click "Export" or "Import" button. If you want to manage the data on your iDevice, choose them and click the corresponding buttons. It is very intuitive to use.
It also enables you to manage your files from your PC to iPhone by simple drag and drop process. You can extract files from your iOS device and save it to your PC or Mac without the worry of losing any of them. Any iOS device user can manage your music library, photo and video feed and eBook listed on your PC or Mac without the need of the long and complicated syncing process iTunes offers.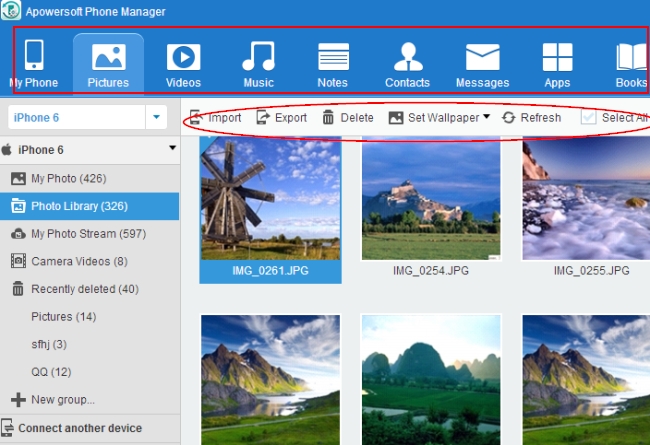 Using it, you can also manage your personal information including messages, notes, calendar events, bookmarks, downloaded and installed apps and many more. This tool is compatible with all iOS release including iOS 7 and supports any iOS devices available in the market today. It also works on any type of personal computer like Windows, Mac. Managing your iPhone, iPad or iPod data files to your PC or Mac using this software is so much better than using iTunes, it is the best free iTunes similar software for iPhone.
The desktop version of Apowersoft iPhone Transfer
Compared to Apowersoft free online iPhone/iPad/iPod Transfer, its desktop version has more advanced features. It helps you transfer any iDevice media files like video, music, Podcasts, playlists, photos, etc from or to iTunes, PC without any quality loss. It's especially convenient for managing the contacts or SMS on your iPhone. Just by clicking the right buttons on its interface directly, you can output contacts from Gmail, Outlook Express, Windows Live Mail, etc as vCard or CSV (Excel) files and MMS, SMS, iMessages in HTML/TXT/XML file on the PC.
2, Syncios
Syncios is another great alternative to iTunes for iPhone. It provides users all the basic features that iTunes has. It also provides iPhone users additional benefits such as converting audio from regular file to ringtone, transferring and managing your photo (even your camera roll photos), video and e-books (convert your e-books from ePub to PDF and vice versa) and giving its user an amazing perk of being able to use your iPhone as a USB key.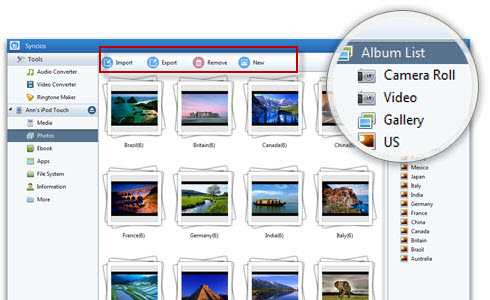 You can access your system files with Syncios freely and without having your phone jailbroken, something that iTunes is limited to. Out of question, it is another application like iTunes for iPhone that can be downloaded to your PC anytime you want.
3, Copytrans Manager
Copytrans Manager is also a good iPhone iTunes alternative that also works for iPod and iPad portable devices. Copytrans Manager interface is very clean and professional looking, it is also very easy to use with its drag and drop system. Like iTunes, you can manage your photo, music and videos with Copytrans easily and extract files to save to your PC or Mac without the troubles of backing up. Copytrans Manager is very light that you just need to save this program to any USB device and you can start managing your iPhone to any PC or Mac. It is definitely worth checking out if you're looking for a great iTunes alternative for iPhone.
Conclusion
So there you have it, the top 3 best iTunes similar software for iPhone freeware. Without a doubt Apowersoft Free Online iPhone/iPod/iPad Transfer knocks its competitors down for so many obvious reasons. Stop getting frustrated with iTunes limitations and experience the unlimited capability of this Transfer. The desktop version is available to download below.