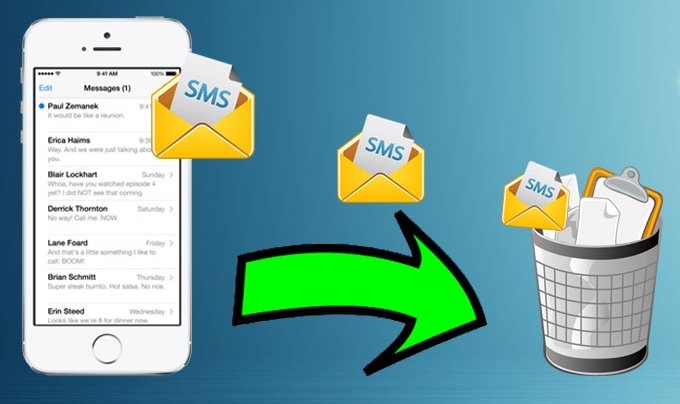 Text message or Short Message Service (SMS) is the hottest way of conversing with the people around us by sending simple messages. Once you send or receive an SMS, it will be recorded on your iPhone's "Messages" automatically, so these messages can occupy a lot of space on our iPhone. To avoid excessive number of SMS messages, it is best to delete iPhone text messages, since most text messages are quick replies which turn to disposable after they have been read on your phone. However, if you forget to clean your messages and pile up lots of them, you may wonder "how to delete all messages on iPhone"? There are three methods that you can utilize and these will be further discussed below.
Three best ways to erase SMS from iPhone
Solution1: Delete the entire conversation on your iPhone directly
In managing iPhone messages, the first method that you can use is to delete the whole conversation that you have with a certain contact. It means you can remove all conversations with a certain person completely.
Open the "Messages" app that is usually located at the home screen.
Go to the list of SMS conversation that you have on your iPhone.
Select which conversation do you want to delete.
After choosing a conversation, you can simply swipe left to right and a "Delete" function will be displayed on mobiles with iOS 6 or previous version. While you can swipe right to left for iOS 7 or later. Moreover, you can also hit the "Edit" button at the top portion of the screen, a red circle will be shown at the left and click it.
By doing either of these will lead you to the appearance of the "Delete" button. Click it and the entire SMS conversation will be erased.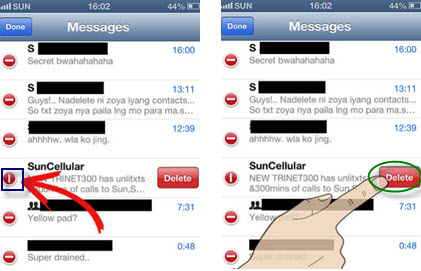 Solution 2: Delete a specific message on iPhone manually
In case that you want to partially delete SMS messages from iPhone while keeping some of them then here is the perfect way for you. By using this method you have an option to select the specific text messages you want to erase while keeping the others on a conversation intact. Here are the steps for conducting this method.
To delete specific text messages within a conversation go to "Messages".
Enter into the conversation where you want to delete messages selectively.
In iOS 6 or lower, tap the "Edit" button on the upper right part. And for iOS 7 and later, simply hold on a text message, and wait until a menu pops out and choose "More". A small circle will then appear next to each message.
Now tap the circle next to message to indicate which SMS you to delete.
After you mark all of the messages to dump, click "Delete" or "Delete All", depending on the iOS version that you have.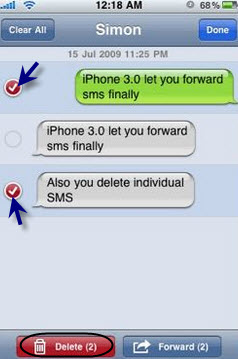 Even if you have removed message within the methods given so far, they're not actually gone forever and can be restored with a third-party tool. So if you're planning to give your iPhone out as a gift, sell it to someone else or just want to delete all of the text messages permanently.
Solution 3: Permanently delete messages from iPhone
To permanently delete messages on iPhone you can make use of the powerful tool know as iPhone Data Cleaner. This program is capable of erasing all of your iPhone contents from SMS, images, videos, etc. It also has 2 working modes based on three erasing levels. Upon using this app all of your files will be deleted permanently and cannot be recovered at any means. To use this program you need to:
Install iPhone Data Cleaner to your PC.
Once installed, connect your iPhone into the computer via USB cable and your device will be instantly detected.
Choose which mode you prefer: "Erase All Data on Device" or a more advance "Erase Deleted Files".

After selecting the mode, you can now choose the levels that you need, ranging from high to medium and low.
To begin with the data deletion, click the "Start" button and wait till all of the conversations are erased. Just be sure to keep your device connected to PC during the process to avoid any hassle.
Keeping too many text massages may slow down your iPhone that is why it is a must to erase all of those SMS that are not important. To maintain the privacy of your text messages, it is advisable to use a thorough cleaning or avoid others recover them with possible means by using iPhone Data Cleaner. By using this tool all of the erased data will never be retrieved at all cost. It means no one can sneak into your deleted messages. So you can delete any data that you want that only you could know.