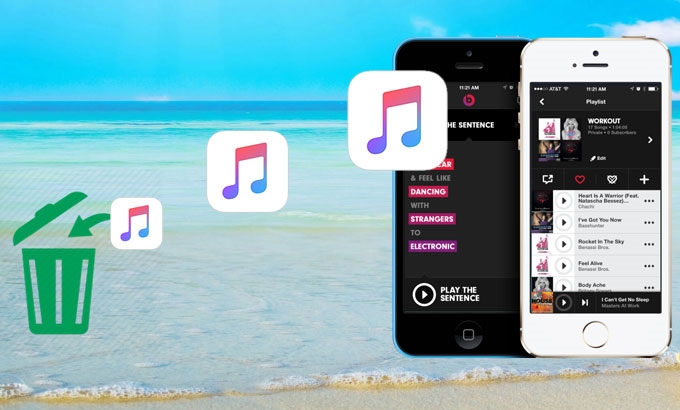 iPhone is popular not only with its smart phone features but with its ability to manage songs just like what iPod does. This is one of the reasons why iPhone remains one of the sought after device these days. However, there can be some times when we want to get rid of the songs on our iPhone and replace them with new ones. So basically we erase them right, but how? Many iPhone users are concerned about the ways on how to delete songs from iPhone. To solve this issue, some of the finest methods will be elaborated after the jump.
Best feasible ways to delete music from iPhone
Solution1: Deleting individual songs or album in the Music App on iPhone
This first solution will help users to delete music from iPhone individually. It allows everyone to go through all of the music tracks choose those unwanted one and delete them. To utilize this method, here are the steps for you:
Unlock your iPhone and open the "Music" app.
Now you will be led to a list of all the songs that you have. All you have to do is to select the music track that you want to remove and swipe one of them individually to the left.
After swiping, a "Delete" button will appear on the right side of the track. To delete the music item simply, tap this button.
Just repeat process 2 and 3 till all of the insignificant songs are gone.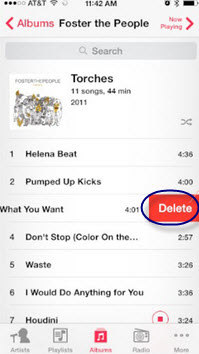 Solution 2: Deleting the entire music library from your iPhone Music app
This next method will allow users to delete all songs from iPhone. If you need to revamp all of your playlists on your iPhone then this solution fits you well. By making few taps, all of your music stored within your device will be vanished in an instant. This means there's no need to select and swipe one by one manually. For this method here are the steps:
Unlock your iPhone and Open the "Settings" application.
After that tap on "General" > "Usage".
Wait for a moment till the Storage section loads completely.

Next is to look for the "Music" in the list and click on it.
You will be then noticing an "Edit" button on the top portion, now hit it.
To continue with the process tap on the "Delete" button, then hit the "Delete" button one more time to confirm and you're done.
Solution 3: Deleting music on your iPhone with third-party app
If you want a mobile manager which lets you organize and delete songs more efficiently, then the Apowersoft Phone Manager is what you are looking for. By using this tool, you will be able to arrange your files from music to pictures, contacts, videos and then transfer them to whatever device you desire. Here are the steps to erase iPhone music with this tool:
Download Apowersoft Phone Manager. Install it on PC.
Connect your iPhone to the computer via USB connector.
Once your device is detected by the program, it will then lead you to its main interface.
Now click on the "Music", and a list of all your music tracks on your iPhone will be shown.
After that select all of the music to delete by ticking the box along with each track, then click "Delete" at the top portion to complete the process.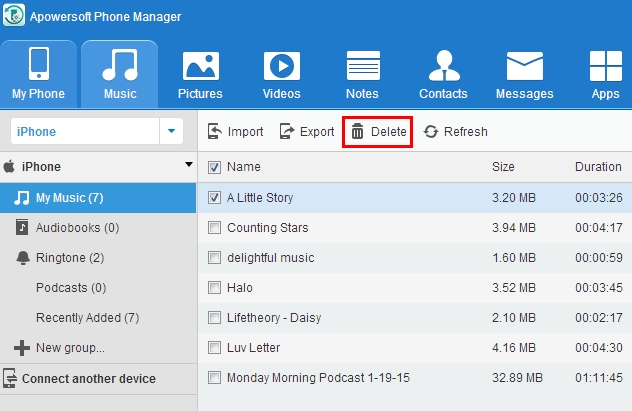 Furthermore, if you need to wipe off all of your iPhone music permanently for some reason, then you can choose the next method.
Solution 4: Deleting songs from iPhone permanently to protect your privacy
For a better security of your iPhone then this way is the one that you must use. This method will require very powerful program which is the iPhone Data Cleaner.
By using this tool, managing your unwanted files will be easier and safer than before with two erasing modes and three data erasing levels. Now you can delete songs off iPhone permanently without leaving any trace behind. So by using this tool, you not only enjoy more free space instantly, but also keep your privacy safe. Moreover, this app can work for many other files, such as videos, images, passwords, contacts, Apple accounts, MMS, apps, bookmarks and so forth. To use this tool, here are the guided steps for you:
Install and launch iPhone Data Cleaner.
Connect your iPhone to the computer by using USB cable.
Once your device is detected, you will be taken to the tool's main interface.
Now select "Erase deleted files".

Next is to choose the necessary data erasing level.
After that, click on the "Start" button to start with the cleaning process.
When the process is completed, hit "Done" button.
You will then see the amount of space you just gained after deleting some files.
Deleting Music from iPhone is a skill that must be learned by every user for maintaining iPhone music is indefinite. It means every song stored can be deleted to free some space or replace it with new one. Yet in erasing music off iPhone, it is advisable to use iPhone Data Cleaner for it is the safest and most secured way of cleaning your device without leaving anything behind.