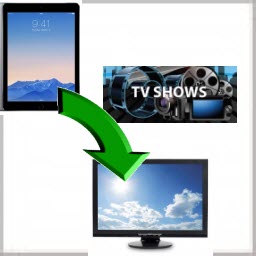 As soon as Apple released iPad on April 3, 2010, it received numerous praises and turned out to be a great success. During the short five years, Apple has produced various kinds of iPad models, containing iPad 1-4, iPad Air 1-2, and iPad mini 1-3. And its functions have improved a lot. Now, it can play music, take pictures, and record videos. With its built-in Wi-Fi, it can also surf the internet and send emails. Besides, people can download other apps like games, social communication software and so on from App Store.
Among others, its big-size screen and convenience to bring are the biggest advantages that attract customers. People find it quite enjoyable to read e-books or watch TV shows on iPad. However, after people put too many TV shows, which often occupy huge amount of storage room, in it, its limited storage space becomes a big problem. Given this, many are trying to figure out a fast way to transfer TV shows from iPad to computer. Here, I would like to share with you two excellent methods.
Fastest Ways to Transfer TV Shows from iPad to Computer
1. Traditional and common tool
2. Easy and handy software
1
iTunes
Usually, the recently hot TV shows can be found in iTunes Store, such as The Big Bang Theory, The Walking Dead or Homeland. In most cases, people will directly buy them from iTunes Store so as to appreciate them on iPad conveniently. In this situation, iTunes would be an easy tool to sync iPad TV shows to computer. You can just follow the steps below.
Launch iTunes. Connect your iPad to computer.
Authorize this computer by entering your Apple ID and password.
Go to "File > Devices > Transfer purchases from XXX" to sync all your media files from your iPad to computer.
After the synchronization is finished, you can click "TV Shows" icon which is next to your device button to check.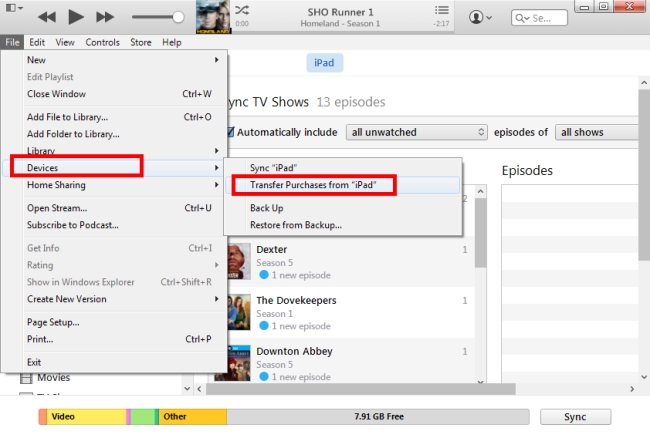 Cons: Though iTunes is the most common application used by Apple users, it has several deficiencies that might be troublesome.
The process can be very time-consuming, for it syncs not only TV shows, but also other media data including music, movies, audiobooks, podcasts and so forth.
The syncing operation is automatic, which means you cannot manually choose which TV shows you would like to transfer.
The transference is applicable only in the conditions that your purchased TV shows are still available in iTunes Store.
After you sync new TV shows to iTunes, the original ones stored will be erased permanently.
2
Third-party application
This video gives you a detailed instruction to transfer TV shows from iPad to computer.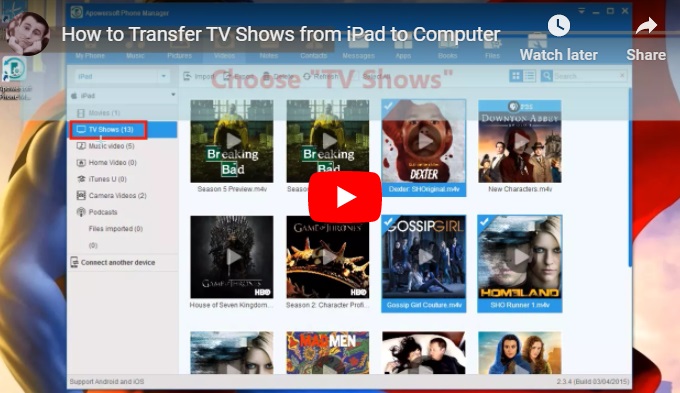 Apowersoft Phone Manager is known as one of the best alternatives to iTunes. It enables users to transfer all kinds of data between mobile phones and computer easily. With it, you can add both purchased TV shows from iTunes Store and TV shows downloaded from other apps or websites to computer. And the process is much simpler and faster. Therefore, it is a better solution on how to transfer TV shows from iPad to computer than iTunes. Simple steps are listed as follows.
Download and install it on your computer.
Run the program. Connect your iPad to PC.
Click "Videos" button. Choose "TV Shows" under the tab.
Select the TV shows you want to transfer and click "Export". Choose the folder to store them in and click "OK".
After the process is over, disconnect your device.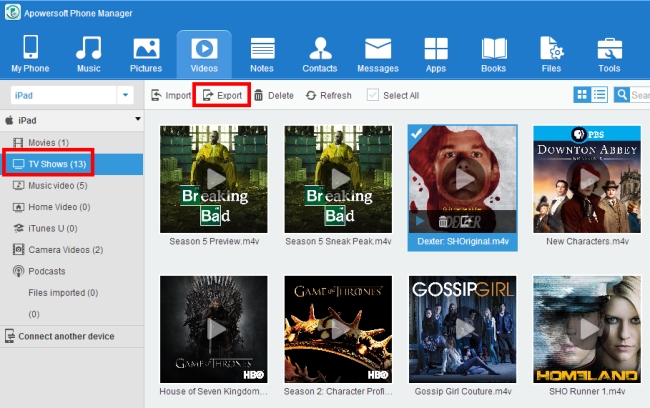 Within a short time, all the TV shows will be exported into your computer. In this way, you are able to move only TV shows to PC which will save a lot of time by comparing with iTunes. Moreover, it has no limitations at all. And you can select any TV shows as you want. All in all, this phone manager is definitely a perfect method to move TV shows from iPad to computer.