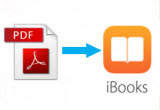 For many Apple users, iBooks is their favorite application when they read PDF files or Epub books in their iPhone 6 or iPad mini 3 due to its powerful features. Since iBooks is a very convenient reading tool, people are asking what they should do if they want to transfer PDF files from their computer to iPhone or iPad iBooks so that they can read them anywhere or anytime they want. Here, I would like to introduce you three most frequently-used ways to add PDF to iBooks.
Three Ways to Add PDF Files to iBooks
1. Traditional but complicated method
2. Simple and handy tool
3. Convenient yet restricted way
1
iTunes
iTunes is a media player, media library, online radio broadcaster, and mobile device management application developed by Apple Inc. It is the default program to synchronize information on your iOS devices with the computer. To solve the problem of how to sync PDF to iPad or iPhone iBooks, iTunes is a very conventional method. Below are the detailed steps:
Connect your iPhone or iPad to PC via USB cable.
Open iTunes. Under the "File" menu, choose "Add File to Library".
Select the PDF files and click "Open".
Under the "Settings" column, choose "Books".
Click "Sync Books". Make sure your PDF files are selected, and then tap "Apply" on the bottom of the interface.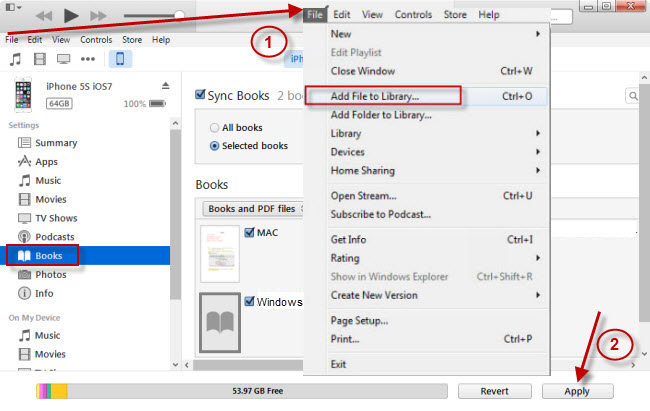 Cons: As you can see, the process is a little complex. Besides, sync books means that you will lose all your previous PDF files or books stored in iBooks. This could be pretty troublesome.
2
Third-party application
Apowersoft Phone Manager is a professional and powerful application in managing mobile phones. It contains comprehensive functions which make phone management very easy and handy. By using this software, you can manage to transfer all the data in the phone to PC or vice versa, to backup and restore with one-click, to display phone screen in real time and so forth. Now, within a few steps as follows, you can save PDF to iBooks conveniently.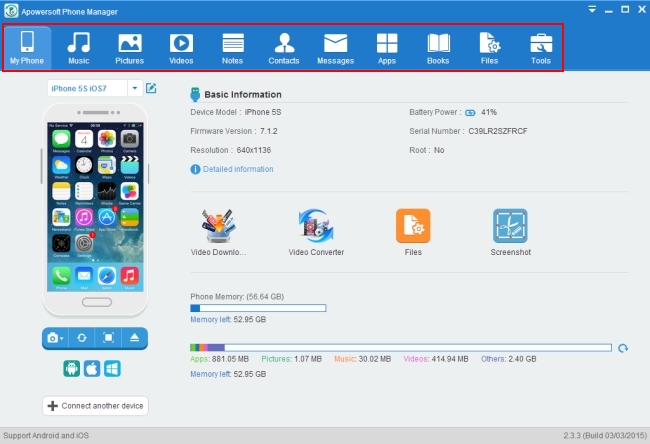 Download Apowersoft Phone Manager. Install it in the computer.
Run the program. Connect iPhone or iPad to PC through the USB cable. Tap "Trust" button when a dialog pops up in your phone.
Click "Apps" icon. Choose "App files". Select "iBooks".
Tap "Import" button. Choose the PDF files and click "Open".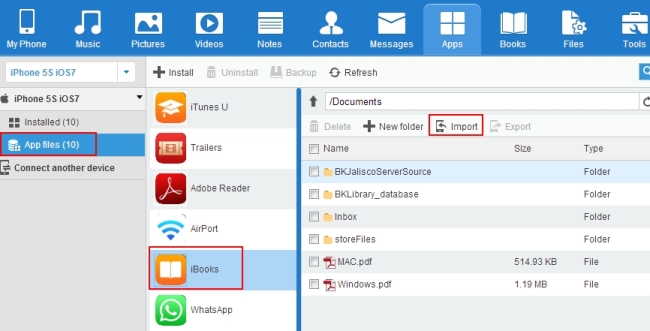 Before you know, all the files will be transferred into your iPhone or iPad. The biggest benefit of it is that you can manually choose which application you want the files to be stored in. In this way, you can directly add files into the pointed software so that in the future you can look them up through the software. Very useful!
Tips: Actually, there is a faster way to add PDF files from PC to iBooks by using this software. You can click "Books" icon and straightly import files or books into it because iBooks is the default program to open them.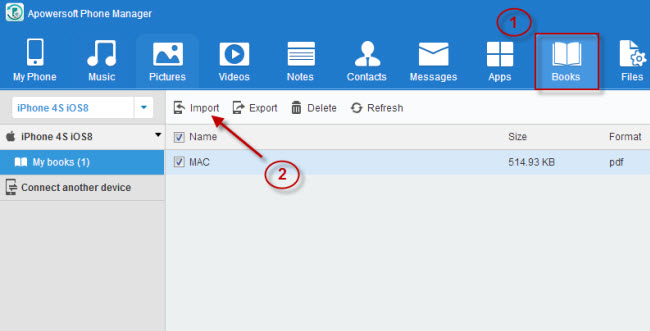 Welcome to see the detailed operations through this video. It will guide you in a more direct and vivid way.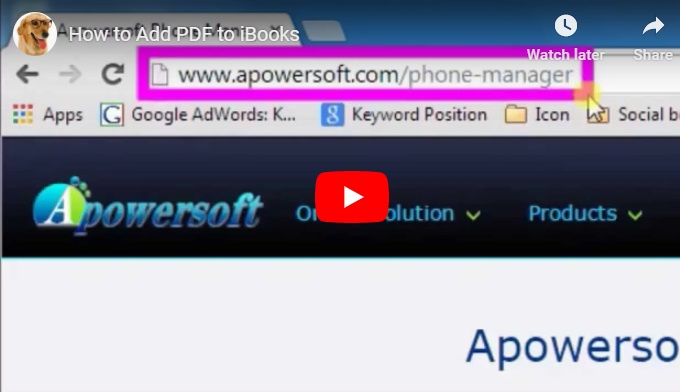 3
Email
Another solution on how to transfer PDF to iBooks is through email. As long as you have an email account including Gmail, Yahoo, Outlook and other mail apps, you can transfer files from computer to iPhone or iPad without iTunes. Please follow the next operations:
Log in your email account on the computer. Compose a new message.
Attach PDF files to the message. Then send it to the account that is available in the mail application of your iPhone or iPad.
Open your mail application of your iOS device and download the files. After they are downloaded, open the files.
Click "Share" icon on the top. Under the menu, choose "Open in iBooks". Then you can view the PDF files or Epub books through iBooks. Tap "Library" Button, you are able to see all the files added to iBooks library.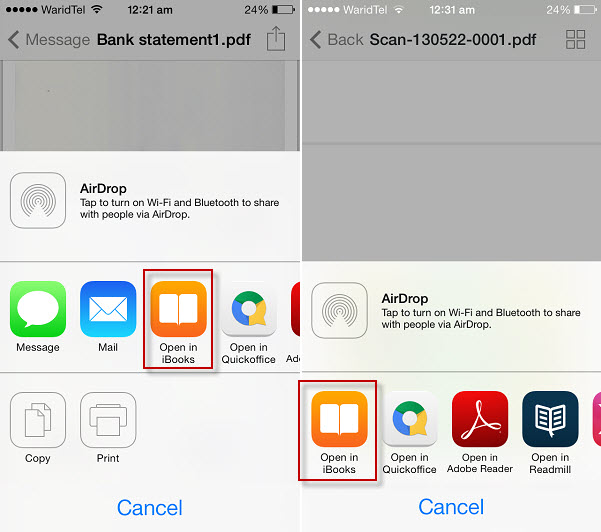 Cons: Even though it is much simpler than iTunes, it is still restricted in a way that an email account is a necessary. And you need to enter your email accounts, which can be a bit annoying. Compared with Apowersoft Phone Manager, the process is more complicated.
Above are the three most common ways to import PDF to iBooks and you can try any one as you like. Each one has its advantages and disadvantages. But in general, the second way is more recommended because of its convenience and fastness.