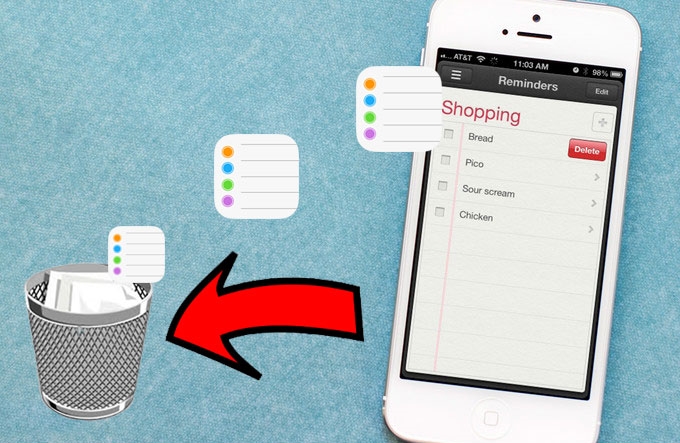 The "Reminder" feature of iPhone is certainly helpful if you want to jot down quick notes for your to-do list, ongoing projects, time bounded business meetings, grocery list, school projects  and all others. This nifty tool on iPhone gives you a quick glance of things you need to do in a more convenient, efficient, practical and modern way. With iPhone's reminder, you can literally forget the very traditional pen and paper.
However, reminders saved on your iPhone can pile up quickly especially if you are a big fan of this feature. Erasing accomplished tasks, clearing up the list and deleting completed reminders are some of the most commond reasons why you need to delete reminders on iPhone. Though, erasing tons of reminders saved on your phone isn't as easy as counting 1-2-3. Apple seems to forget the so-called "Erase All" feature. If you are having troubles in deleting reminders on iPhone, check out these easy solutions below.
Solution 1: Delete a reminder on iPhone directly
If you have a handful of saved reminders to delete, erasing them directly on your iPhone will do the trick. This method doesn't require the use of third party applications or highly complicated technical skills, all you need is your iPhone together with few scrolls and clicks. Here's how:
Open the Reminders App on your home screen.
From the list of saved reminders, find the one you need to delete.
Swipe the entry to the left until "Delete" button appears on the screen.
Tap "Delete" to remove it from the device.
Repeat this process to wipe out all reminders you want to delete.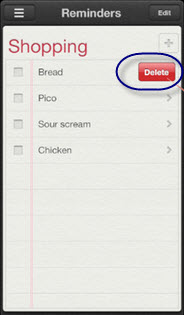 Solution 2: Remove reminders from iPhone using iCloud
Deleting tons of reminders using the above method is a clear waste of time as well as energy, imagine that you have to repeat the same thing again and again just to clean them all on your phone. It will make you exhausted if there are hundreds of reminders saved on your iPhone? Do you have the patience to swipe them all one by one? Luckily, you can use iCloud to mass erase them all at once. Below is a quick guide on how to delete reminders on iPhone using iCloud.
On your PC go to iCloud and log-in with your username and password.
Click the "Reminders" icon.
Go to "Completed reminders".
Select the first reminder that needs to be erased.
Press "Delete" button on your keyboard.
Repeatedly hit "Delete" button until all reminders are removed.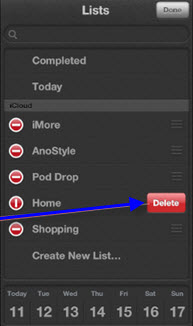 Then again, there's no way you could select all reminders and delete them in one click. However, comparing with the first solution which requires you to work on iPhone's small screen, using your computer is indeed easier and convenient. However, you need internet connection to access iCloud account.
Solution 3: Permanently delete reminders from iPhone in complete way
If you don't want to suffer from the above inconvenient ways of mass deleting saved reminders, or if you don't want to waste any of your time connecting to the internet and manually removing completed entries, you can use the application iPhone Data Cleaner. This tool works with iPhone, iPad, iPod touch, carrier locked and jail-broken iOS devices. Aside from the ability to mass delete reminders, it can equally remove photos, songs, notes, calendar, apps, call logs, contacts, Apple IDs, passwords, financial info, bookmarks, and all others.
The iPhone Data Cleaner offers two data erasing modes with three different erasing levels. Complete Clean to intensively erase files on your device and Partial Clean to permanently remove deleted files on your iPhone. Low, medium and high are the data erasing levels with high being the safest and most secured amongst all. Using the tool to delete completed reminders on iPhone is very easy, just follow the steps:
Download and install the software on your PC.
Connect your iPhone to PC using USB cable.
When your device has been recognized, choose the appropriate data erasing mode.
Select from low, medium or high data erasing level.
Click "Start" button and wait until wiping process completes.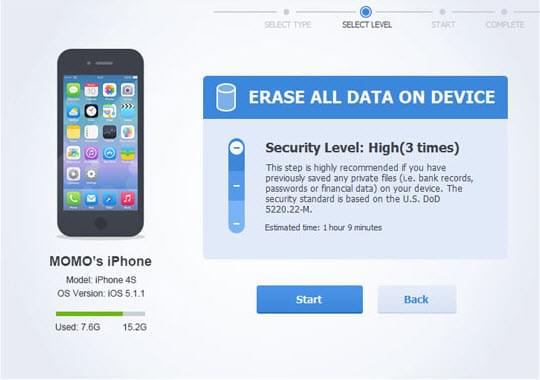 If you want to delete all reminders on iPhone at once, using the iPhone Data Cleaner will give you unmatched convenience. This tool doesn't simply delete saved reminders on your iPhone – it "permanently" removes them on your device. The third party software offers zero possibility of recovery when erasing saved iOS mobile data. There's no way they could ever be retrieved making the application perfect for deleting sensitive and very private files.
There are many methods on how to delete reminders on iPhone. Some requires tons of patience while others give utmost expedience. When choosing the right tool or method, always consider the safety and security of your files because a simple deletion doesn't mean "safe" removal.