Smartphones of today are highly revolutionized – you will see people changing handsets more often than ever. If you are planning to sell your old iPhone to second hand shops or better yet give it to a close friend or family member, it is imperative that you need to delete private data on iPhone. All those saved passwords, account info, text messages, contacts, pictures, videos and more should be completely erased from your device to avoid leaking privacy.
There are many ways on how to erase all your private files stored inside your iPhone. Discover them after the break.
Solution 1: Erase All Your Personal Content and Settings on iPhone
Before going through this process, make sure that you have backed up your device via iTunes. If you're working with computer, it is still advisable to restore the firmware on your iPhone and make your old iPhone setup as "new" to reliably erase all your mobile stuffs. But if you're nowhere near your PC, you can still erase all personal data on iPhone, here's how:
Go to your homepage on iPhone and tap the "Settings" icon.
Click the "General" tab and scroll down to the bottom.
Tap "Reset" and choose "Erase all content & settings" from the list of available options.
Hit the red button saying "Erase iPhone".
You have to confirm it again to completely reset your iPhone.
After confirming your action, you will be prompted with a security pin.
Enter your security pin but if you haven't changed it the default code is "0000".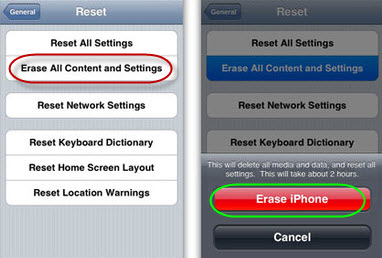 Depending on how much stuff you have saved on your iPhone, the process of deleting all your personal files might take some time. When complete, your iPhone will reboot and you will have a factory fresh iPhone. Bear in mind that saved settings will also revert back to factory default just like the first time you have bought your device.
Solution 2: Permanently Erase Private Data from iPhone
If you want to permanently and securely delete all your personal files on iPhone, using a professional iOS data cleaner is what you need best. Compared with the above method, using this tool has a guarantee zero file recovery. Moreover, it is very easy to use with no requirements of technical knowledge to carry out the overall deletion.
The tool can permanently erase photos, videos, music, call logs, emails, calendar, apps, bookmarks and more. It can equally delete personal information on iPhone such as system setting, account IDs, passwords, financial transactions and other sensitive files. With it, you can choose from two erasing modes together with three data erasing levels. Erasing modes including complete clean and partial clean which determine the types of data to erase. There're also three erasing levels which concern the range for deletion.
Aside from the ability to permanently delete files from iPhone and make them unrecoverable, its new version has two new features. The "Express Cleanup" and "Erase Private Data". With the "Express Cleanup", you can clean your device from junks and leftover files while dramatically freeing up precious space on your iPhone. On the other hand, "Erase Private Data" mode allows you to permanently delete personal information on iPhone. It removes safari history, cookies, input history, app store search and all others.
The simple guide of how to erase all your personal data:
Open the application after installing it and connect your iPhone to PC using the supplied USB cable.
After automatic device recognition, choose the "Erase Private Data" mode from the main interface.
As illustrated below, click "Start Scan" button to scan your iPhone.

Once the scan completes, check the data in scanned results with info about the type and others, then pick up the items you want to remove.
Click "Erase Now" and type the word "delete" to confirm your permanent private data deletion.
When it comes to deleting private data on iPhone, you can use the Apple's default way to restore it to factory settings and making it factory fresh once again. Surely Apple can erase all your files but making them unrecoverable after deletion is yet another story. Or you can utilize third party applications for a more secure way of erasing files. The benefits of using iPhone Data Cleaner is that it guarantees to forever delete files and makes them unrecoverable.