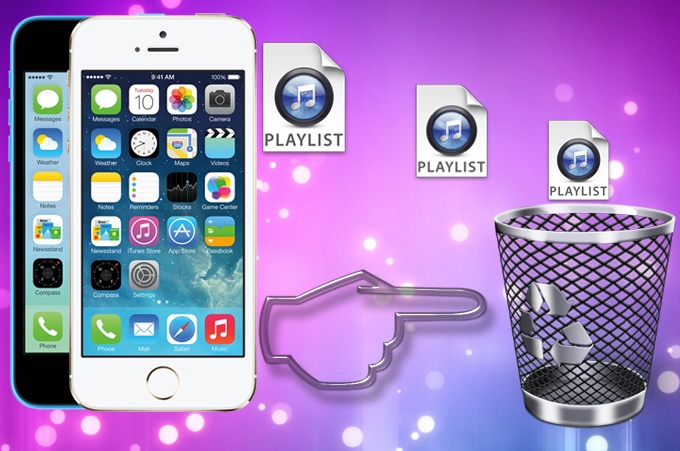 Creating a music playlist on an iPhone simply means putting your fancy audio tracks into a list that suits ones desire. Some make playlists according to the type of genre, while others make their music playlist based on the artist or era when the songs were released. This will allow iPhone users to continuously play music in a certain feel that they prefer. However, putting up many playlists on iPhone can occupy huge memory space that can slow down your iPhone's processes. In this case, getting rid of the unwanted playlist is a must, but this may be a confusing task for others, this is why it is important to know the best ways on "how to delete a playlist on iPhone". For more info about this, a detailed discussion will be provided as this article continues.
Best ways to delete music playlist from iPhone
Solution1: Delete a playlist in Music App on iPhone directly
This is probably the most often used method on how to delete playlists from iPhone, for this can be done directly with your device. By making a few clicks on your device as instructed below, you can remove unwanted playlists for adding new ones in this method.
Unlock your iPhone and go to "Music" application.
Once inside the "Music" app, you will be notified with the "Playlists" tab located at the bottom, now tap it.
All of your playlists will now be displayed, select the specific playlist that you need to wipe off and swipe it from right to left.
After that a "Delete" button will appear, tap this button to delete it.
Solution 2: Remove playlists from iPhone with iTunes
If you want another method to delete playlist from iPhone then you can try this one. This solution will require the use of your iTunes that is installed in a computer. In this process, you can delete your playlist and manage your other media files. Just be sure to use a recent version of iTunes, and it is better to not sync media files instantly, so that you can pick those files that you only want. Here are the steps in utilizing your iTunes:
Connect your iPhone to a PC via data cable.
Now open iTunes application and your device will be detected.
On the program's main interface, you can see the playlist that you have created on the left lower portion.
Next is to locate the playlist that you want to delete and press right-click on its title.
A drop down menu will appear, browse down to till you see the "Delete" option and hit it.
Your playlist will be deleted instantly upon pressing the "Delete" tab.
If you want to erase music playlist from iPhone permanently for protecting your privacy, then you can opt for the next solution.
Solution 3: Erase playlists from iPhone permanently with shareware
To delete all music playlists from iPhone permanently, then this method is the one that you should utilize. This solution will require a powerful program called iPhone Data Cleaner. Now there is no need to worry about the trace left behind by removing playlists on your iPhone. Also, this method works well for removing multiple items at once.
Furthermore, aside from playlist, this program can also work perfectly on pictures, passwords, music, MMS, accounts, contacts, applications, and bookmarks. To operate this app, here are the simple steps to do it:
Install this tool on your computer after downloading it.
Connect your iPhone into computer via data cable.
Open the program and it will detect your device automatically.
Once the program shows up its interface, select "Erase deleted files" and press "Start Scan" button.

After the files on your iPhone have been analyzed and scanned, please select the playlist that you want to delete.
Click "Erase Now" button and confirm the permanent deletion of playlist by typing the word "delete".

After the process is completed, you will see "Successfully erased" in the main interface. At last, press "Done".
Getting rid of iPhone's music playlist may be confusing for some individuals, but by using the proper ways such as those discussed above will help everyone. However, it is better to use iPhone Data Cleaner in deleting data, for this application works on whatever data, and it cleans 100% without leaving any trace.