Ask
I am a big fan of Facebook. I use this social network to constantly communicate with friends, relatives, colleagues, suitors and even strangers! I'm always on the go so using Facebook on my iPhone is more convenient than opening up my laptop. However, it has occupied much memory on my iPhone and I don't know how to delete Facebook messages on iPhone. Are there easy ways to delete messages, comments or even my Facebook account on iPhone? I am totally worried about my privacy and security.
Answer
Facebook is the most popular social network of all time. Across the world, it's used to communicate with one another via status posts, private messages, comments and more. However, Facebook recently developed a doubtful reputation of collecting information from its members and using it to run global experiments without having user consent. This indeed creates a big woe to many Facebook users worried about their privacy and security.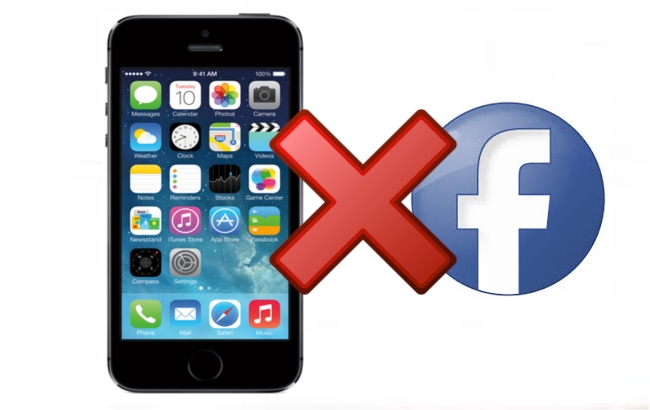 Aside from the above mentioned concerns, there are many reasons why one needs to delete Facebook account from iPhone as well as messages and comments. Some of these reasons include but not limited to erase previous conversations, to delete unwanted remarks, to get rid of embarrassing moments, etc. It is easy to do it. But doing these things on your iPhone is yet another thing. Check out these easy solutions below.
Solution 1: Delete Items in Facebook App
Delete a Single Message in Facebook App from iPhone
Tap to open your Facebook application or messenger on iPhone.
Locate the specific message you want to remove.
Open the conversation then long press the message with your finger.
A menu will appear and click "Delete" to remove the message.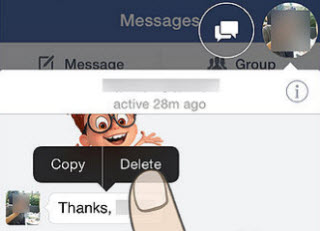 Delete an Entire Conversation on Facebook App from iPhone
On your Facebook messages, scroll over the list and locate the conversation you want to remove.
Do not tap to open the conversation but instead long press it with your finger.
A pop up menu will appear and tap "Delete".
Another window will appear and you will be given an option to "Delete" or "Archive" the message.

If you click "Archive" button, the conversation will be removed from the list but will still be searchable while clicking "Delete" means they would be totally removed from your account.
Delete Facebook Comments on iPhone
Open Facebook on your iPhone and locate the comments you want to erase.
Do note that you can delete your own comments and other's comments on your posts along with the comments made on your own post.
Long press the specific comment you want to remove with your finger.
Then again a small menu will pop-up.
Tap the "Delete" button and confirm your action by clicking "Yes".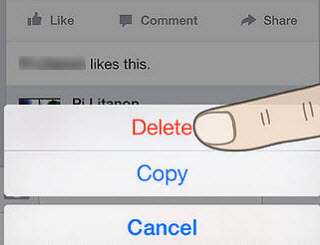 Delete Facebook Account from iPhone
Tap to open Facebook on your smartphone.
Scroll down the bottom and tap "More".
A menu list will appear and navigate all the way down until you find "Settings".
Click "General" then hit "Deactivate" under the "Account".
Enter your password and you will be then asked to re-enter it for confirmation.
Press "Continue" button to deactivate your Facebook account.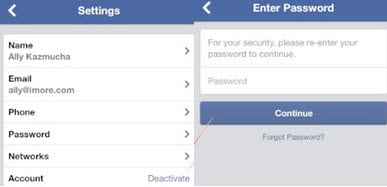 Solution 2: Delete Facebook Messages Using Facebook's Mobile Site
If you want to delete Facebook messages on iPhone but you don't have either the application or messenger installed, you can still do it on Facebook's mobile site. Here's how:
Open Safari on your iPhone or any other browser that you prefer.
Log in to your Facebook account.
Go to your messages by clicking the "messages" button on the bottom.
Find the specific message you want to remove then quickly swipe your finger across that message.
A "Delete" button will appear on the right and tap it to remove the message.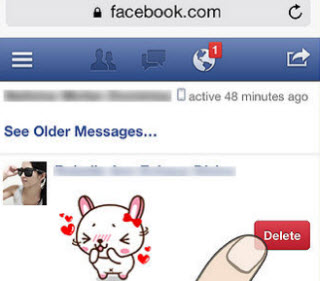 There are many ways on how to delete Facebook on iPhone. You can erase specific messages, full conversations, comments, or even deactivate your account for the time being. However, do note that even if you have removed Facebook comments or messages, there're not actually gone forever and can be recovered easily by tools, leaving problems in handing over your phone to others. If you want to permanently, safely and securely delete Facebook messages or comments on your iPhone, check out this next solution.
Solution 3: Permanently Delete Facebook from iPhone with Software
If you want to permanently remove all Facebook related stuffs on your iPhone such as messages, comments and all others, you can use the software called iPhone Data Cleaner. This tool can erase everything from photos, videos, music, documents, account info, user IDs, saved passwords, system setting, apps, contacts, bookmarks and all others without any hassle. The iPhone Data Cleaner comes with three data erasing levels as well as two erasing modes.
You can perform a partial cleanup on your iPhone or do a complete clean to remove everything and make your device back to factory settings once again. The updated version of iPhone Data Cleaner adds two new features, "Express Cleanup" and "Erase Private Data". It is easy to delete private Facebook files on your iPhone with the help of this software. All you need to do is:
Install the software and open it on your computer.
Connect your iPhone to PC using USB cable.
The program will automatically recognize the device and you should see your iPhone's name on the interface.
Click "Erase Private Data" on the main interface.

Hit "Start Scan" button and wait until result page appears.
Find the Facebook entry and select all files associated with it.
Tap "Erase Now" button to delete messages, comments, etc.
The iPhone Data Cleaner comes fully compatible to all iOS devices from iPhone to iPod and iPad. Furthermore, this tool guarantees zero possibility of recovery meaning if you delete Facebook from iPhone, there's no way that others can retrieve erased files.
How to delete Facebook on iPhone comes in all forms and techniques. To protect your privacy and to maintain utmost security, it is advised to use a professional iOS data cleaning tool. It offers a more comprehensive and easy way of removing files without you having to think about complicated Facebook deletion instructions.