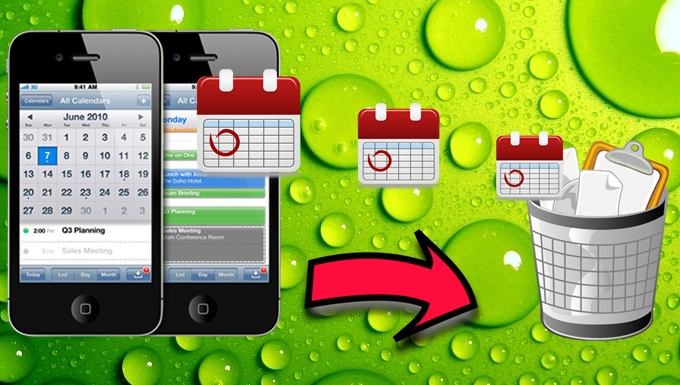 Calendar is one of the useful apps that are presented in an iPhone. Since by using this application, everyone can set their weekly appointments appropriately and it enables them to add an event to a specific date. Furthermore, each event that is set such an appointment, birthday, special gatherings, and the likes will be saved together with an alarm. Witihn a certain event reminder, you will not forget about a certain event. However, these events that you saved in a calendar can stack up which can consume a significant portion of your iPhone's memory and maybe confusing in some ways. This is why many users are wondering about the most feasible solution on "how to delete calendar events on iPhone"? To solve this issue a detailed discussion regarding it will be shown after the jump.
Best possible ways to delete calendars on iPhone
To successfully delete calendars from iPhone, here are the best methods for you to utilize. Just follow guides that are presented within each solution.
Solution1: Delete events one after another on your iPhone calendar
To manage your Calendar and get rid of insignificant events, then this is the solution that you should use. In this way, you can individually pick an event then delete it. And if you are synching data with your computer, the deleted events will also be erased soon. For this method here are the steps:
Unlock your iPhone and open your Calendar app.
Look for an event that you wish to erase and simply tap it.
On the upper right corner you'll notice an "Edit" button, now tap on it.
After that, scroll down to the bottom of the event.
Next is to hit "Delete Event".
To finalize the process, confirm that your desire to remove the event from your Calendar app.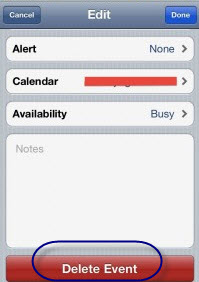 Solution 2: Delete calendars on the iPhone manually
If you want to erase a whole Calendar with all of the events in it, then you can easily do that with this method. To delete all events in iPhone calendar will not only free up memory space instantly, but at the same time will save you time in going through all of the events. To start with, here are the steps you should follow:
Unlock your iPhone and go directly to Calendar application.
Tap the "Calendars" located at the bottom.
Now tap on the "Edit" button which can be seen at upper area.
Choose on the Calendar that you need to erase.
Next simply tap on "Delete Calendar" located at the bottom part.
When the pop-up appears, hit the "Delete Calendar" once again to confirm.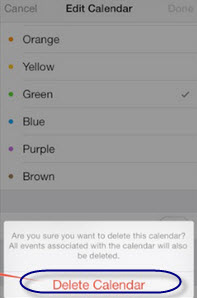 Note: In an event that you wish to permanently erase Calendar Events on iPhone, then you can opt for the next solution.
Solution 3: Permanently delete calendar from iPhone
The best way to permanently remove calendar from iPhone is by making use of a great tool which is called iPhone Data Cleaner. This powerful tool is not only capable of deleting Calendars and Calendar events but also be used in getting rid of various files, such as photos, videos, contacts, passwords, MMS, Apple accounts, bookmarks, etc. Moreover, it can also be utilized to manage a media file which is a beneficial feature to have. And by using this tool, you can expect a 100% erasing power without leaving any trace behind and expect for a more free space available.
Install and open it after downloading the program.
Connect your iPhone to your computer via USB connector.
Wait for the tool to detect your iPhone, and then you'll be taken to its main interface.
Next is to choose "Erase deleted files".
After that you can choose from various data levels according to your need.
Now to begin with the deleting process, hit the "Start" button.
When it is completed, simply click "Done" button.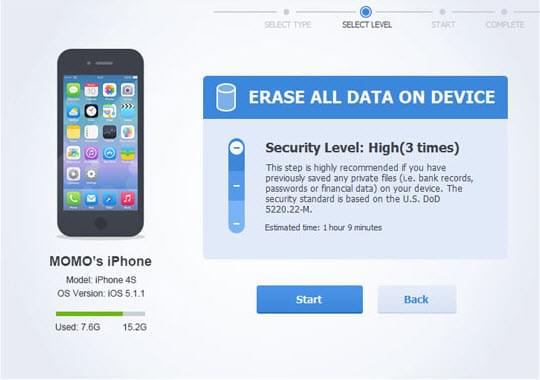 There are various ways on how to delete a calendar on iPhone, and some of them are those that we discussed above. You can use any of these tools and get a reliable result. However, some of these methods do not erase files thoroughly leaving files recoverable. For this reason, it is advisable to use a program that will extensively clean your device such as iPhone Data Cleaner. To appreciate more about this tool, you must use it yourself.