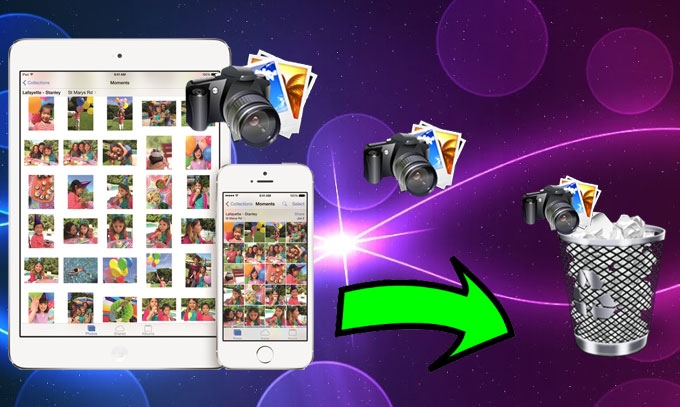 I often use my iPad in taking photos on anything that suits my eyes. It's a nice gadget to have since it's portable and innovative. However, my iPad slows down as my pictures piles up in my iPad's Gallery. I want to get rid of some unwanted images but I don't know how. Can anyone give me an advice on how to delete photos from iPad?
Aside from the fact that too much photos can slow down your iPad, many users are also concern about the inconvenience of going through all of the pictures and managing all of them. This is why many individuals are searching for a hassle free way to do it. To answer this question, detailed guides will be provided after the jump.
Solution 1: Delete photos from iPad Camera Roll directly
This is probably the easiest and well known method to delete multiple photos from iPad. Using this method, you can get rid of any unwanted pictures through your iPad's "Camera Roll". To use this way, all you need is your iPad and a little bit of time. Here are the steps in erasing images within this solution:
Unlock your iPad.
Go to "Photos" application, and hit "Albums" which is located at the lower right corner.
Now tap on "Camera Roll", and the thumbnail of all your images will be shown.
Next is to tap "Select" at the upper-right portion, then start choosing the photos that you wish to remove.
After selecting all of the unwanted pictures, simply hit the "Trash can" icon at the bottom right area.
A notification will then show up, hit "Delete Photo" to verify. The images will be deleted instantly as soon as you tap it.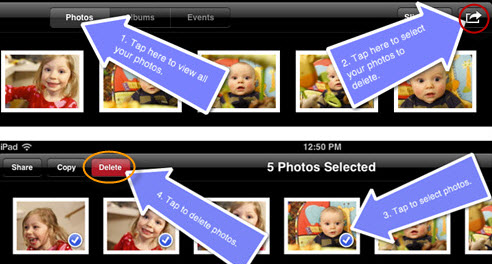 Solution 2: Delete synced photos from iPad with iTunes
In an event that you need to remove photos from iPad that is synced via iTunes, this solution is for you. By utilizing this method, you can easily remove the synced images that cannot be deleted on iPad. Removing these photos will result in lesser memory space consumption. Meanwhile, it makes your iPad responds faster. To work on this method, here are the steps that you shall follow:
Connect your iPad to into computer/laptop using USB cable.
Launch your computer photo app and erase the images synced from iTunes that you need to delete. If you don't want to delete these photos you can just transfer them into another folder aside from synced albums.
Do open iTunes.
Choose the iPad icon located at the left navigation menu.
Hit "Photos" and pick the folder that contains the pictures that can be seen on the drop down menu.
Next is to select option such as "Selected albums, Events and Faces, and automatically include" then put a check mark beside to the photo albums that you need to sync with your iPad. Pick the album where you erased the individual images.
To finalize the process, hit the "Apply" button to wipe out the unwanted pictures synced from your iTunes to iPad.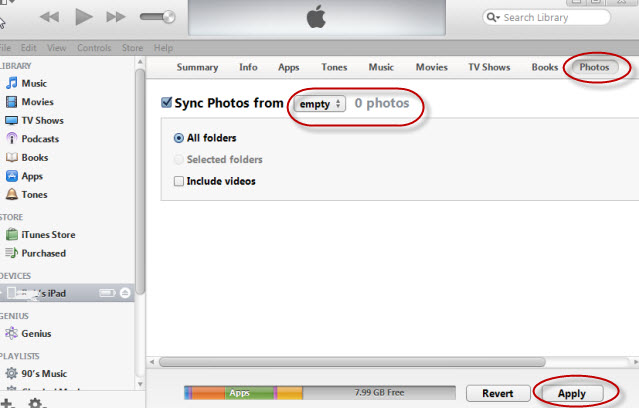 On the other hand, if you wish to delete all photos from iPad permanently so as to make your iPad faster or protect your privacy, then you can choose to use the third solution.
Solution 3: Permanently delete all photos from all iPad series
This method will probably provide the most extensive cleaning among the other solutions, for it does not only delete photos on iPad, but also erases them permanently without leaving trace behind. The tool responsible for this is none other than iPad/iPhone Data Cleaner.
This powerful program is capable of wiping anything, such as photos, contacts, applications, user ID's passwords, system setting, videos, bookmarks, and many more. What is interesting about this app is that it has 3 data erasing levels and 2 erasing modes which are essential in cleaning iPad extensively. To utilize this tool, here are the steps to follow:
Install this tool on your PC/ laptop after downloading it.
Use a data cable to connect your iPad into PC/laptop.
Now your iPad will be detected by the tool automatically and will lead you to its main interface.
Next is to select "Erase Deleted Files".

After that choose for your desired security level from three levels (Low, Medium and High).
Tap "Start" button to activate the cleaning process.
Hit "Done" button once the process is over. And the app will display the amount of space released by cleaning the photos.
These are the easiest ways on how to delete iPad photos, they may differ in their approaches but they are indeed reliable results. Moreover, if you want to clean your iPad meticulously then it is advisable to make use of the professional data cleaning software. This is because it provides extreme cleaning without leaving anything behind, and aside from it can also be used to delete photos from iPad Mini or other iOS devices.