The newest smartphone from Apple is packed with bigger screen, slimmer body, feature-filled applications, newest operating system and generous amount of storage space. However, even with more advanced new performance and capacity, you may still want to keep your device free from clutters and unnecessary data.
There are many reasons why one needs to delete files from iPhone 6. Aside from cleaning files not only gives space for necessary items, but also improve the utmost speed and top notch performance of your device. Luckily there are many ways on how to properly delete unwanted files out from your iPhone, check them out below.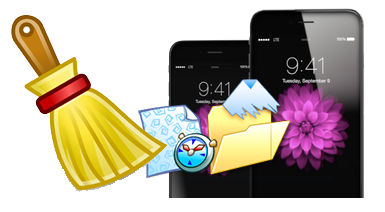 Solution 1: Erase All Personal Data and Settings on iPhone 6/6 Plus
The first method is to reset your iPhone. In this way, your device will come clean again just like the first day it was bought. Although, bear in mind that resetting your iPhone 6/6 Plus would erase all stored data including contacts, messages, pictures, videos, music, settings, applications, passwords and all others. Before doing this technique, make sure to backup your device first via iTunes.
On your iPhone go to "Settings" > "General" > "Reset".
To softly reset your iPhone, choose "Reset All Settings".
To delete all data from iPhone 6, select "Erase All Content and Settings".
A notification window will prompt and tap to confirm your action.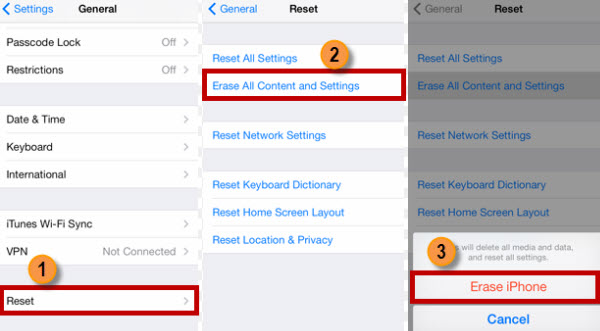 Solution 2: Apowersoft Phone Manager (Free)
Users looking for a free data cleaner for iPhone 6 Plus should check out the Apowersoft Phone Manager. This efficient cleaning tool not only works for all Apple gadgets but for Android devices as well. With this program, you can delete contacts, messages, apps, books, mobile files, videos, music, pictures, and more with the same software.
Compare to the first method, it effectively delete files without jeopardizing mobile settings. Also, this free iPhone 6 data eraser is very simple to use.
Install this tool on your computer and launch the application.
Connect your iPhone to PC through USB cable.
When a dialog box prompts on your device just tap the "Trust" button.

On the main interface, select the appropriate category by tapping the icons on top.
From here the contents of your iPhone would be displayed and all you need to do is to select the files you wish to erase.
Tap the "Delete" button and wait until the deletion process completes.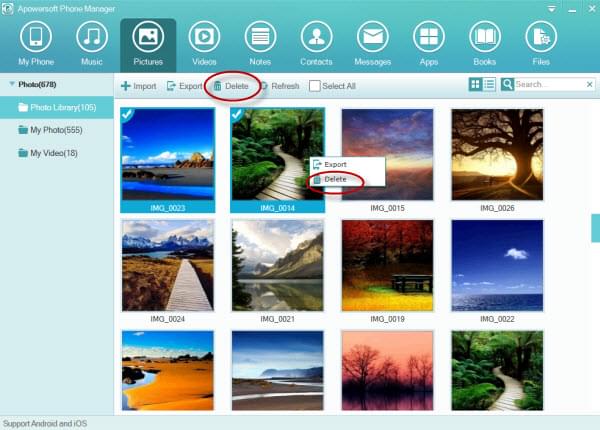 Aside from the ability to clean personal files from iPhone 6 Plus and to other models of iPhone or Android, the Apowersoft Phone Manager can equally transfer files between phone and PC. You could also sync, backup and restore files without much of a hassle. Additionally, this free software can project mobile screen to PC and allow you to capture iPhone screenshots directly on your computer.
Solution 3: Professional iPhone Data Cleaner
If you think that your new smartphone needs to be thoroughly cleaned, you can use a professional iPhone 6 data eraser. What's great about this program is that aside from easy removal of files, it also prevents deleted data from being recovered.
What makes the iPhone Data Cleaner different amongst other applications is that you can delete all data from iPhone 6 without reformatting your gadget. This program features four erasing modes based on three data erasing levels.
Download and launch the iPhone Data Cleaner on your computer.
Connect your iPhone to PC with USB cable and wait until the device is fully recognized.
On the main interface, choose the appropriate data erasing mode.
Select the applicable data erasing level from high, medium or low.
Click "Erase Now" button and wait until the process finishes.
The iPhone Data Cleaner supports all versions of iPhone, iPad and iPod Touch. It ensures that all deleted files are completely removed from the device with no chance of being recovered.
There are many tools and techniques that can effectively clean personal files from iPhone 6 Plus. Depending on your needs, you can decide to reformat your iPhone and start again from scratch or use an efficient iOS cleaning program for a more personalized way of deleting files.