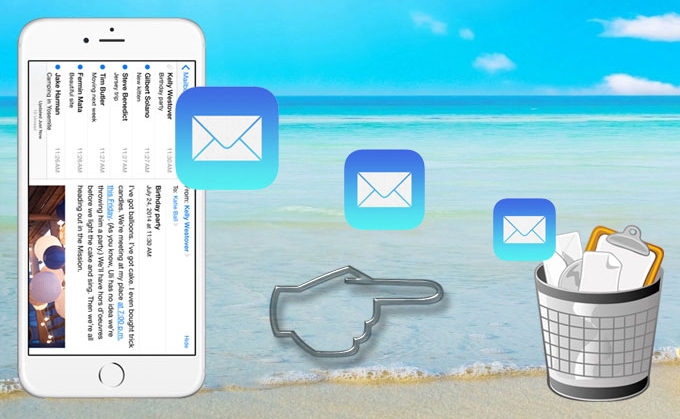 Sending and receiving emails nowadays needs no computer, you can do it all with your smartphone. Mobile handsets of today are equipped with internet connection and email applications meant for on-the-go electronic mailing. Especially iPhones, you can use it to conveniently send and receive emails anywhere you go.
However, keeping your emails safe and secure is a big question, even on iPhones. To protect your privacy and to keep those sensitive data safe all the time, it is advised to delete emails from iPhone. Additionally, deleting spam mails, junks and opened mails will help to free up some space on your device.
Of course, it is easy to delete emails from any handset including iPhone, but there are trade secrets you need to know about the erased emails on your devices. Note that deleting emails on iPhone normally doesn't mean those messages are gone forever – they have been archived insteadly. This indeed eats up some space not to mention that your privacy is greatly exposed from hackers. So how to delete all mail messages from iPhone permanently? Read below.
1. Delete emails in Email App directly (Normal Deletion)
2. Not archive Gmail Messages in Mail on iPhone (Complete Deletion)
3. Delete Emails from iPhone permanently (Efficient Deletion with Shareware)
Solution 1: Delete An Email in Mail App on iPhone
You can use the default Email application of iPhone to delete your mails. Although this method doesn't require third party applications, you have to delete messages twice to permanently remove them on your device.
Open your Email application on iPhone and hit the "Edit" button.
Select the emails you want to delete by ticking the circles next to them.
Click "Move" and then tap "Trash" button.
Go back to your mailbox and select "Trash" folder.
Tap "Edit" button and check the messages you want to permanently delete.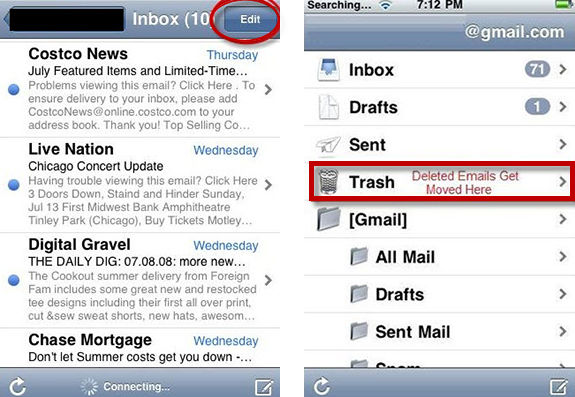 Solution 2: Delete your archived Gmail Messages in Mail on iPhone
If you have bundled Gmail account with your iPhone, you can also clean the messages completely without computer. Just know that simply erasing emails does not mean to remove them thoroughly, you have to adjust the archive settings. However, deleting Gmail emails isn't easy. Swiping from right to left wouldn't give you a delete option but rather you'll get an archive option. If you want to delete all emails from iPhone, specifically Gmail emails, see below:
For iOS 6 users, simply go to "Settings" then "Mail".
Tap "Accounts" and turn off "Archive Messages".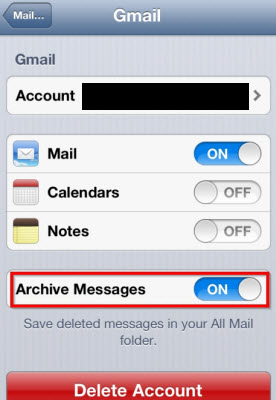 In iOS 7 head on to "Settings" and tap "Mail".
Tap your "Gmail account" then hit "Account".
Locate the "Advance" option below and click it.
On the "Move discarded messages into" check the option that says "Deleted mailbox".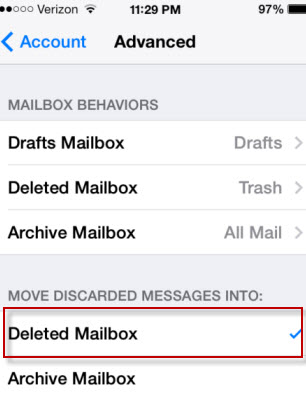 Solution 3: Permanently Delete Emails from iPhone
If you want an easy, straight forward and convenient way to delete all emails on iPhone, using the application called iPhone Data Cleaner will surely help you most. The iPhone Data Cleaner can delete emails, photos, memos, SMS, full contacts, reminders, accounts, Apple ID, and all others within a single click. Moreover, it leaves zero possibility of recovery meaning deleted files would forever be erased.
The iPhone Data Cleaner features two erasing modes based on three data erasing levels. Low for quick wiping off of data, medium to overwrite existing/deleted files, and high for removing personal accounts as well as sensitive info. How to mass delete emails on iPhone using the iPhone Data Cleaner is very easy, check this quick guide below:
Launch iPhone Data Cleaner and connect your iPhone to PC using USB cable.
After automatic device recognition, select "Erase deleted files" on the main interface.

Choose the appropriate data erasing level.
Hit the "Start" button.
Wait until process completes then click "Done".
With this tool, there's no need to manually select each email and send it to trash. This program can delete all mail messages from iPhone at once. Now you don't need to worry about your privacy and super sensitive emails from your boss or clients leaking out, this application can make those files gone forever in seconds. Additionally, it comes fully compatible to iPad, iPod Touch and even carrier locked and jail-broken iOS devices. You can also use the iPhone Data Cleaner if you want to make your iPhone factory fresh once again.
How to complete the email deletion is easy, that is if you know the right methods of removing mail messages. If you are a novice user, non-techie iPhone owner or busy person that doesn't want complicated methods just to permanently delete emails, it is advised to use a professional iOS data cleaning software. They can be installed within seconds and using it requires no technical skills.