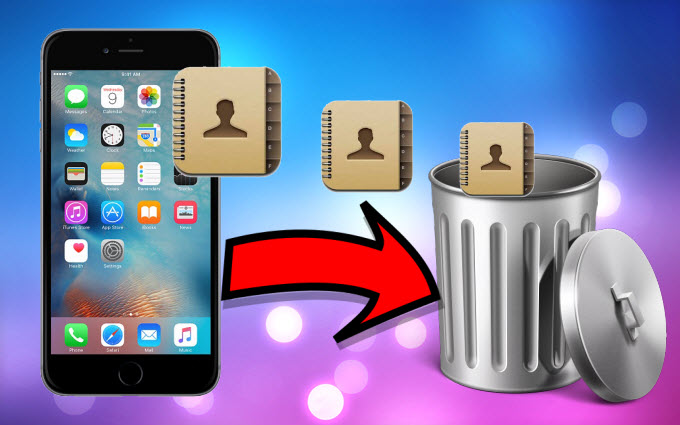 There are many reasons why one needs to delete contacts from iPhone. Non existing numbers, avoiding a person, unknown contacts, reducing phonebook list and all other privacy as well as security reasons. Of course it is easy to delete or remove contacts from your smartphone. But the real challenge begins when you're about to delete not just 10 or 50 numbers but hundreds of them. iPhone doesn't allow bulk deletion of contacts. Deleting contacts one by one at a time is indeed a tedious, boring, lifeless and inconvenient process.
Luckily, there are easy ways on how to delete multiple contacts from iPhone and to other models. Read on to this article and discover efficient phonebook deleting methods.
1. Delete iPhone contacts at a quick speed (Apowersoft Phone Manager)
2. Delete contacts from iPhone one by one (Common)
3. Use Address Book and iTunes to delete iPhone contacts (Address Book and iTunes)
4. Delete multiple contacts with Spring Cleaning (Spring Cleaning)
5. Permanently delete contacts from iPhone (Shareware)
Solution 1: Delete iPhone contacts at a quick speed – Apowersoft Phone Manager
This Phone Manager is uniquely designed to manage file management. By using this app, you can easily transfer and backup files such as radios, contacts and music . When it comes to deleting contacts on iPhone 6, it is no more difficult than you thought. Take a look at the following steps to go ahead:
Launch the app and connect your phone with PC through the USB Cable.
Press "Trust" button for successful connecting and enter the main interface.

Click "Contacts" icon and choose any contacts you want to delete by tapping on "Delete" button.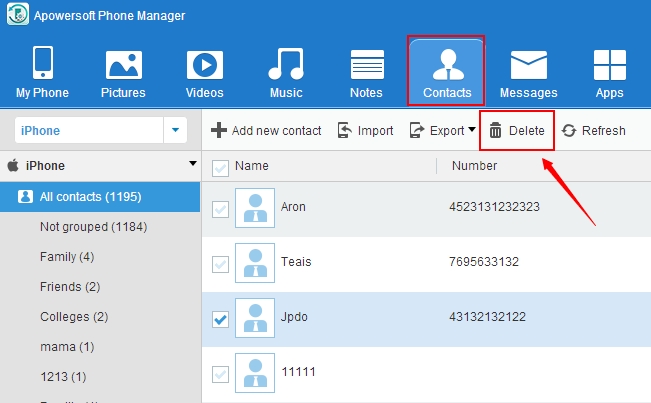 Tips: You can conduct bulk delete contacts on iPhone at a time by ticking before Name box. If you have to locate a specific contact from a long contact list, this Phone Manger has been embedded with a "Search Bar" for your quick positioning. "Export" button will be used when you need to transfer contacts on PC for backup, while "Import" icon will be applied if you want to transfer contacts from computer to your iPhone .
Solution 2: Delete a Contact on an iPhone directly
Tap the "Contacts" icon on your main screen.
Choose the contact you want to delete and tap the person's name.
Hit the "Edit" button located on top right corner.
Scroll down to the bottom part until you see "Delete Contact".
Select "Delete contact" and press "Delete" when it has prompted.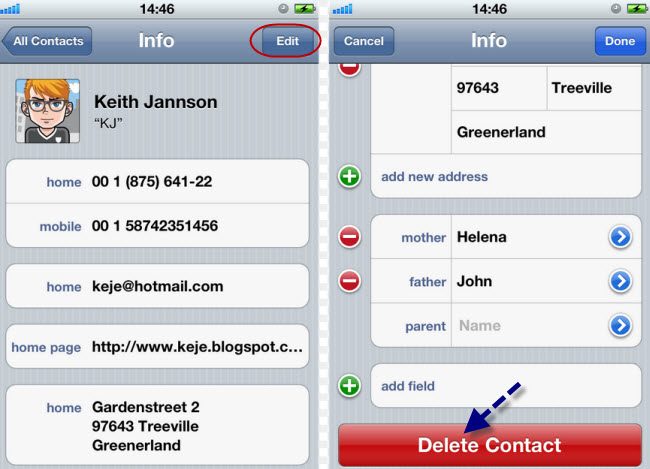 This method of deleting iPhone contacts is only applicable when removing handful of numbers. Without the need of installing extra applications, users with minimal numbers saved on their iPhone will find this process very straightforward and practical. But if you are planning to delete all contacts on iPhone, this will certainly eat up both your patience and time.
Solution 3: Using your Address Book and iTunes
Open your address book and select the numbers you want to delete.
Hold "Control Key" to tick multiple names at once.
Go to the "Menu" bar and click "Edit".
Select "Delete cards/contacts".
Connect your iPhone to PC and open iTunes.
Tap the "iPhone" icon on top and click "Info".
Enable "Sync Contacts" and hit "Apply".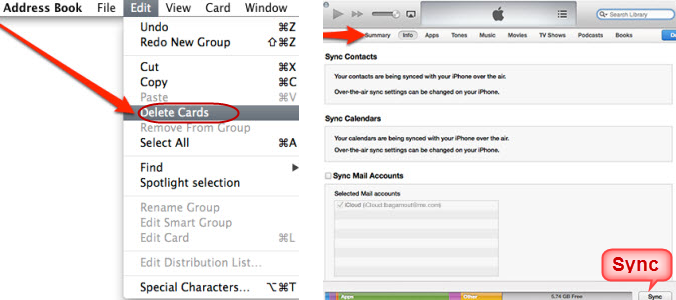 How to delete contacts on iPhone using this technique requires you to have the latest version of iTunes installed on your PC and USB cable or connect both your iPhone and computer. You need to delete contacts on iTunes and sync the backup to iPhone so as to overwrite the existing data. This method is roundabout and also cost you some time.
Solution 4: Delete Contacts on iPhone with an App – Spring Cleaning
Download and install the app "Spring Cleaning" on your iPhone.
Select the entries you want to remove by tapping the gray circle next to the contact name.
Hit the "Delete" button located on the bottom right of the window.
A dialog box will appear and confirm deletion by tapping "Delete".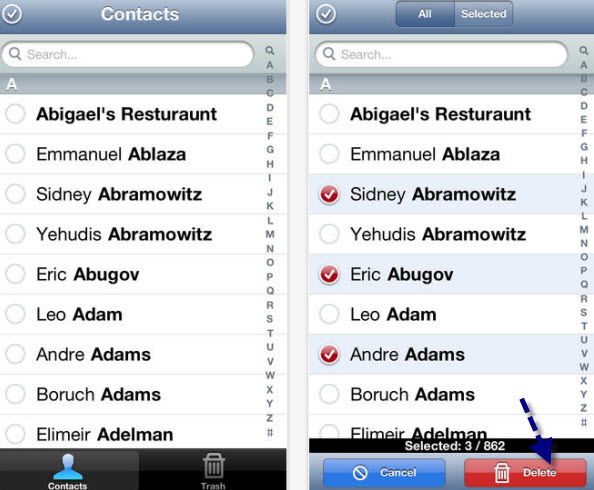 Using Spring Cleaning to delete all contacts on iPhone is so easy. It doesn't require any technical skills or complicated methods. However, this application doesn't come free, you need to pay a bit of a sum. Priced at $0.99, you'll get an efficient phonebook eraser with no added functionalities but only to remove contacts.
Solution 5: Delete Your Contacts from iPhone Permanently
If you want to permanently and securely delete contacts from iPhone, the iPhone Data Cleaner is a "must try" application. Unlike other applications with no extra features aside from easy phonebook removal, the software can delete contacts, photos, documents, user IDs, passwords, settings, videos, music and more. It even offers two erasing modes which is perfect for users who want a factory-fresh smartphone. It supports all iOS devices including the latest iPhone 5s, iPads and iPod touch.
The simple guide as follows:
Download and install iPhone Data Cleaner on your PC.
Connect your iPhone to PC with USB cable.
Once recognized, select "Erase deleted files" on the main interface.

Choose the security level from "Low", "Medium" or "High".
Press the "Start" button and once complete tap "Done".
With the iPhone Data Cleaner, there is a "zero" possibility of data recovery. Once everything is deleted, it is permanently removed from the device. Creating backups before deleting contacts from your iPhone is very much advised especially for uncertain users.
Selected contacts deletion or total contacts removal is easy with the above tips and tricks. To protect your privacy and to avoid information leak, choose a method or program that guarantees zero recovery such as the iPhone Data Cleaner. Moreover, compare with other applications, you can use this software to permanently remove not just phonebook entries but other iOS files as well.