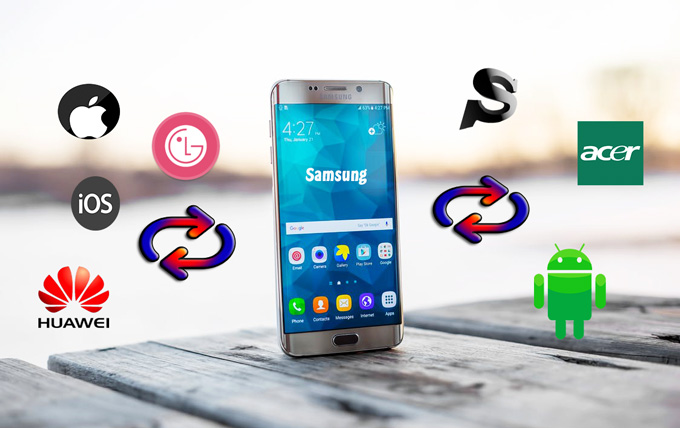 People nowadays change their phones just like Samsung updates its systems. And for this reason, people need to transfer phone content from Samsung to various platforms very often and vice versa. Therefore, the Korean mogul company has created a program – Samsung Smart Switch to help us with such problem. This smart switch can transfer all your contacts, photos, music, videos, messages, notes, calendar, etc. from the old device to your new Galaxy device. This tool is consists of Smart Switch (the PC version) & Smart Switch Mobile (the device version) and it supports transferring data among iOS, Blackberry, Symbian, and Android operating systems.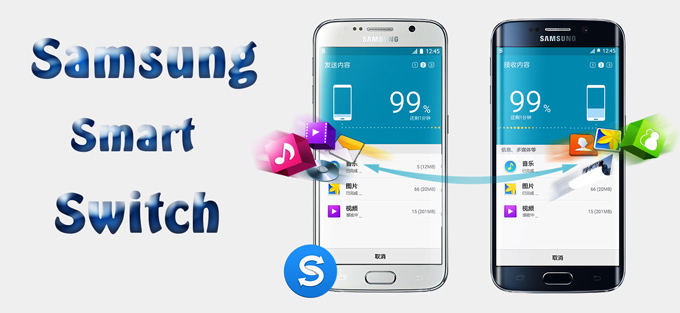 Although everything seems to be wonderful and great with this application, many users are reporting numerous problems with Samsung Smart Switch not working. Some of the common ones are concluded as below:
Phone incompatible issues which are not quite the same as claims.
The app sometimes halts in the process with various error messages.
The app closes down at a certain period of time.
Content transferring errors with zip files containing no data.
Samsung Smart Switch troubleshooting
If you are experiencing the above Samsung Smart Switch problems, don't worry, we are here to help you! First of all, try some basic solutions: Restarting the tool, reinstalling both mobile and PC versions, clearing the background applications and restarting the transferring process. However, if the traditional solutions don't work out for you, then it's time to find an alternative for solving the Samsung Smart Switch stuck issues. Below is the phone transfer tool which can be used as another choice for Samsung transfer.
ApowerTrans
ApowerTrans guarantees an easy and efficient transfer of mobile contents. By using this software, you can transfer various kinds of media files from your devices, such as apps, photos, music, videos, full contacts, documents, files, SMS, call logs and more. It works with all mobile platforms including iOS, Android, Symbian and Blackberry OS. Moreover, ApowerTrans supports up to 2000 phone models such as Samsung, HTC, Nokia, Apple, Blackberry, Sony, LG, Acer, Motorola, Huawei, etc. Also, it is free of malware which provides your computer with a clear and healthy environment.
Advantages of ApowerTrans
Compared with Samsung Smart Switch, you won't have difficulties and glitches with ApowerTrans. Plus, you'll get to enjoy more features such as direct transferring of contents from two phones, files backup from phone to PC, phone data restore of backups, files erasing of the old device. Most importantly, you can avoid situations like Samsung Switch keeps crashing or the operation halts in the middle of transferring.
Steps of Using ApowerTrans
Download, install and run the program on your PC.
Connect your phones to PC with the supplied USB cables.
Make sure that both "Source" and "Destination" are correct. You can easily switch it by clicking the "Flip" button.
After automatic device recognition, check the contents you wish to transfer.
Tap the "Start copy" button and wait till the process completes.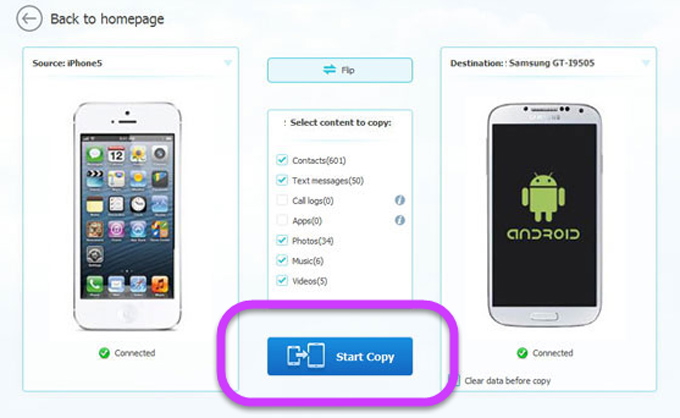 Conclusion
You won't have the same problems which you may encounter during using Samsung Smart Switch since ApowerTrans takes much less memory on your computer. However, Samsung Smart Switch still is a brilliant tool if the bugs can be fixed in the near future. No matter which tool you choose, it should be a good choice for you as long as it guarantees a stable & efficient phone transferring experience.