Both Apple and Samsung do have their own share of avid followers, and the battle between whose better seems to be never ending. With the release of their current flagship phones, the question of who is more superior continues. Check out this iPhone vs Galaxy comparison below.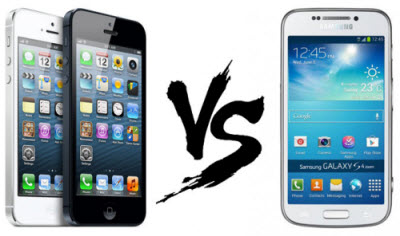 iPhone vs Galaxy – In General
iPhone
Galaxy
User Interface
Simple, very intuitive
Touch screen, intuitive
Internet Connectivity
WiFi, 3G, HSDPA and LTE modules
WiFi, 3G, HSDPA and LTE modules
Basic Functions
Call, message

take photos, videos, etc

Call, message

take photos, videos, etc

Generations
From 1st gen iPhone to 6, 6 Plus
From Galaxy S to S5

Galaxy Note to 4
User Interface
The iPhone runs on iOS while Samsung Galaxy uses Android as its main operating system. Since both use different mobile operating systems, expect them to have variances in terms of user interface. However, everything is similar with its graphical list of icons able to run applications by using tap or click.
Internet Connectivity
Both the iPhone and Galaxy support to connect to Wi-Fi or mobile data. Equally, newer generations of these devices are equipped with 3G, HSDPA and LTE modules. Furthermore, both the iPhone and Galaxy can share hotspot with others.
Basic Functions
The question – which is better iPhone or Galaxy hasn't an answer when it comes to basic phone functions. Both of these devices are your basic mobile handsets with the same functions and technological gimmicks. They both let you make phone calls, send messages, save memos, check time and date, connect to internet, etc.
Generations
At the time of writing, Apple already has 10 models of iPhone. The 1st gen iPhone, 3G, 3GS, 4, 4s, 5, 5C, 5S and the recently released iPhone 6 together with the phablet iPhone 6 Plus. On the other hand, Samsung has two variants of Galaxy phones. They are the original Samsung Galaxy S, S II, S III, S4 and S5 along with Samsung Galaxy Note, Note II, Note 3 and Note 4.
Galaxy Note 4 vs iPhone 6 Plus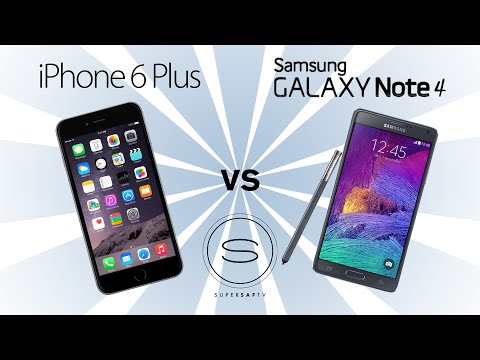 With Apple entering the phablet market, the ever mighty Samsung Galaxy Note now has its top rival. Though, bear in mind that Samsung Galaxy Note already has four generation handsets making the iPhone 6 Plus a neophyte in the phablet category.
Galaxy Note 4
iPhone 6 Plus
Screen Resolution
2560×1440
1920×1080
Camera
Back Camera: 16MP

Front Camera: 3.7MP

Back Camera: 8MP

Front Camera: 1.2MP

Price (UK, US and AU)
£600, $650 and $900 AU
£619, $749 and $999 AU
Weight
176 grams
172 grams
Battery
3220 mAh
2915 mAh
Waterproof
Colors
Black, gold, pink and white
Gold, gray and silver
Processor
2.7 GHz Quad-Core

or 1.9 GHz Quad-Core

A8 chip with 64-bit
NFC
Screen Resolution
The newer iPhone 6 Plus features a 5.5 inch screen with a resolution of 1920 by 1080 while the pixel density counts at 401 ppi. Conversely, the Samsung Galaxy Note 4 holds a massive screen of 5.7 inches with 2560 by 1440 resolution accounting to 515 ppi.
Camera
If you would evaluate iPhone and Samsung Galaxy against this criteria – camera, the iPhone 6 Plus comes short as 8MP main camera while the Samsung Note 4 boosts a 16MP shutter. This shortage of Apple equally extends up to the secondary front facing cam, 1.2MP for the iPhone 6 Plus while the front cam of Note 4 features a 3.7MP.
Price (UK, US and AU)
Samsung hasn't revealed the price of Galaxy Note 4 yet but you can expect it to be around £600, $650 and $900 AU for the sim-free version. And for the iPhone 6 Plus, things are a bit more expensive at £619, $749 as well as $999 AU for the unlocked handset.
Weight
The iPhone 6 Plus weights 172 grams while the Samsung Galaxy Note 4 measures at 176 grams. It is interesting to note that although the Samsung Note 4 comes with a bigger screen, it still manages to keep a light weight.
Battery
On this department, Samsung has the edge. While there is no final word on the battery of iPhone 6 Plus, reports are pointing the non-removable battery to be at 2915 mAh. But with Samsung Galaxy Note 4, the removable battery holds a 3220 mAh power.
Waterproof
Both these devices are not IP67 certified. Meaning either the iPhone 6 Plus or the Samsung Galaxy Note 4 can repel dust or water.
Colors
The iPhone 6 Plus comes in three colors: gold, gray and silver. Samsung Note 4 on the other hand offers four color selections: black, gold, pink and white.
Processor
The Samsung Galaxy Note 4 features a powerful processor of 2.7 GHz Quad-Core or the 1.9 GHz Quad-Core depending on the country in which the model has been produced. But with iPhone 6 Plus A8 chip with 64-bit architecture, the Apple's phablet can literally process anything.
NFC
Now for the Near Field Communication functionality (NFC), Galaxy Note 4 vs iPhone 6 Plus match-up because both of them are equipped with this technological feature.
Galaxy S5 vs iPhone 6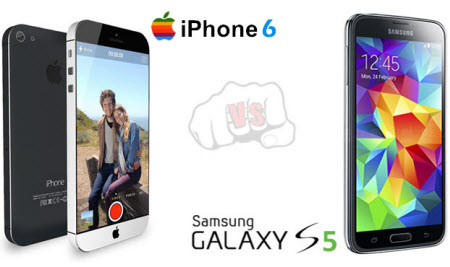 Now let's take a closer look at the iPhone 6 and its closest rival, the Samsung Galaxy S5. Bear in mind that these devices are not classified as phablets but high-end smartphones. Also, take into consideration that the Samsung Galaxy S5 was released this year.
| | Galaxy S5 | iPhone 6 |
| --- | --- | --- |
| Screen Resolution | 1920×1080 | 1334×750 |
| Camera | 16 megapixel | 8 megapixel |
| Price (UK, US and AU) | £550, $650 and $899 AU | £539, $649 and $869 AU |
| Weight | 145 grams | 129 grams |
| Battery | 2800 mAh | 1810 mAh |
| Waterproof | | |
| Colors | Black, white, blue and copper | Silver, gold and gray |
| Processor | 2.5 GHz quad-core | A8 chip with 64-bit |
| NFC | | |
Screen Resolution
The iPhone 6 screen measures at 4.7 inches with a resolution of 1,334 by 750 as well as pixel count of 326 ppi. On the other hand, Samsung's last year flagship phone – the Galaxy S5 measures 5.1 inches with a stunning pixel count of 432 ppi and 1920 by 1080 resolution.
Camera
On the camera section, the iPhone 6 features an 8 megapixel shutter while the Samsung Galaxy S5 can take photos using its 16 megapixel camera. Also, the Galaxy S5 is equipped with 4K HD video recording capabilities.
Price (UK, US and AU)
The pricing of iPhone 6 starts at £539, $649 and $869 AU. Though Galaxy S5 has been released several months, prices are almost the same as with Apple's newest gadget, £550, $650 and $899 AU. You may mind that these figures are for unlocked versions.
Weight
Comparing weight of Galaxy S5 and iPhone 6, a difference of only 16 grams can be noted. The iPhone 6 weights 129 grams while the Galaxy S5 is a bit heavier at 145 grams.
Battery
The battery of iPhone 6 is a 1810 mAh power. Although, this is not 100% confirmed since Apple only claims longer battery life. Yet with Samsung Galaxy S5, it offers a monstrous removable battery of 2,800 mAh.
Waterproof
The iPhone 6 falls short in this criteria, for it's neither water nor dust resistant. But with Samsung S5, you can enjoy its IP67 certification meaning the device is both water and dust resistant.
Colors
There are three colors available for the iPhone 6: silver, gold and gray. While with Samsung S5, there are four colors available namely black, white, blue and copper.
Processor
Then again, Apple uses its 64-bit A8 chip processor for the iPhone 6 whereas S5 is armed with 2.5 GHz quad-core Snapdragon 801 processor. Both can handle 3D games or complicated tasks but the 64-bit feature of Apple is a big advantage over Samsung's quad-core Snapdragon.
NFC
Both handsets are equipped with NFC technology. Yet, previous handsets of Samsung are equally equipped with NFC.
So which is better iPhone or Galaxy? The decision is yours to make and that truly depends on what you need as well as what you want. But one thing is for sure, the rivalry between these smartphone giants will never end here.