If you have a collection of images that you'd like to turn into a PDF file, you'll need reliable applications designed for this purpose. You can place one image in every page or assemble a variety of photos into multiple PDF pages.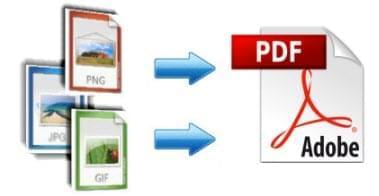 Find out how to create PDF with image files using three different tools.
Method 1: Online Tool – Apowersoft Free Image to PDF Online
Apowersoft Free Image to PDF Online is one of the best online tools you can use to make PDF with images. Basically, all you have to do is convert your image files into PDF format by uploading the file or providing the URL. You can do this right on the Apowersoft website, and there's no need to download any software.
It's absolutely free of charge so you can create as many PDF files as you want.
This online application offers three modes of conversion:
Convert images to PDF from a URL address.
Convert images from disk one by one.
Convert multiple pictures from disk simultaneously.
The intuitive user interface is quite simple and easy to use. With just a few clicks, you can create a PDF with images:
Step 1 – From local disk, upload your file and input a page title. Alternatively, you may type in the URL address and page title.
Step 2 – Add or remove images as necessary.
Step 3 – Click "Create PDF".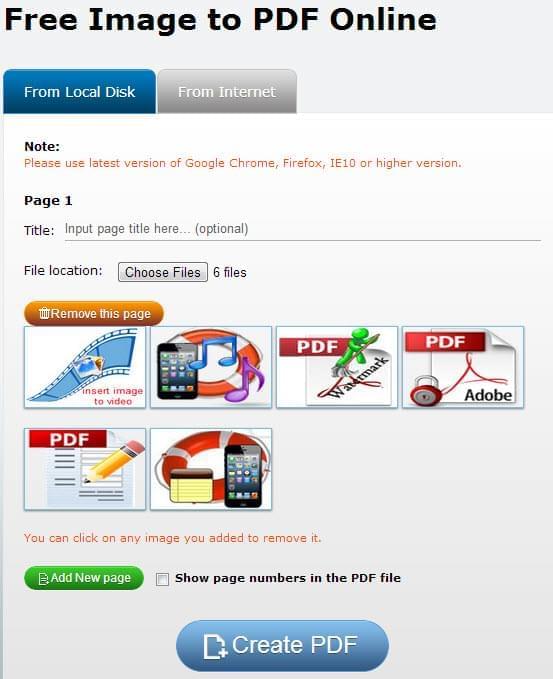 This online tool is certainly a great help considering that it's free, fast and effective. Quality is an essential factor for most users, and this application doesn't fail to deliver.
With Apowersoft Free Image to PDF Online, photos can be reduced in size while keeping the original high quality.
Method 2: Freeware – PDFlite
Compared to the previous online solution mentioned, PDFlite requires you to download the software in order to create PDF with image. but it's also free. It's an open source PDF printer and viewer that also functions to convert images to PDF.
The process involves three basic steps:
Step 1 – Upload your image file.
Step 2 – Go to "File" and click "Print".
Step 3 – Choose PDFlite as the printer.
From here, your newly created PDF file will go to the same folder as the original file. You may also pick a different file location during the printing process.
Overall, PDFlite is a simple program with less conversion features. Its main purpose primarily focuses on reading documents. The main disadvantage of this method is that you have fewer options when it comes to converting images to make a PDF.
A Professional Shareware – Apowersoft PDF Editor to Create PDF with Image
Apowersoft PDF Editor is a more comprehensive and versatile image to PDF converter equipped with various advanced features. With this tool, you can convert image files to PDF documents, add a signature or watermark, set a password to protect confidential information, produce high quality files, and generate numerous PDF files all at once.
It supports PDF hyperlinks, batch creation, autosave and PDF customization. Making a PDF with images is also quick and easy. This software comes with plenty of useful functions that may come in handy when you need to convert different types of files.
So, Which Solution is the Best for You?
The three PDF creator tools listed above are all useful in making a PDF out of images. If you simply need a basic conversion tool without the bells and whistles, PDFlite can help you out. And if you need a versatile, multi-purpose program that can do a lot more than converting images to PDF, Apowersoft PDF Editor is a good choice.
If you're looking for a fast and convenient solution that you can use anytime, then Apowersoft Free Image to PDF Online is the optimal choice since it's readily available online, and you don't have to download anything. The output quality is commendable as well as the conversion speed. It's very easy to create a PDF with images using this handy tool.