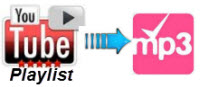 On YouTube, there are plenty of music playlists like artists and VEVO among others. Many of us want to convert YouTube playlist to MP3 online, so we can enjoy great music or any other audios at anywhere and anytime of the day. Whether you are using MP3-compatible devices like iPod, Zune, PSP, computer media players and so on, it is always good to have music anytime.
As we all know, it is always easy to download a single YouTube video to MP3 but converting a whole playlist can be hard, boring and time consuming.
Workable YouTube Playlist to MP3 Converter
The good news is, there are applications that work like magic when it comes to downloading and converting videos from playlist to mp3. And I'm glad to recommend you two helpful YouTube to MP3 converters that give you powerful solutions to get rid of the boring task of doing things one by one.
1. Free method to convert playlist to MP3
Thankfully, we have Apowersoft Free Online Audio Recorder that enables you to convert YouTube playlist to mp3. The app works on either Windows OS or Mac PC, it is definitely user friendly and can record anything that you want to listen to. You can always record audio files from different audio inputs and always avail this for free.
Here are some tips on how you can start using the application now:
Visit Apowersoft audio recorder page, click "Start Recording" button.
The audio recorder will show up, select "Tools" to configure the settings.
Select "Options" and choose recorded format as mp3, select automatically split when the silence is more than 3000 millisecond. In this case, the songs will be saved separated in MP3.
Open the playlist on YouTube and set the play mode as Autoplay.
Choose "Record" for recording recording YouTube MP3, hit "Stop" when you want to finish recording.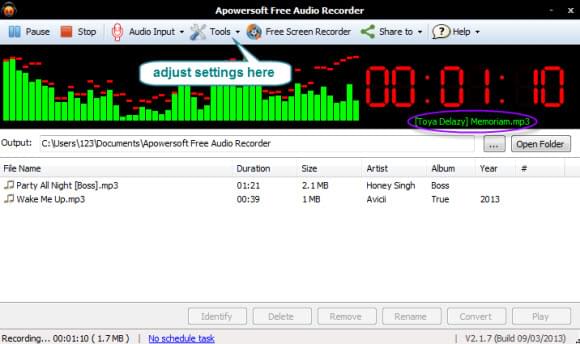 You can see that it is the one-click way to do playlist to mp3 conversion. This app has no limit on recording time and helps you organize recordings by creating scheduled tasks. Even much better, Apowersoft free online audio recorder will add ID3 tag for songs immediately.
2. Convert full YouTube playlist to mp3 effectively
Video Download Capture is a video downloader which can download videos from YouTube playlist. It has amazingly enhanced technologies for streaming online media and provides economical product but with high-quality performance to download videos from the millions of websites around. After downloading a playlist, the inlaid video converter is able to convert YouTube playlist to MP3. Before learning the detailed conversion process, please get and install the software now.
Step 1: To begin with, enter the YouTube playlist page and bring the playlist URL to download bar on Video Download Capture, select "Add to download" button. Then, a window which list the videos in playlist will appear, you can choose the desired videos by ticking the boxes beside the video name. Tap "Add to Download" again.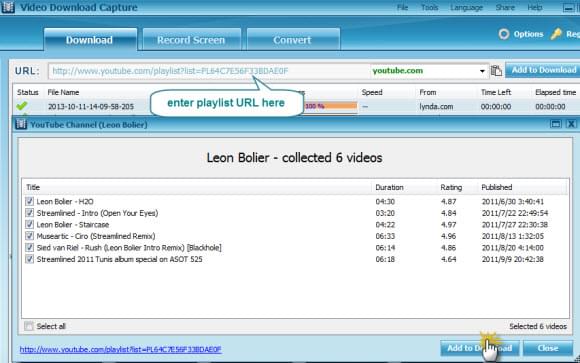 Step 2: You will be required to specify a format for downloaded videos., hit "OK" to download playlist. Next to downloading, back to the program's interface, choose all the videos from your download list and right-click, hit "Add to Convert" item.
Step 3: The converter interface is show up, click "Profile" bar and set the target format as "to Audio" – MP3. Press "Start" icon, the converter will convert playlist to MP3 files at high speed.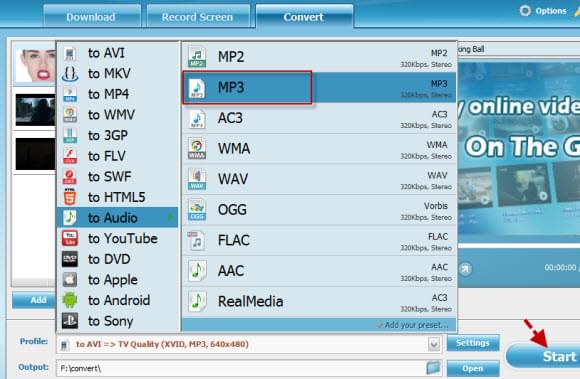 When you successfully converted all of your chosen YouTube playlist music, you can simply send them to MP3 players. Or, cut, mix or add effects to audio files with inbuilt audio editor for creating phone ringtones. Also, you have the power to convert full YouTube playlist to other formats.
3. Helpful solution to do YouTube playlist to MP3 conversion
To the people who are searching for the basic way to convert YouTube playlist to MP3, YouTube playlist converter to MP3 will be a good choice. This utility is a Firefox extension, and you should install it to the browser before converting YouTube playlist. After installation, the Firefox will remind you to restart the browser and enable the addon in settings. When you integrate it to browser successfully, you can draw support from the addon immediately. Opening a playlist on YouTube, a "get playlist" button can be seen under the video playing video. Then, hit this button and specify an output directory for storing MP3 files. All right, your favorite MP3 will be saved to computer.
Yet, since this extension converts YouTube playlist to MP3 on browser, the speed for video downloading is not that fast. What's more, if you convert too many videos at the same time, the browser will crash occasionally. Last but not the least, it is not possible to use this extension on browsers other than Firefox.
Burn YouTube Music Playlist to CD
After converting YouTube playlist to MP3 songs, you can transfer them to gadgets for listening on the go. And assuming that you are a music lover, you may think about burning music playlist to CD. It's a nice idea to take the CD in the car and enjoy it when driving. With the beautiful songs, you won't feel bored during the long journey. For the computer beginners who never tried to do it, this task is somewhat difficult. Then, I'm here to recommend the easiest method to burn music CD. Please follow the guide:
Download Streaming Audio Recorder and quick install it by following the instructions.
Open the computer CD Rom and insert a blank CD into it.
Activate the software, click "Tools" on the function bar, then go to "CD burner".
A window will appear, hit "Add" button to import the MP3 files into the software. You can adjust the order of songs by clicking "Move up" and "Move down". Similarly, you can also use "Add", "Clear" or "Remove" to organize the tracks if necessary.
After you have adjust the playlists, choose burn to "Audio CD" or "Data CD" according to your need. Press "Start" button and wait for the CD burning process gets done.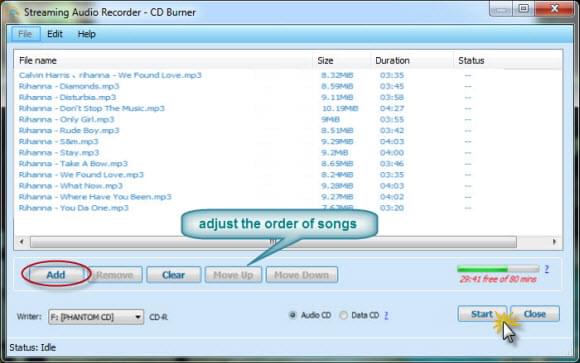 In this case, the playlist will be burned to CD and you can keep it forever. Copying playlist to CD is really an economic way to to enrich your music collection from YouTube playlist and listen to them anywhere with ease.