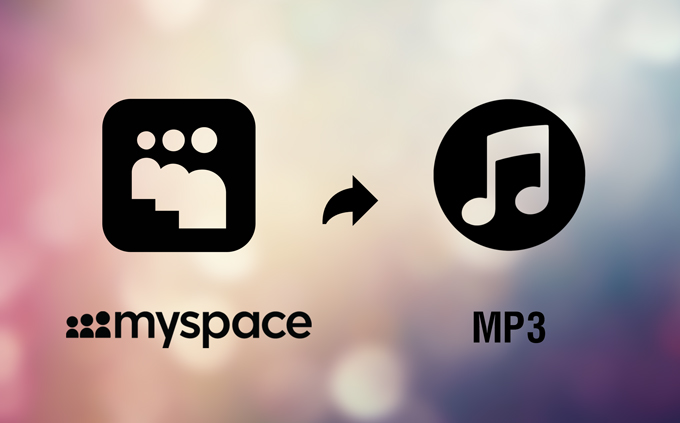 Once hailed as the Queen of Social Networking, MySpace has now turned to be a revamped networking site with strong emphasis on music. It is owned by Specific Media LLC and music icon Justin Timberlake. Under the supervision of new owners, the site had gone through major renovations. Now, it features a very cool looking interface with built-in media player and playlist editor. Moreover, the new MySpace contains a wide selection of music from classical ballads to top charting hits. Although users can listen to their favorite songs without any restrictions, downloading audio files from MySpace is certainly impossible. Hence, music fanatics are finding good ways on how to convert MySpace music to MP3.
There are many reasons why one would need to download music from MySpace. You might want to add certain songs on your music collection, transfer it on your MP4 player or smartphone, create audio CDs, portable music listening, cut down the cost of mobile internet connection and many more. With this, you will need a reliable MySpace to MP3 converter.
Cool Solutions for Converting MySpace to MP3
Simple Way – Online MySpace Music Converter
The Apowersoft Online Audio Recorder is a no-installation needed web application specifically made to grab music contents from various websites. There are no registrations or memberships required just to use its free service. Aside from being free, the application doesn't have any restrictions. You can use it to download as many audio files as you want either from system sound or microphone, regarding the specific case of recording MySpace, it can record the sound comes from your system when streaming them
This MySpace to MP3 converter online is very easy to use. Here's how:
Open Apowersoft Online Audio Recorder, click "Start Recording" button on the webpage.
Allow the java to run when notification pops out.
The program will be launched, click the "Audio Input" tab and select "System Sound".
To guarantee the best sound quality, please turn off other sounds. Visit MySpace and play the music that you want to grab.
Go back to Apowersoft Online Audio Recorder and click the "Start" button, click "Stop" when you want to finish recording.
You can also watch this video to learn the steps in action.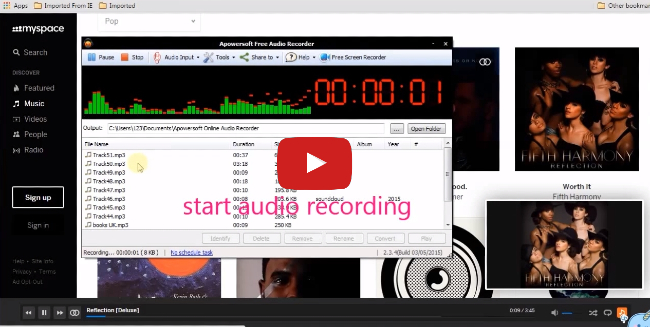 Really that simple and in no time, you'll have the perfect music playing on your device. Another feature that makes this application so special is that it has a scheduler in which you can record the upcoming songs played on your computer. Adding up is the free converter that supports MP3, AAC, WMA, OGG, WAV, and more. However, only Windows users can get benefits from it for it cannot be used on Mac OS.
Pro Way – Desktop MySpace to MP3 Converter
If you really need a powerful tool that can convert MySpace MP3 preserving high quality audio and loud bass, check out Streaming Audio Recorder. Just like the above application, it can grab music contents from both system sound and microphone, but this program allows you to organize mp3 files and add them to iTunes directly. In additional, it compatible on both Windows and Mac.
After downloading and installing Streaming Audio Recorder, you can convert MySpace music to MP3 in 3 simple steps. In fact, even novice users would find it such a breeze to grab music contents:
Run the software, click "Record Settings" and choose the right audio source.
Head on to MySpace and play the music of your choice.
Hit the red "On" button under the "Record" tab to record MP3, hit "Off" to stop recording.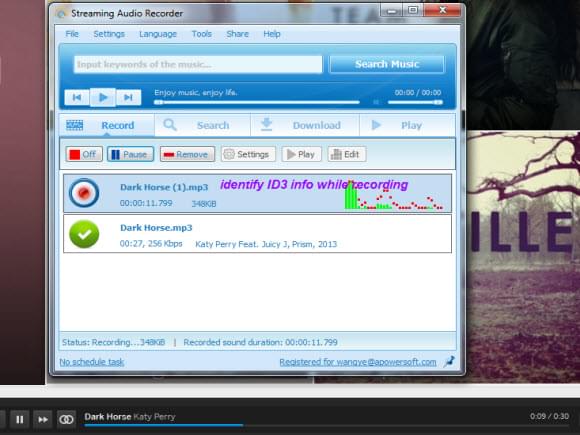 Now that you have your music files downloaded, you can edit ID3 tags making your files more organized and properly labeled. The program also features a built-in fast converter with batch conversion for helping you convert audio when necessary.
Unlike the former app, Streaming Audio Recorder has a smart editing tool that you can use to cut, splice, merge or alter MP3s. Then you have the built-in music downloader and CD burner included on the program. Indeed, it is more powerful and convenient than the above mentioned free music grabber.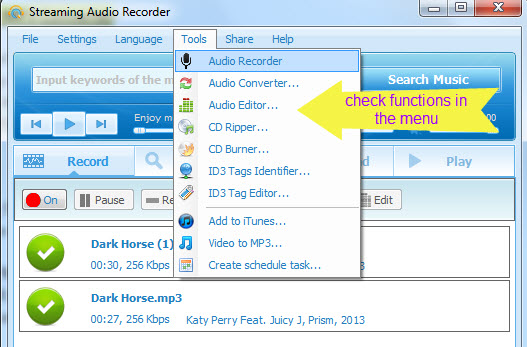 How to Convert MySpace Video to MP3
Aside from offering good quality music, MySpace at the same time features videos. But unlike YouTube, MySpace Videos focuses more on music clips. If you want to grab music videos from MySpace, you can use the Video Download capture. Aside from downloading videos, you can likewise use it to extract audio files out from videos.
Follow the guides to download and install the software, than activate it.
Click the "Advance Video Detector", the inlaid browser will appear.
Paste the corresponding MySpace URL containing video to the address bar.
Click "Go", then the software will detect the video and download it.
Wait until the file is complete, right click it and choose "Add to Convert".
The video will be added to built-in converter, select MP3 as your output format.
Click "Start" button to convert MySpace to MP3.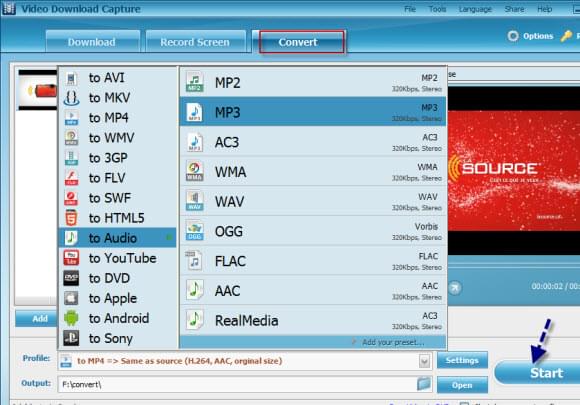 The above tools will really help you get MySpace MP3. You can opt for the free no installation needed online app or the more powerful and feature-filled premium music grabber. Lastly, the video downloader works great if you are a MySpace music and video fan boy.