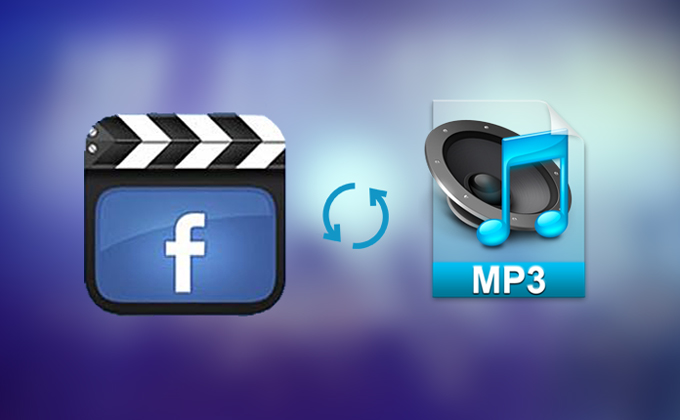 There are more than a billion users of Facebook Worldwide, making it the most used and popular social media website throughout the world. It provides users with the ability to connect with friends and family easily, sharing statuses, photos, links and stories. One of the most popular features of Facebook is the ability to share videos to friends and family. For some users, they may desire to save the fantastic audio clips in Facebook videos. In this case, they may choose to convert Facebook video to MP3, making these audio easily accessible through most devices.
Three Feasible Applications for Converting Facebook Video to MP3
There is a wide selection of programs that would help to save the Facebook video you like as MP3 files. Here follows some of them.
Method one: Apowersoft Free Video to MP3
By using Apowersoft Free Video to MP3 , you can convert any online video, as well as live streaming media into audio MP3s. In addition, this application allows for the conversion of local media files into MP3s. Aside from the convenience in using this application, it enables you to customize output settings for audio. The reason why it remains as one of the most popular video to audio converter is that it is compatible with all the popular web browsers on both Windows and Mac computers.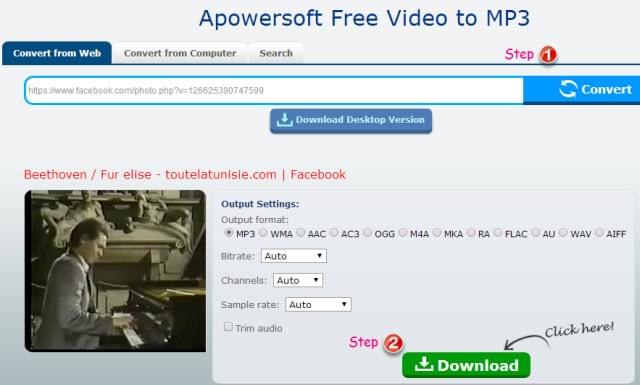 Using it to convert Facebook video to MP3 online is simple:
Stream the Facebook video and simply copy the video URL.
After that, switch to the webpage of this online application and paste the video URL in the box and click on the "Convert" option.
Adjust the output audio settings as you prefer. For example, you can select audio format, bitrate, sample rate as you wish.
Once settings done, hit the "Download" button and select the output folder.
Wait until it finishes downloading. Now the MP3 file you have downloaded is available for sharing and playing by most music players.
Method two: Fb2MP3
Similar to the previous websites, Fb2MP3 also supports to convert Facebook video to MP3. The application assures users of free and fast service without the hassle of signing up to the website. It allows for easy navigation and use. In order to convert a Facebook video into an MP3 file, simply copy and paste the Facebook video URL to the entry form in the website.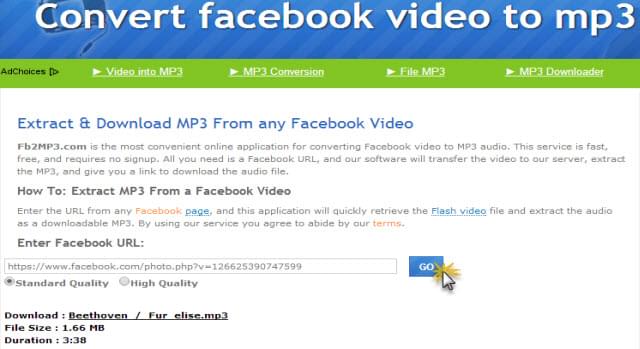 While Fb2MP3 is indeed easy to use, one of its major drawbacks is the inability of users to adjust the sound quality of the converted file and users are limited to adjust two preset options provided by this site. In addition, Fb2MP3 is dedicated for Facebook use,  making it inaccessible for users who want to convert MP3 from other sites.
Method three: Best Facebook Video to MP3 Converter
Streaming Audio Recorder is one of the most recommended audio conversion suites. The desktop program serves as an all-around audio recorder, allow users to record video and audio streaming as well as converting audio formats. In addition, Streaming Audio Recorder would help to edit audio files and burn these files into CDs without the need to download additional software.
After downloading and installing this Facebook video to MP3 converter to your computer, there are two main ways for you to choose from for downloading Facebook video to MP3 by using this desktop program. The first option is through downloading and converting. Just select "Video to MP3" from the "Tools" menu. Then copy the URL of the Facebook video you like and paste it in the download box. After that, you can change the default output settings as you desire. Once these settings are done, click "Download" button and wait until the audio file have been downloaded.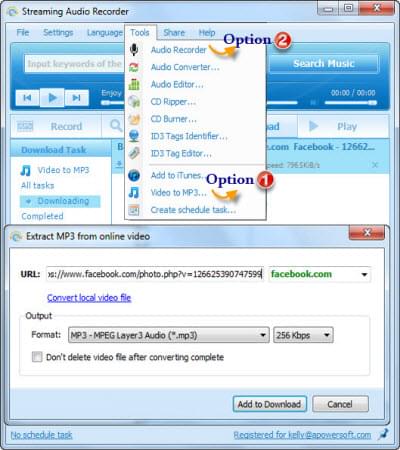 The second option to download Facebook videos to MP3 is by recording with Streaming Audio Recorder.
Select "Audio Recorder" from the drop-down menu of "Tools" tab on the top.
Click "Settings" to choose your desirable output audio format, directory folder and many others.
Hit the "Start" button to begin the recording.
Stream the Facebook you like. The recorder will capture the audio via the sound card of the computer.
Click "Stop" button whenever you want to finish the recording.
Conclusion
If you want to spare the trouble of installation and registration, then you could choose to use Apowersoft Free Video to MP3 or Fb2MP3 to convert Fackbook video to MP3. However, if you are looking for an application that bundled with more features like audio editing, audio converting, CD burning and others, then Streaming Audio Recorder would be a better choice.