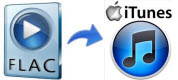 Developed by Josh Coalson in the year 2000 and initially released in January 2001, not all of us are familiar with FLAC file. FLAC stands for Free Lossless Audio Codec and is actually a codec rather than a media format. It is like WMV and MP3 but what makes it different is that FLAC file compresses audio with high perservation of audio quality. It becomes popular in storing tunes as FLAC files preserves better quality.
However, there are only handful applications that can handle FLAC on your computer, part is most of them are exuberantly priced. Equally, iTunes does not support FLAC files together with iOS devices ranging from iPhone to iPod. If you wish to play FLAC on your portable Apple devices, converting FLAC files to iTunes compatible format is deemed to be necessary. Here are the three ways to do that:
Free Way – Apowersoft Free Online Audio Converter (Windows and Mac)
For those who don't want to install additional software just to convert this pretty neophyte audio file, you can use Apowersoft Free Online Audio Converter. It is an online based application that performs conversion in the cloud so you don't have to install anything on your pc. Best part of it, it is totally free with no limits, registrations or memberships.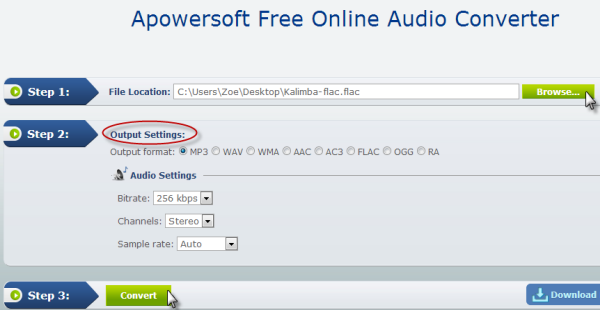 Using it is very simple, see below the guided instruction:
Convert by clicking "Browse".
 A java pop-up will appear and click "yes" or "allow".
Upload the file and choose the output format, in this case select MP3 format which is supported by iTunes.
Adjust settings according to your preferences.
Click "Convert" and select the target output folder.
Run iTunes and simply drag and drop your converted file to iTunes library.
This online application is applicable for both Windows and Mac users. Before conversion, experienced users can also change bitrate, channels and sample rates depending on your desires. With this tool, you can now convert FLAC file to iTunes as easy as counting 1-2-3.
Feasible Method: Streaming Audio Recorder (Windows)
Streaming Audio Recorder might not come for free but it is packed with tons of features aside from its ability to convert audio files to different audio formats like MP3, WAV, WMA, AAC and OGG. You can use this software to record just about anything that is playing on your PC with 1:1 quality. Equally you can download music from popular streaming sites such as YouTube, Vimeo, DailyMotion and all others in direct audio format. Grabbing music from online radio stations and editing ID3 tags are likewise possible with Streaming Audio Recorder.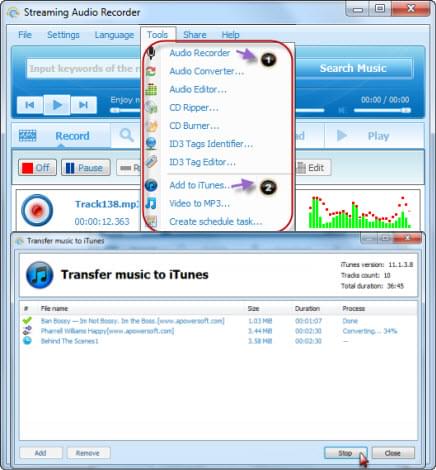 Converting FLAC files to iTunes is indeed stress-free using this desktop tool, all you need to do is:
Install and run Streaming Audio Recorder on your PC.
Make your desired settings. For example, you can choose the output format, folder or make other advanced settings.
Click "On" to start recording.
Play FLAC files in your VLC player and hit the "Stop" button whenever you want to finish it.
 When done, right click the file and hit "Add to iTunes".
Hit the "Start" button after selecting the files you want to add to iTunes. Then wait for the conversion completes and all files will be synced to iTunes library automatically
It's that easy and you can now enjoy high quality FLAC music on your computer. Furthermore, you can also use Streaming Audio Recorder to edit audio files, the smart converter can make your music file compatible to portable media devices such as Apple gadgets, android smartphones, tablets and all others.
Quick Solution – Fluke (For Mac)
If you are a Mac user who want to convert FLAC files, try Fluke and it might fancy your liking. Fluke is a free desktop application that's developed exclusive for Mac. It doesn't modify FLAC but instead it installs additional codecs as well as applescripts that make iTunes play them well after processing. Using Fluke is extremely easy.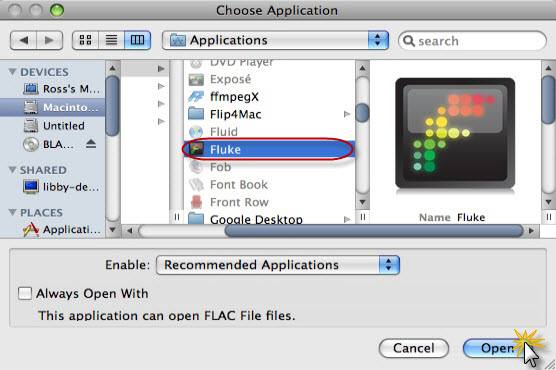 Download and install fluke on your mac.
Run your iTunes.
To play FLAC files, right-click the audio file and select "open with".
Choose "others" and find "fluke".
A window prompt will appear and click "yes".
Check your library and it should automatically add FLAC files to iTunes.
Using fluke is actually convenient because you don't need to convert files,however there are some drawbacks you need to consider. This desktop software requires Mac OS X 10.5 or later which means newer versions of Mac OS are not supported including OS Lion 10.7. Additionally, you also need to have QuickTime 7 and Xiph QuickTime decoders installed. In comparison, if you want the one that dose not have any requirements of installation or registration, Apowersoft Free Online Audio Converter would be the best option. While, If you value more stable performance and powerful functions, then Streaming Audio Recorder can satisfies you.
How to Burn FLAC Files to CD?
With Streaming Audio Recorder, aside from the fact that you can convert FLAC to iTunes, you can also use it to create audio CDs. Insert a blank CD-R or CD-RW on your CD Rom and start the program. Next, hit the "Tools" tab on top and select "CD burner". Add the files you want to copy on the disc by clicking the "Add" button. Then you can start the burning process by hitting "Start" button. Wait for the process ends and a window will prompt automatically saying "finished successfully". After that, you can enjoy the flac files conveniently on any standard CD players.