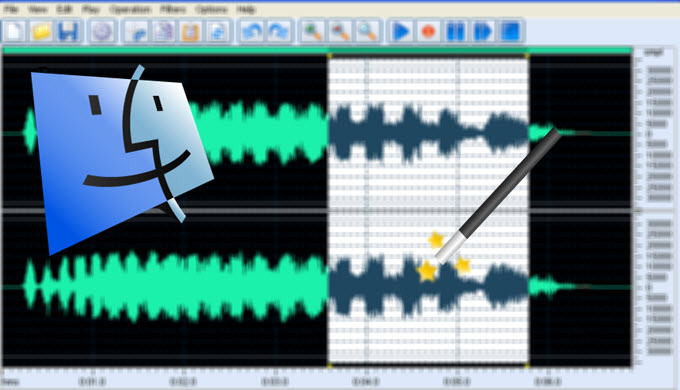 Editing audio is an extreme need for Mac users for plenty reasons: fashionable youths like to cut their favorite part of music track as ringtone, movie makers want to edit background audio files to motivate the audiences, music lovers are yearning for removing unwanted sounds like clicks and pops away for fully enjoyment. All of them are holding the same wish of searching for a great Mac audio editor that works smoothly on Mac. With a great amount of various choices online, here I have listed out the top 3 ones for you. Please read on and choose a suitable one among the following recommendations.
Top 3 Audio Editors on Mac
Apowersoft Audio Recorder for Mac
This program is the most reliable and convenient audio editor that helps you edit audio files in a simple way. Especially designed for Mac user, it is capable of some basic editing functions like cutting, trimming and merging the audio files. With an extreme concise and straightforward editing interface, you can make full use of it with great ease. Please follow the detailed tutorial below and you will get a more general understanding of this audio editor for Mac.
Firstly, access to the editor of this program by clicking "Edit" button in the middle of "Library" interface or just right click on the recorded track and hit on "edit" directly.
After loading the audio file, you need to "Add select" and choose a part of this file as you need. Even much better, it is also available for you to choose several parts of the audio file by adding selections. You can also adjust the "Start time" and "Stop time" of each selected part feasibly.
Then click "Export" and a window of editing will show up for filling in the track's information. If you have selected more than two parts of the audio file, you can either merge them as one file or export multiple audio files at your will.
The last step is to give a name of output file and choose the output folder for saving it on your Mac. Click "Export" again and it will be done in a second.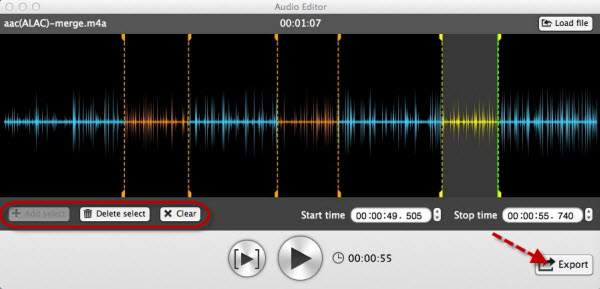 Tips:
During editing progress, you can play the audio file for checking. There are two play buttons on its operating interface, the right one is to play the part of selection and the left one is to play the whole audio file.
As the best Mac audio editor, it supports various export format including MP3, AAC, OGG, WMA, FLAC and WAV. You can choose any one of them according to your need.
It is also possible for you to edit other local audio files via clicking "Load file" on the top right corner on its editing interface or you can directly drag the audio file into the audio editor for operating.
More than editing audio, this program can also be utilized as an audio recorder and audio converter. It has a fantastic function when recording audio that is auto-identification, which is able to recognize the music information correctly while recording music online. As an audio converter, it supports to convert both audios and videos to various formats that beyond your imagination including ALAC, FLAC, AC3, RA and many others. All in all, it is indeed an outstanding program in the same filed.
Audacity
As a popular audio editor for Mac, Audacity is a free and open-source desktop software which is compatible with several platforms including Windows, Mac, and Linux/Unix. Compared with the audio editing software that mentioned before, this one is a little more complicated for its abstract and complex operating interface. After loading audio file to the editor, you will see a blue stereo waveform. The left channel is displayed in the top half of the track and the right channel in the bottom half. Meanwhile the selection tool is on by default so that you can choose any part of the music track as you like. It is worth mentioned that it enables you to fade in, fade out, invert, amplify, etc the selected part effectively.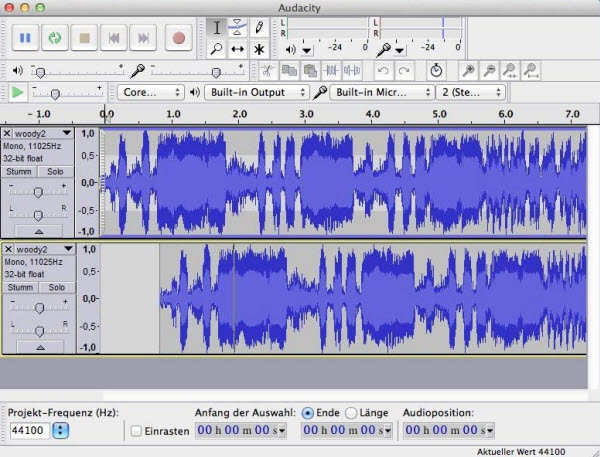 WavePad
The last Mac audio editing software that is deserved to try is WavePad, which is a versatile audio editor on Mac. It can help you achieve multiple editing tasks such as trimming audio clips, adding effects like amplifying or normalizing your audio clips, etc. It is a specific and professional audio editing software for Mac, which is free for non-commercial use. If you are longing for a more advanced and comprehensive function, it is also possible for you to pay $70 to purchase a standard license for utilizing. The editing process is as easy as those two Mac audio editors described before. Just load file, edit file and save selection clip.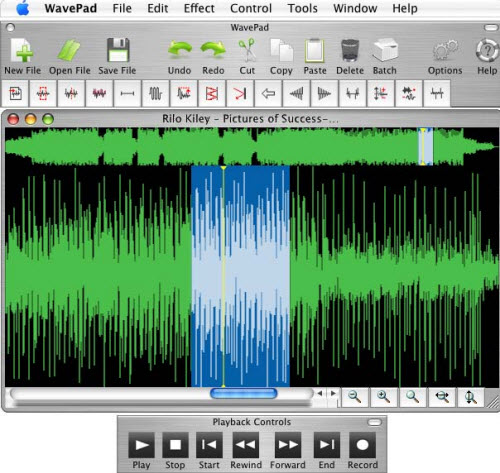 These three programs are all workable and feasible for editing audio tracks on Mac. Each one has its own highlights and drawbacks. Audacity is reliable but sophisticated, which is suitable for music engineers with professional uses. WavePad is comprehensive but charges for further utilizing, which is helpful for home uses. Apowersoft Audio Recorder for Mac, the best Mac audio editor, powerful and convenient, I believe it must be the greatest choice for you.