How to Control PowerPoint from Android Phone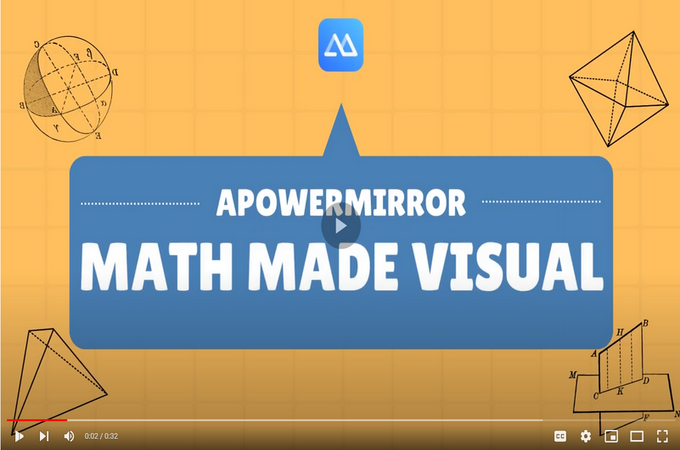 1. ApowerMirror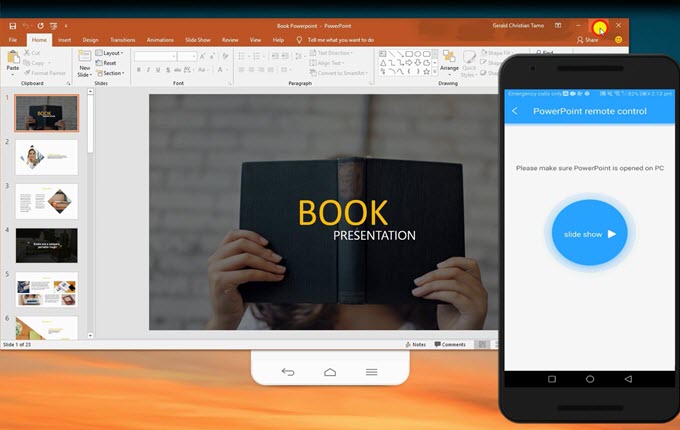 This is a well-known screen mirroring program which supports Android and iOS devices. This is usually utilised to mirror smartphone screen to PC. With it, you can stream photos, videos, and other media on a much bigger screen. In addition to that, you may use it to control your computer from your Android or iPhone. This software has a lot to offer. It allows you to control your Android phone using the keyboard and mouse of your computer. Thus, you can compose messages, take calls, and even play mobile games using your computer. Aside from its mirroring capabilities, you will be impressed with its new updated version. Now it lets you control PowerPoint from Android; allowing you to change slides from afar. Next, let's learn how to control PowerPoint from your Android using this tool.
Download and install the latest version of the app on your PC and Android phone.
Launch the program both on your computer and Android. Also, make sure to connect them to the same Wi- Fi network.
On your Android phone, tap the "Local cast" button to enable detection. Then select your computer from the available devices whose initial name is "Apowersoft".
After that, add the PowerPoint remote control function by tapping the Tool Management icon at the upper right corner.
Once done, open PowerPoint on your computer then tap PowerPoint remote control on your Android. From this interface, tap the blue round button to start controlling the PowerPoint running on your computer.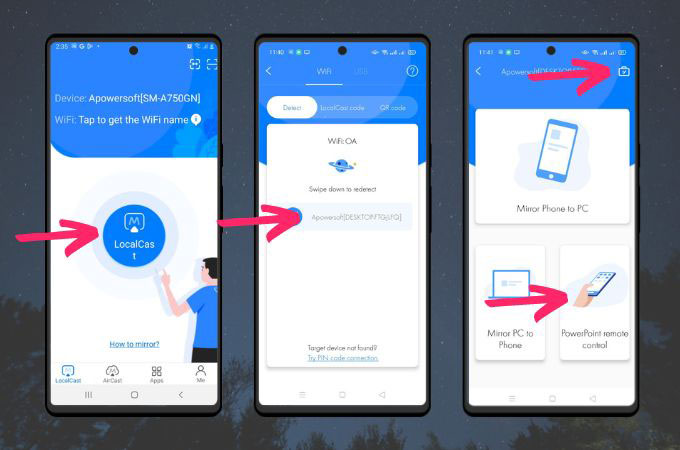 2. Office Remote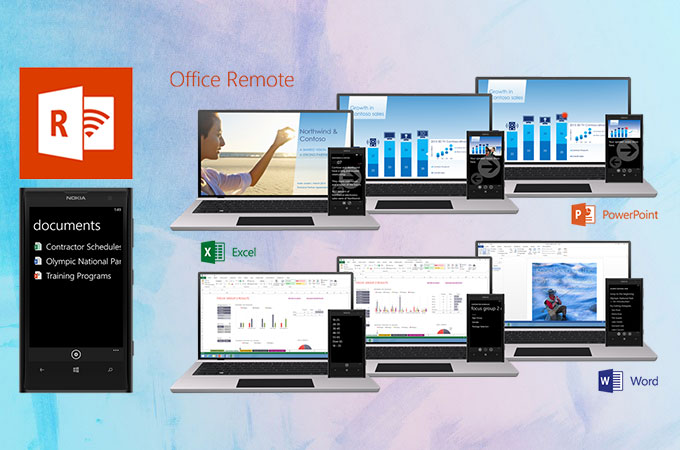 Another app you may consider is Office Remote. This is compatible with Windows Phone running OS 8 or higher and Android 4.0 or later. It turns your Android into a smart remote which enables you to interact with your Microsoft Office programs like Word, Excel, and PowerPoint on your computer. You can also use this tool as a laser pointer or to reference speaker notes all from your Android phone. Furthermore, this enables you to play and pause the embedded audio and video clips on the PowerPoint. You can also flick between Excel worksheets and graphs, as well as navigate with data slicers, filters, and PivotTables. And, you will be able to browse through a Word document or jump to headings. To know how to control PowerPoint from Android, you may refer to the guide below.
First, you need to download Office 2013 with the office Remote add-in installed. After that, pair your phone with a Bluetooth enabled PC.
On your Android, install Office Remote for Android.
Once done pairing devices, open the PowerPoint you wish to present and go to the "Office Remote" tab. From there, select "Office Remote" and then "Turn On".
Now run PowerPoint on your desktop and then open Office Remote on your Android phone. Then, you can now start presenting.
3. AIO Remote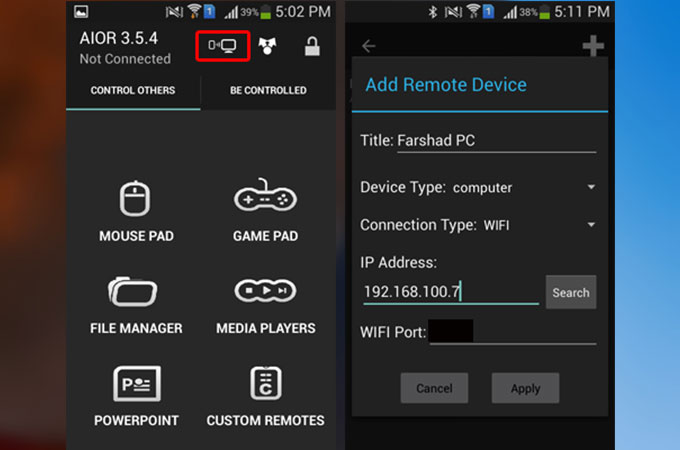 This is referred to as All In One Remote whereby you can manage any application running on your computer over WIFI or Bluetooth. It supports Windows, Linux as well as Mac computers. Also, it features a pre-made set of remotes to control mouse, keyboard, slideshow and media player, yet you may also personalize it to control any app on your computer. In addition, this enables users to access common media players like Windows media player, VLC, Media player classic and many similar software programs. One downside is that even after setting up the controls, the keys will still just revert back to their default even after saving your new settings. Anyway, you can proceed to the instructions to remote control PowerPoint from Android.
Download the desktop version of the app on your computer. Upon installing the program, you need to install Java Runtime in order to proceed. After that, launch it and go to the Settings to get the information about your port and IP so that you can connect your smartphone to PC.
You also have to install its mobile version from Google Play Store. Run it and go to the "Connectivity" option. Tap the plus icon at the upper right corner.
Connect your phone to PC by adding your port and IP. Then, choose whether you want to connect through Wi-Fi or Bluetooth.
Next, tap the name of your computer from the detected devices. Once done, you should see a green bar indicating that your device has been successfully connected.
Finally, choose PowerPoint from the selection to start controlling your PowerPoint from your Android.
Conclusion
PowerPoint is a helpful tool to deliver ideas, plans or presentations. With expressive gestures and movement, you will be able to express your thoughts well and have a stronger impact on your audience. However, you don't want to go back to your PC just to change slides. In this case, you may refer to the above-mentioned tools to control your PowerPoint wirelessly. You can try each program and see which one best suits your needs.