I notice that my iPhone has become laggy and it crashes more frequently than before. I have already deleted unwanted photos and videos to free up some space but still the same problem exists. I think there's nothing I can do to speed up my iPhone except cleaning up the junk files. Also, are there easy ways to do this?

Browsing the internet, installing different applications, playing online games, downloading pictures, visiting streaming websites and all others are just some of the most common things we do on our iPhone. However, these are also the very reasons that piles up your memory with unwanted stuff. Bear in mind that iPhone stores every piece of things when you open a site, launch an app or do something else, generating files that take up memory. Things like cache, cookies, error logs, game files, temp files, etc. accumulate over time thus affecting the phone's performance and available memory.
If you want to free up some valuable space on your phone, improve its performance and delete unwanted stuffs out from your device, all you need to do is to clean junk files from iPhone. Junk files are very safe to delete and they can be regenerated easily. After the break learn how to remove them easily.
Solution 1: Clear iPhone Safari Temp files from App Setting
If you want a smoother and faster browsing experience with your iPhone, clearing up all those temp files saved over time will really help most. This method doesn't require third party applications or in-depth technical knowledge – everything can be accomplished in three easy steps.
On your iPhone's home screen, tap "Settings" icon to open it.
Scroll down to bottom and hit "Safari" icon.
On the option list, click "Clear Cookies and Data" and tap it once more to confirm your action.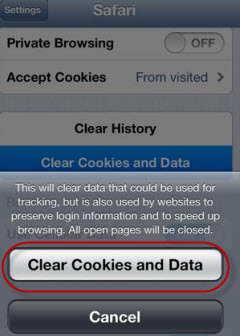 Solution 2: Clean Junk Files from iPhone using iFunBox (Free)
Another way of deleting iPhone junk files is through the desktop application called iFunBox. It does not clean junk files but instead works as a file browser and app manager. iFunBox allows you to access specific app directories so you can delete unwanted files within the folder. In return, this can free up some space and make your device run faster.
How to delete junk files on iPhone using iFunBox is very easy. Moreover, this 100% free software is fully compatible with both Windows and Mac.
Download it from i-funbox.com on your computer.
Using USB cable, connect your iPhone to PC.
Open iFunBox and it should automatically recognize the connected device.
Tap "iFunBox Classic" and on the left pane, head on to "Connected Devices".
You should see your device name and click "User Applications".
Select which application that you want to clean the caches and temp files with it, and tap it to display contents.
On the right pane, open "Caches" folder and delete all files within.
Do the same thing for "Cookies" folder.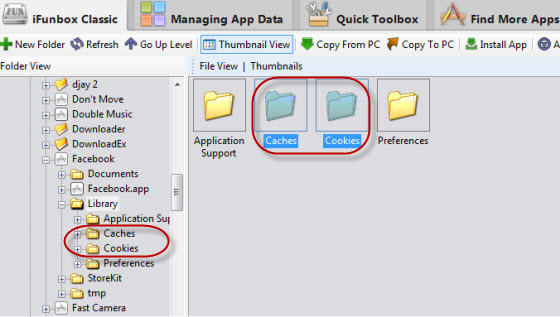 You could also delete temp files, logs and error reports from iPhone. The only downside of using iFunBox is that you need to manually delete all unwanted files within every app. There's no automatic one-click button or "Delete All" option, you need to open each application folder and follow the above steps until everything is clear.
Solution 3: Permanently Remove Junk Files from iPhone
Unlike other applications and methods of deleting junk files from iPhone, the iPhone Data Cleaner efficiently remove unwanted files and permanently erase them on your device. Equally, it is compatible with all iPhone, iPad and iPod models. This tool removes not just junk files but also other stuffs such as photos, memos, SMS, reminders, notes, apps, saved IDs, account setting and many more.
There is good news that the software has a newer version that adds up two more functions, the "Express Cleanup" and "Erase private data". How to delete junk files on iPhone using the iPhone Data Cleaner is very easy. The second newly-added feature has made the process of cleaning junk files even more efficient.
Connect your iPhone to PC using USB cable after installing the software on PC.
Open this tool and it should automatically recognize the connected device.
On the main window, click "Express Cleanup".
Hit the "Start Scan" button.

A result page will appear and you can select all the files you want to delete.
Click "Erase Now" button and wait until deleting process completes.
It offers an easy solution to remove junk files out from your device minus all the hassle and complication. Additionally, it ensures zero recovery of deleted files which makes it safe when you want to resell or give out your iPhone to others.
There are many ways to delete temp files from iPhone as well as leftover junks and saved caches. When choosing which technique or tool to use, you should always look for a simple and easy-to-understand way to do so.Because iPhone Data Cleaner supports one-click to remove unwanted items in intuitive way, it is always better than solitary software.