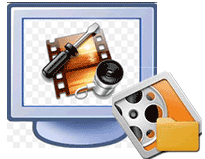 Nowadays, screen recording or screencasting is commonly done in order to create tutorials and presentations, as well as record gameplays. The video can be sent via e-mail, posted online, saved on the computer or share with other people. A screencast software is used to make this possible. If you are looking for a software to record screen with no lag, here are four of the best options. They have various features, furthermore, they can works well on computer and output HD videos. Let's get to know more about these programs to help you decide on which one to use.
The best screencast software to record screencast with no lag
Program Name: Apowersoft Screen Recorder
Developer: Apowersoft
Download Size: 5.1 MB
Requires: Windows XP, Vista, 7, 8; All Mac OS X version
Discussion:
Apowersoft has released special screen recorder for Windows, Mac, as well as free online application that you will not spend a single dollar to use it. This is the top software as it comes with great functions, aside from the fact that it can output videos without lag.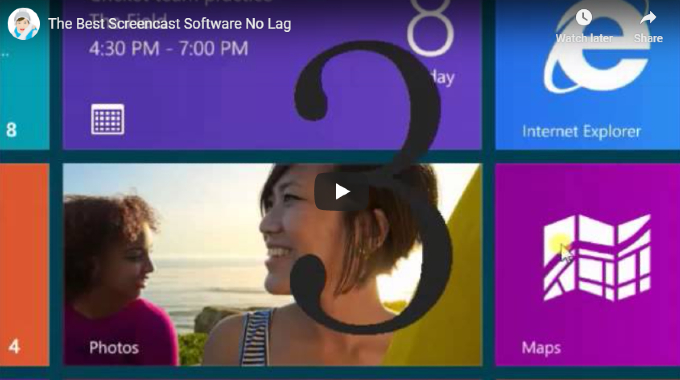 This screencast recorder allows you to record the whole screen, a certain region, around the mouse or your webcam. Picture-in-picture feature is also supported so you can insert your webcam video while the screen is being recorded. It can also record audio at the same time, whether the sound from your system, your microphone or both. If you prefer more features, you may consider upgrading to the paid version – Apowersoft Screen Recorder Pro. It is not free though you can take advantage of the free trial for several days before getting the full version.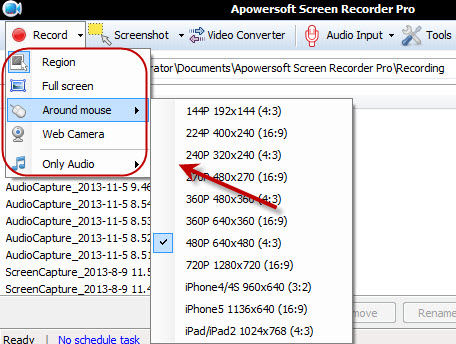 Apowersoft Screen Recorder Pro also offers basic editing features that you can use to enhance your recorded videos like adding texts, images and effects while recording. What's more, it has the ability to trim, crop or merge videos into one. While recordings are automatically saved to WMV format, the built-in converter is very helpful in changing the format of videos to other formats. It provides a wide selection of video formats including MPEG, MKV, 3GP, SWF, FLV, MP4, VI, and other formats supported by Sony, Android and Apple devices. Scheduled recording is also supported so you can record videos even if not in front of your PC.
Program Name: BB FlashBack Express
Developer: Blueberry Software
Download Size: 12MB
Requires: Windows 2000 and higher
Discussion:
Another option to record screencast with no lag is BB FlashBack Express. It has the basic features that you would need in a screen recorder. It's a good option especially it doesn't cost a thing. But it doesn't have all the features that Apowersoft Free Screen Recorder has to offer. The program lets you record the full screen, a specific window or a selected region, along with the sound from your PC or microphone. Well, you need to get the paid version that you can crop and trim your recorded videos. These videos can be instantly shared to various sites including Revver, Viddler, Blip.tv and YouTube.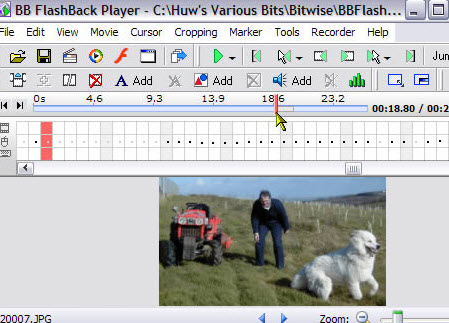 One of the drawbacks in using BB FlashBack Express is that it only supports AVI and Flash formats. This means that you need to use another program in case you wish to convert your videos into another format. In addition, it is only compatible with Windows so you will not be able to use it if running Mac. All these can be solved in first option.
Program Name: ScreenFlow
Developer: Telestream
Download Size: 28.0 MB
Requires: Mac
Discussion:
ScreenFlow is another program that you may consider for screencasting Mac screen. This is a premium application that also offers several functions in addition to recording the whole screen or part of it. It enables you to record webcam video and system audio or audio from the microphone at the same time. The program has a timer that you can use to set the duration of time that you want the software to record.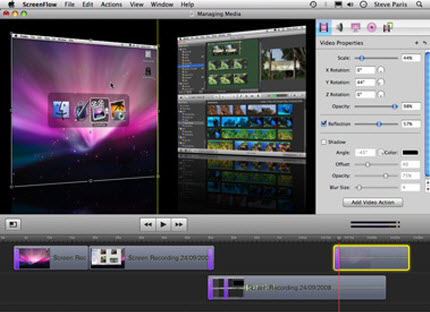 This screencasting software has a built-in editor that lets you improve the look of your videos after recording. You can add images, music, clips, texts or effects on the video that you recorded. The speed of the video can be changed too. You can make it faster to create a time lapse video or make it slower if you want to match it with your audio. Once done, you may publish your video on YouTube or Vimeo in just one click. However, it only works for Mac, and like BB FlashBack Express, it doesn't come with a converter. Furthermore, this may not be the easiest program to use.
Program Name: Screencast-O-Matic
Developer: Screencast-O-Matic
Download Size: 27.28MB
Requires: Java-based
Discussion:
Screencast-O-Matic comes with a free, as well as a premium version. With the free software, you can record screencast on Mac or Windows up to 15 minutes of video. You can record your screen to the size that you prefer, include your webcam video and publish to YouTube or save to FLV, AVI and MP4 format. The features are limited on this version though they are good enough. If you are just looking for the basic recording function and don't mind leaving watermark on your video, you can use this free online screen recorder to record video without watermark.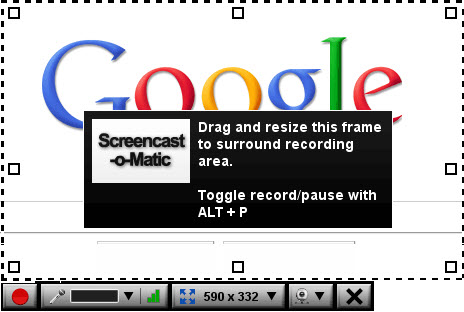 Its paid version will let you record system audio, zoom in and out while recording. And you are also allowed to instantly publish to more sites aside from YouTube such as Vimeo, Google Drive and more. The premium program also comes with editing tools that will let you cut or trim videos, add overlay, create transition, insert more clips and change speed. However, it does not support recording audio from microphone. And it doesn't offer good conversion function for you to transfer recorded videos to other formats. Though this software and Apowersoft Screen Recorder Pro are both paid applications, the latter is still the best choice because of its more powerful features.