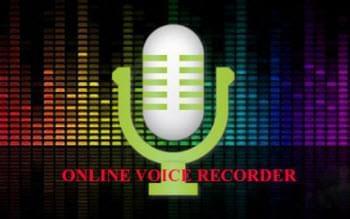 The online voice recorder is a web based program that allows us to record any audio that we want to save and share. Websites such as this can be beneficial to us, for it can help us express some thoughts that we can't express in person. It can also help us in doing some demonstrations, discussions, and other informative talks that we want to share. There are numerous online recorder that we can use, but which of them is the best?
Basically there are two kinds of free voice recorder that we have. We have recorders that allow us to record and upload the audio file that we created, while the others enables us to record and save the recorded file on our computer. Below are some of the recording tools that we can employ, they are categories according to their function.
Voice Recording Website for Recording and Uploading Audio File
Soundcloud
This well known audio sharing site caters different kinds of audio files from music to self recorded pieces. Upon visiting the site you can immediately notice a huge collection of songs from different artist. After hitting the upload menu an option is given to you its either you record voice online or browse for existing audio files that is saved on your hard drive. The good thing about this recording tool is that it produces a clear recorded voice output which can be appreciated and understand by any listeners.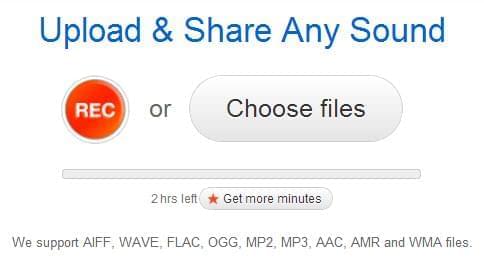 Muziboo
This is somewhat similar to the first site discussed above, there are only some differences in platform setup and the type of audio files being shared. The function for free online voice recording can not being used unless you log in first. Once you clicked record a song, the record tool will pop up and hit it to start your recording. The recording tool is fast, yet the audio output is not that clear and not that suiting for listeners.

Voice Recording Website for Recording and Saving Audio on PC
This is indeed a powerful free online voice recording tool that can record any audio from various sources such as system sounds, microphone, or both. Aside from its recording capability, this tool also have added features such as a converter that you can utilize later on, and very friendly user interface, plus it is supported by top of the line browsers and OS.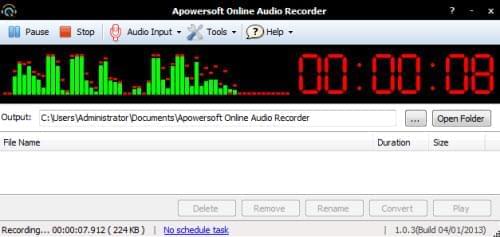 Using it, you don't have to be concerned about the audio quality, for it will surely generate a superb audio output. Moreover, there is no need for you to worry about downloading your recorded file, for it will be saved directly to your computer. And if you want to share it online, just go to the site where you want to upload it.
Vocaroo
Vocaroo is another popular online recorder specially used by students that wants to learn a certain language such as English. It has a simple platform to use and can record any audio, but also has a limitation of 5 minutes per recording which is not good if you need to record a long audio. To download your recorded file just hit the click here to save link below the tool and your download will then start.

Online Voice Recorder
This is the last tool that only used for recording sound from microphone. It has an easy to use platform and produces a decent output. To record an audio all you need to do is to click the record button and click the save icon to save your audio afterwards.