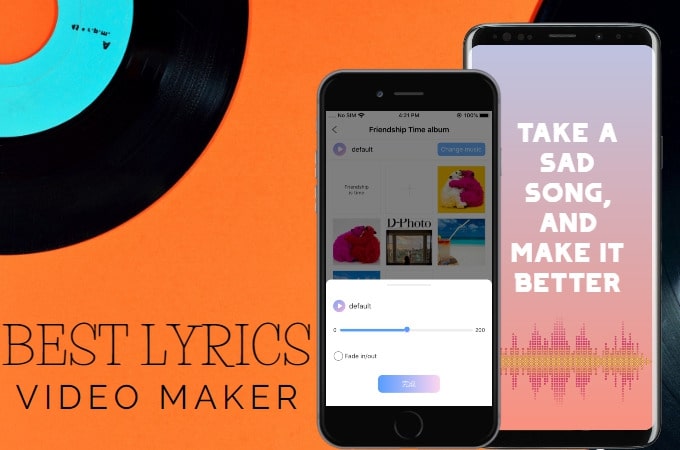 A lyric video displays a song's lyrics as the song plays in the background. Lyric videos are becoming more popular and are some of the most-watched videos on video-sharing sites like YouTube. Some of the content creators produce lyric videos using the copyright free songs available online. However, there are only limited programs that you can use to create lyric videos with your mobile phones. Luckily, we've gathered the best lyrics video creators that you can rely onto produce high-quality lyric videos. Besides that, we've also listed the free copyright funky music that you can use when creating lyric videos.
Best Lyrics Video Maker 2021
How to Make Videos on TikTok
LightMV
LightMV is the best video editing app that you can install instantly from Google Play Store and App Store. Take advantage of its professionally-made templates to make lyric videos for all song genres. Not to mention, it is so handy to customize the lyric video using its built-in video editing functions. In connection with that, you can crop, rotate, and insert some multimedia files like photos and videos. Aside from that, it has a lyric video maker online that you can access using multiple web browsers. So if you're wondering how to create and customize lyric videos using this app, check the simple steps below.
Features:
It has a smart and intuitive user interface.
Wide-range accessibility of the program to multiple devices and browsers.
Provides an extensive collection of video templates.
Capable of saving the video in Full HD quality.
It can share the videos to Twitter and Facebook directly.
User Guide:
First and foremost, download and install the LightMV mobile app from Google Play Store or App Store. After installing, launch the app to use it further.
Next, choose the video template you want to use. Then, tap the "+" icon to upload the multimedia files you wish to include in the lyric video.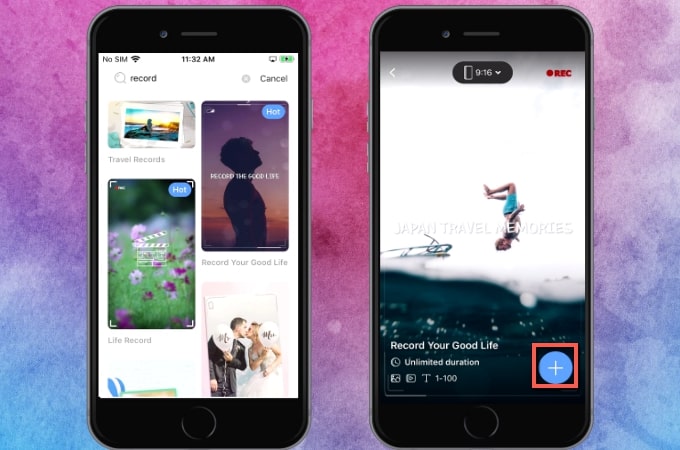 From here, tap the uploaded files and hit the "Add text" button to insert the lyrics of the song.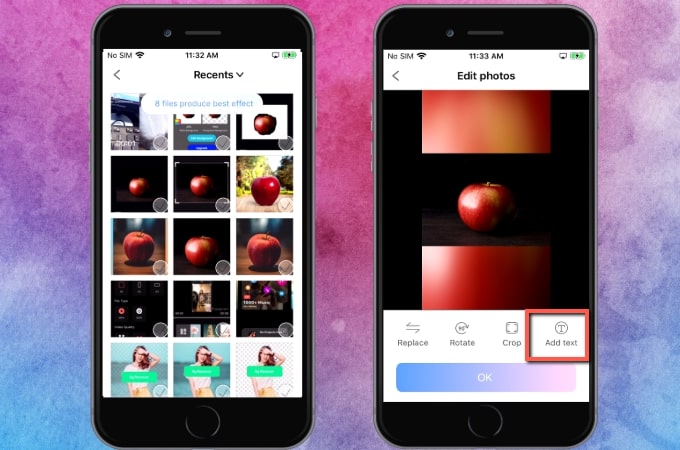 Once done, go to the "Change music" option and tap the "Upload music" folder to insert the song you want to use in the lyric video.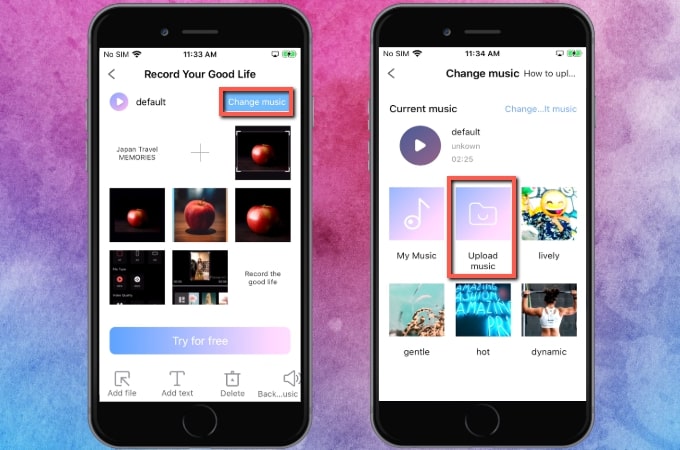 Lastly, tap the "Try for free" button below to process the video. Then, hit the "Download" icon to save the lyric video on your mobile devices.
TikTok
Next, we have TikTok. This is another best lyric video maker app that you can rely on to create a lyric video for your favorite song. Moreover, it is the perfect app to share your creativity with a video. TikTok enables you to create short videos of up to 15-60 seconds while dancing, singing, or more. In addition, you can personalize the video by adding text, stickers, effects, and other objects.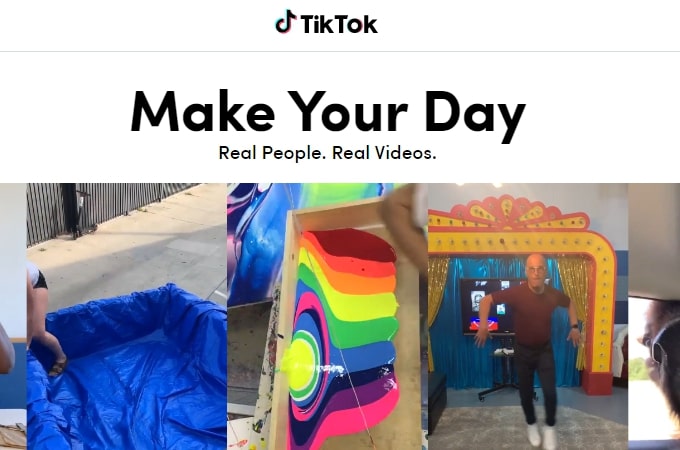 Features:
It has a rich collections of filters, effects, stickers, transitions and etc.
It can trim, adjust clip and configure the play speed of the video.
Provides a free music library.
Supports social media sharing.
InShot
Lastly, we have InShot. It is a full-featured video editing app to make lyric videos using your Android and iOS mobile devices. In fact, this app enables you to enhance your video content in just a few simple steps. You can trim, cut, split, and merge the video with precision. Aside from being a good video editor, this app can customize photos and create collages using your favorite pictures.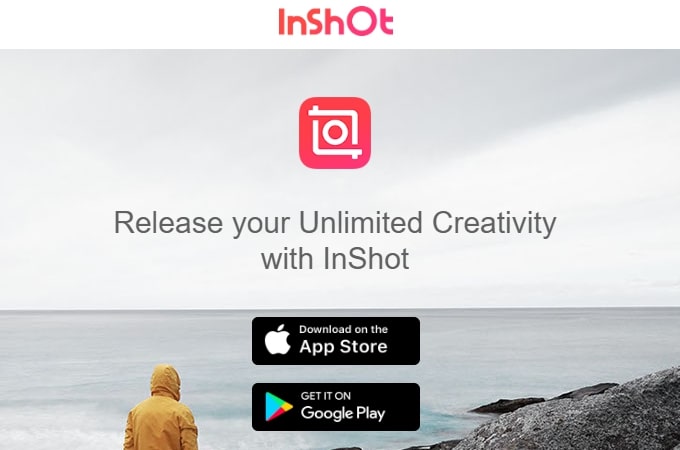 Features:
It provides free vlog music.
Capable of adding music effects and voice-overs.
It offers a large collection of font styles from different languages.
It allows you to insert multiple elements like text, filters, and more.
Free Copyright Funky Tunes for Making Lyrics Video
Aside from the mobile apps that can help you with how to make lyrics video, we also want to introduce some of the leading copyright-free songs. Here we have gathered the 15 free copyright funky tunes that contain lyrics. You can check the awesome copyright-free funky tunes that you can use to make a lyric video.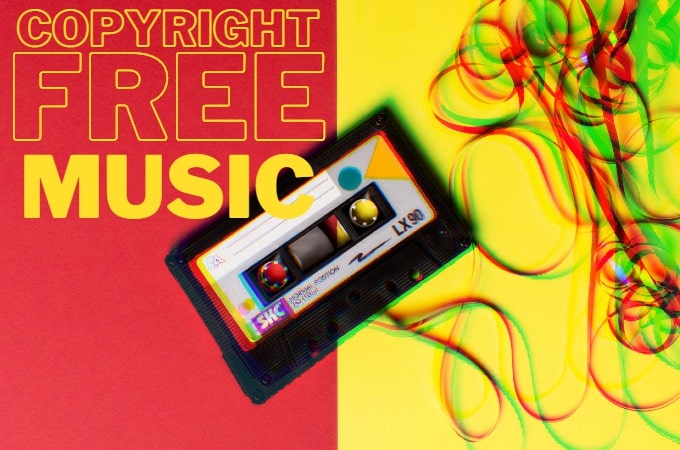 Fiji Blue – Home
William Bolton – Angel Boy
THE WLDLFE – I Don't Mind
VALNTN – Mona Lisa
Fiji Blue – Numb
Fiji Blue – Day by Day
Eric Reprid – June Blues
Space Pirate – Show Me That You Love Me
ONLAP – The Awakening
King CAAN ft. ELYSA – Go Again
Jade Key – Ransom
Indie Rock Song – Take A Walk
Rival x Cadmium – For Life
Fiji Blue – Butterflies
William Bolton – Nowhere
Conclusion
As we mentioned above, these are the best video editing apps that can help you with how to create a lyrics video easily. In addition, we've also gathered some of the copyright free music that you can use for your lyric videos. However, although these are all great apps, we recommend LightMV because of its user-friendly interface and its accessibility to different devices and browsers. For more suggestions, feel free to comment down below.