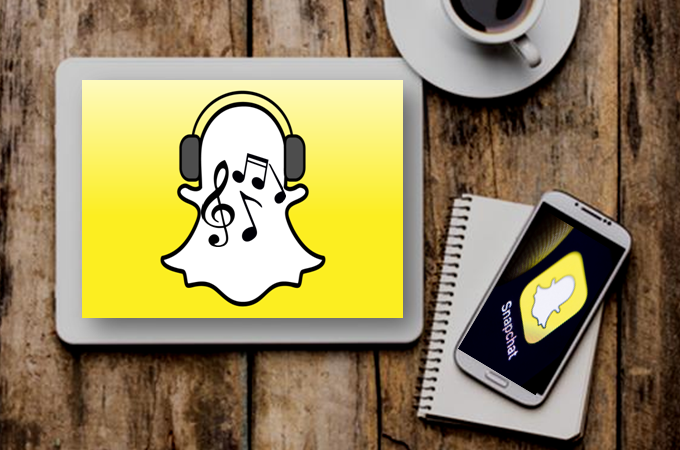 Snapchat is not just a program for sending pictures back and forth. Its "Stories" features allow you to share your every moment, like Instagram, YouTube and other similar apps. One of the most interesting options is to add music to Snapchat videos to wow your followers. You have probably looked for a way to do this before. Playing a background song to play in the background on a Snapchat video is really a great way to personalize your stories and videos. Here we'll show you several ways to do so which are practical and easy. Let's check them out.
How to Add Music to Snapchat
iOS solution – Record a snap while playing music
The most basic way is to play a song and record your Snap simultaneously. You can play any song from an app on your device. This method is available for any systems. We didn't include Android devices here because there are more efficient methods available to Android users, which we will discuss later. Let's take the iPhone as an example. Below have written the process you should follow to add music to Snapchat.
Open a music app (Spotify is commonly-used) on your iPhone, and start playing a song. Adjust the volume in order to get the best results.
After that, open the Snapchat app. Bring up the Control Center by swiping up from the bottom of the screen and press the "Play" button in the music section to start playing the song again.
Swipe down to hide the Control Center, hit the "Recording" button inside of the Snapchat app to record and capture your video as you would normally do.
Post your new Snapchat video with music to your Story or send them to your friend.

Amazing, isn't it? If you want to add a specific section of a song as the background music of your Snap, instead of playing the song from the beginning to the end, you just need to play the song during the time frame that you want to record.
Android solution – Inshot Video Editor
Compared to the first method, using an app is much easier and gives us access to more features to render a cooler video. Inshot Video Editor is such an app. Not only can we use it to add music to Snapchat video, but also to edit the video with its built-in functions. These include, for instance: cut out unwanted clips, control the play speed, adjust the volume, add filters/stickers/text, etc.
Get the app from the Google Play Store.
Open it, tap the video menu and choose the Snapchat video that you want to use.
Press the "Music" button, then select the music file that you want to add to your video.
Then tap the "Save" button and wait until it has been saved to the video.
Finally, you can share the video to your Snapchat account.

PC solution – BeeCut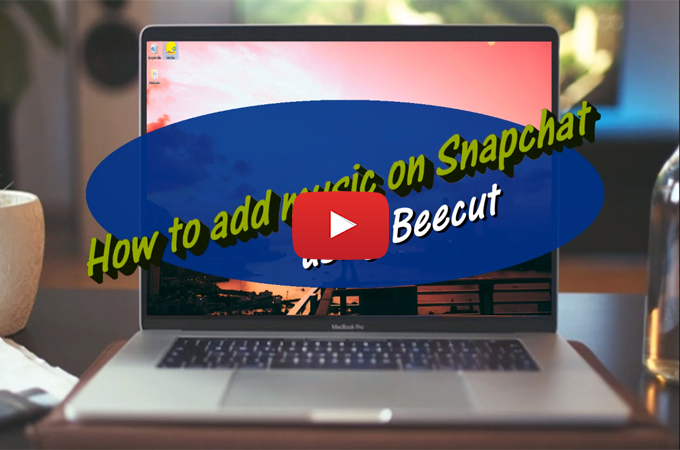 If you want to use a more professional way to add music to Snapchat on your desktop, then we highly recommend BeeCut, a full-featured yet easy-to-use video editor. Using it, you have more freedom to further add personality to your stories.
Main features:
Add any music to any video
Supports different video aspect ratios, including 9:16, 1:1, 16:9, 4:3 and 3:4.
Hundreds of filters, overlays, special FX, stickers, transitions, borders, and text, etc.
It offers double tracks of picture-in-picture, text, filter, and overlays.
Can reverse, zoom, split, crop, merge, adjust volume, and play speed, etc.
Adding music to Snapchat video using BeeCut is quite easy:
Download and Install the software to your computer. It's available for Windows, Mac, iOS and Android.Download
Open the software, then choose "9:16" as your video ratio aspect.


Under the "Media" tab, click "Import" and add the video as well as the song into the software.


Drag and drop the video and the music to the timeline. Highlight the video or the audio on the track and click the "Edit" button in the toolbar if you want to edit them.
When you're done, click the "Export" button and choose your preferred resolution to save it.

How to upload saved videos to Snapchat
The final step comes after you've finished adding music to Snapchat. Some apps allow their users to directly share the videos on Snapchat, but some do not. Here we can just use the "Memories" feature to upload our videos. It's really easy.
Open your Snapchat app on your mobile device, then press the image icon at the bottom of the camera button.
Then, tap "Camera roll", and choose the video to send it as a message to your friends or post it as a story.
Tap the three dots icon in the upper right-hand corner and then choose the blue "Send Photo" button to upload it to the Story.

Bottom Line
You should be aware that some videos you upload to Snapchat will look different to the version that you saved on your device. Some might appear with black borders. This is because the format of your file is not fully suitable for this platform. This is especially for videos which aren't taken through the app, or a video that has been processed with other apps. Snapchat will automatically do its best to make your video look good enough to send.