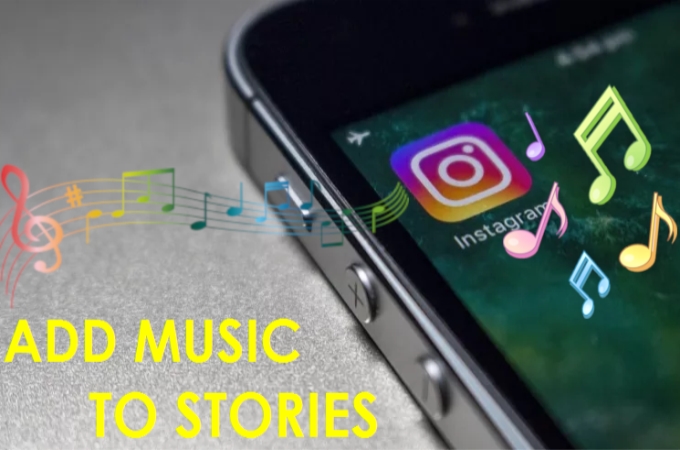 One of the best features that Instagram hooks people with each other is the Story feature launched in August 2016. It allows users to post photos and videos and lets other users like, follow or even add to their feed. Recently, Instagram added a new awesome feature to its Story in the latest update. Users now can add music to Instagram Story without the help of some additional apps. It has included a huge library of music soundtracks which people can browse and pick up for their "stories". Of course, these are not full songs, but are 15-sec clip that you can use for your photos and videos. But keep in mind, this feature is not available in every country and can only be used on iOS devices. If unfortunately, you are in the unavailable list, you can have a look at solutions we rounded up for you.
Download
How to Put Music on Instagram Post within Available Countries
Before you get started, make sure that your Instagram has been updated to the latest version on your iOS device.
Open Instagram on your iOS device. Shoot a video for your Instagram story or you can also use the ready-made videos directly on your device.
Tap the smiley button at the top right side of the screen, from there, you will see a new "Music" option on the second line. Tap that, and you will be directed to choose music. If you already have an idea of the song, you can search for it directly.

Once you have chosen the song, you can customize the length of time it plays as well as where the music starts in the song.
When you are happy with it, you can post it as usual. The "Music" feature will not only let your friends know what they are listening to, but also view a sticker with the song title and artist name.
Available countries: the US, the UK, Australia, New Zealand, France, Germany, and Sweden.
How to Add Music to Instagram Story outside the Available Countries
iPhone Solution – Record Instagram video while playing music
There are a lot of video editors that will assist you in adding music on your iOS device. However, most of them are paid and costly. There is an alternative method that you can use to add music on Instagram video for free. Check out the step-by-step guide below.
Open your music app, for example, Spotify, and select the song you want to use. After that, move the time bar where in the song you want the music begins, then pause the song.

Open your Instagram app and tap the "camera" icon located at the upper left of your screen.

Swipe up from the bottom part of your screen to open the control center of your phone. Then, swipe left to open music preference and tap the "play" button to start playing the song you have paused just now.
After that, quickly close the control center and start recording your Instagram video.
When it's done, you can post the video with music in your Instagram story.
Android Solution – Make use of Inshot Editor App
If you are an Android user and are looking for a way to add music to Instagram story, Inshot Editor is perfect for you. This app is one of the best all-in-one video makers on Google Play Store. It allows users to edit, merge, adjust video ratio, trim, add filters and insert soundtracks in videos. Its recent update supports to create multiple audio tracks. Let's see how to add music to Instagram story with the help of it on Android device.
Launch Inshot Editor, then select "Video" and choose the video you want to use then tap the "check" button.
After that, navigate to "Music" > "My Music" > then select the soundtrack that you want to add in your video. Once done, tap the "check" button.

Now, from the top right-hand side of your interface, tap on the "Save" button then choose a video quality and wait for a few seconds.
Once processed, you will be given an option to save/post your video. Select "Instagram" then post your video.
PC solution – ApowerEdit
ApowerEdit is a lightweight, quick and reliable desktop video editor for Windows. This program comes with an intuitive interface and its drag-and-drop feature makes it very easy to put music to Instagram video. And you can also make edits on the music with the provided tools in the software, for example, cut the unwanted parts, adjust the volume and speed, set the fade in and out effect, and so on. Besides, as a video editor, it has a collection of filters, overlays, transitions and stickers that you can use to customize Instagram videos. See the detailed process.
Open the software, go to the "Media" tab then click "Import". After that, locate and select the video and mp3 file, then click "Ok". All files will be added to the "Media" section for processing then.
Drag the video to the video track and the mp3 file in the audio track, cut out the clips you don't want to use and be sure the beginning and ending of the video and the song are justified.

(Optional) Choose the song in the audio track, right click on it and you can go to make some edits on it.
Preview the whole file, export it by clicking the "Export" button and wait for a few seconds to let the software process the file. Once done, you can upload it to your Instagram.
Conclusion
It is an undeniable fact that there are a lot of apps or software that can help to put music on Instagram video. Do you have other suggestions? Do you like our recommended solutions? Do not hesitate to leave your opinions in the comment section to share your idea.