Microsoft PowerPoint is the most popular program used for creating slides or presentations. These slides are often used for training, education, sales, marketing and entertainment. Slides are also created as personalized gifts for loves ones or for honoring someone like a teacher, employer, etc. You can add sound to PowerPoint in order to make it more appealing and lively. Special effects and background music can improve the overall presentation. Make sure that you use supported audio file formats that include .aiff, .au, .mid or .midi, .mp3, .mpa, .mp4, .wav and .wma.
How to Add Audio to PowerPoint?
Adding audio to PowerPoint presentation is quick and easy. Open the slide that you want to add audio to, click the Insert tab and click the drop down arrow on the Audio option. But there are three options provided by PowerPoint, choose if you wish to add sound from a file, from a clip organizer or by recording a sound.
Option One: Add Audio from File
In order to add audio to PowerPoint Presentation, you need to save the sound file that you wish to include on your presentation to your computer in advance. If you do not have audio or music saved on your system, you can download music from the Internet. You can even extract audio from videos posted on various video sharing sites like YouTube or record audio from radio stations online. But you can't do these stuff without something like audio recorder.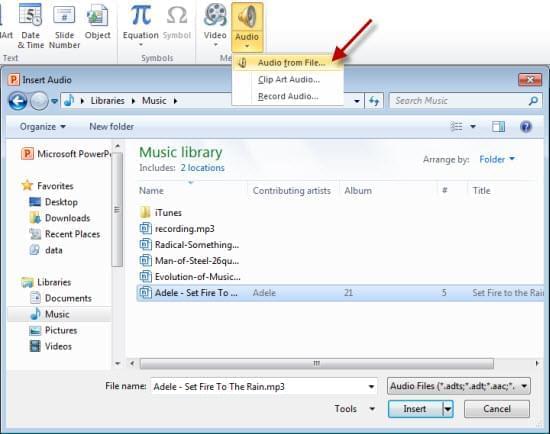 Streaming Audio Recorder is the best program that you can use for recording any sound from sound card and even from an outside source if you have a microphone. The simple user interface is easy to navigate that you would know instantly what the options are for. Just play the video that contains the audio that you would like to extract or any sound that you would like to save on your computer and click Record button to start. The files are saved to MP3 by default, and you can directly insert the audio files to PowerPoint, without worrying about the supported audio file formats.
This is a great tool, especially if you have no experience on how to add audio to PowerPoint as it is powerful yet uncomplicated to use. Aside from recording audio, you can also download music from this tool and save them directly on your computer. Downloading is fast and it also supports multiple downloads. Other features that you can enjoy are audio editing and CD burning.
Option Two: Add Clip Art Audio
You can also add clip art audio to your presentation. These audio clips come built-in with PowerPoint. However, the options are only limited and as the name suggests, they are only short clips like claps and telephone sound. This may not be ideal if you wish to make a personalized or more appealing presentation.

Option Three: Record Audio to Add
The last option is letting you record sound from microphone with PowerPoint Embedded audio recorder, which is something that is also offered by Streaming Audio Recorder. However, the best place of using a professional audio recorder is that it ensures the highest audio quality output. No matter you want to record from your microphone or record music playing on your computer or online, it can always satisfy you. To create an excellent and appealing presentation, learning the way of adding audio to PowerPoint is important to you.