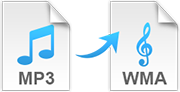 MP3 is a widely used format for audio streaming or storage. Most of the music we hear in daily life is compressed via MP3 format. Nearly all the electronic products such as Walkman, cellphones, tablets can play MP3 files. It uses a form of lossy data compression designed to reduce the amount of data required to represent the audio. WMA is another audio format which has relatively high sound quality using low storage.
Many people hold the view that MP3 has poorer sound quality than WMA at low bitrates. Theoretically, when the bit rate(the number of bits conveyed or processed per unit of time, can be used to describe the quality of an audio or video file.) is lower than 128k, WMA sounds much better than MP3. Moreover, MP3 uses a little more storage space than WMA. Therefore MP3 is not a good choice if your computer runs low on disk space. Additionally, since WMA is developed by Microsoft, it's highly compatible with windows platform, if you use Windows Media Player to play music, it's better to choose WMA format. So on these occasions, people may want to convert MP3 files to WMA. Given that, we would like to offer you the solutions in this article to help you.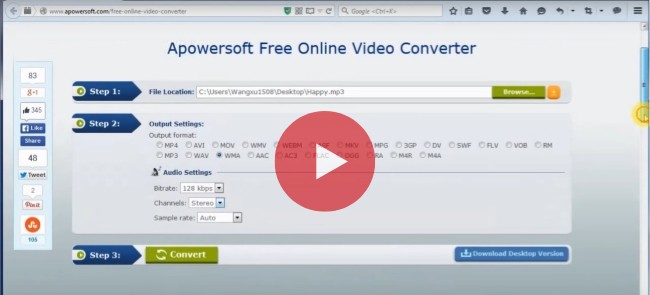 Two Easy Ways to Convert MP3 to WMA
1
Method one: use Free Online Converter
One of the most advised free online MP3 to WMA converters is Apowersoft Free Online Video Converter. It is a website service workable for both windows and Mac system. You don't need to install the desktop application on your PC. But you'll have to run the newest Java Applet first then you can activate the conversion. If you haven't updated it yet, please follow the tips popping out on the page to download and install. After that, please read the instruction below.
Choose the MP3 audio you want to convert.
Choose the output format as WMA, and select bitrate, channels and sample rate according to your preference.
Click the "Convert" button, and the conversion starts. When it's done, the WMA file will be saved to your computer automatically.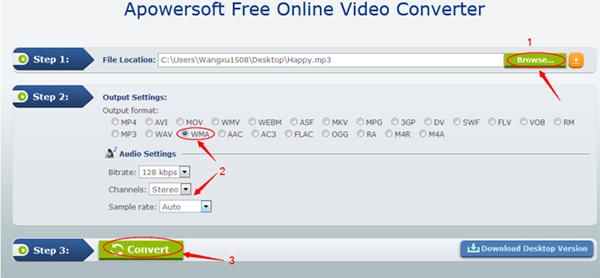 However, there are some limits you may need to take into consideration. First of all, as an online service, it requires relatively high network speed. When your network is in a bad condition, it is very inconvenient and annoying to convert MP3 to WMA online. Secondly, if the file size is too big, the process would be very time-consuming. Besides, some people may have the concern that the files they upload may be saved to the website and therefore get leaked out.
As a result, we would like to suggest you try its desktop version if you have any of those misgivings.
2
Method two: use Video Converter Studio
Apowersoft Video Converter Studio is a powerful and multifunctional program which is designed to convert video, audio and even picture formats. And it can be used to convert MP3 files to WMA as well. This software will cost you only a few seconds to get the WMA audio from MP3 source, much faster than many other converters. What's more, it can convert more than 40 files simultaneously, which will save you a lot of time and efforts when you have many MP3 files to convert. Last but not least, the sound quality is retained to the greatest degree after the conversion. And the method is as follows.
Download and install this tool on your computer.
After installation, launch it and import your MP3 file(s) to the function interface, you can add more than one MP3 file at a time.
Select the output format as WMA in the dropdown list in the "Profile" field, and you can also choose where to store the WMA files in the "Output" field.
Click the "Convert" button to activate the process. When it's finished, the WMA files will be saved in the corresponding folder.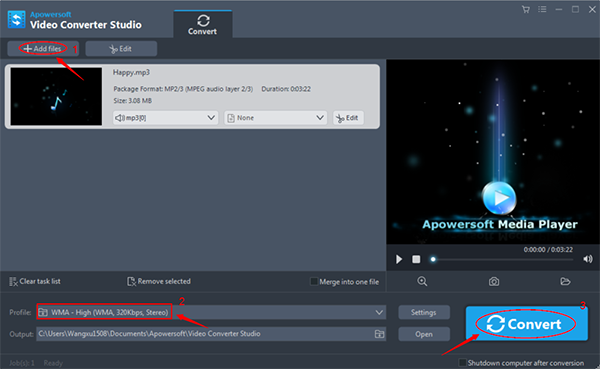 In addition, you can also do some editing work via the software. For instance, you can merge some audio files into one; you can cut and save one or several part(s) of the original files, and you can delete the section you dislike.
Conclusion
In this article, we offer you two easy methods to convert MP3 files to WMA format. You may make the choice according to your situation. If you just need to convert only several MP3 files or do it for several times, it's advisable to convert online. Otherwise, if you need to do the conversion frequently, have no access to the Internet, or concern the safety of your files, using the desktop version is the best choice.