We could find a plenty of music files in some game and entertainment software are with MIDI as the file extension at present. Those would be the commonest MIDI files on PC. Some of you may feel astonished at the fact that a 4-min MIDI file only occupies hundreds of kilobytes while a WMV file takes up 40MBytes. Even though it is compressed to be a MP3 file, it will engage 4MBytes as well. In contrast, a MIDI file is really dreamy little.
Why convert MIDI to MP3 for music playback?
Before we start to convert, we need to start out with the definitions. What is MIDI? MIDI is a protocol not sounds. It defines how electronic musical instruments, computers and other related devices can communicate with each other. MIDI files are simply a way of saving a stream of MIDI data to disk so that it can be played back later. Regardless of the profound definition, if one has a MIDI file on PC, he or she can hear sounds come out of the speaker after double-click it though it is not sound. Many a person longs for converting MIDI to MP3 though they are not of a sort, which seems to be unreasonable.
However, there is a saying goes that what is rational is actual and what is actual is rational. In this context, what inspires people to transform MIDI files to MP3 files could be concluded as two points below. Firstly, players usable for playing back MIDI files are far and few between. Secondly, MP3 is the most popular format so that almost all devices on the world support it. Referring to the table to know about the differences.
| | File size | Sound quality | Supported devices |
| --- | --- | --- | --- |
| MIDI | Hundreds of Kilobytes | Depends on the sound source | Few |
| MP3 | Up to Mbytes | Maintains the original quality | Almost all devices |
What methods could be adopted to convert MIDI to MP3?
Every music lover should be aware of at least one audio converter. If your devices could not identify the MIDI music you throw at it, won't play normally, produces error messages, then you'll need access to one of those audio converters to adjust the music to other compatible files. They help and transform the formats and ultimately make them available for playback on the device.
Let's look at the best options for MIDI to MP3 conversion.
Apowersoft Free Online Audio Converter
Probably any habitual music listener would have come across an online audio converter and if so, I feel sincere to advise Apowersoft Free Online Audio Converter. Focused entirely on assisting converting audio and video files, this online application contains a wealth of utilities including video to video converter, video to audio converter, audio to audio converter and some other affiliated functions like video trim, video crop, video rotate, video effect, subtitle, audio bitrate setting, audio channels setting, audio sample rate setting, etc. Here comes the tutorial.
Difficulty: Quite easy.
Time required: Setup time: none. /Conversion time: depends on number of files, CPU speed and net speed.
Advantages: convenient and instant.
Disadvantages: easily influenced by the net speed.
Here is How:
1
Go to access the online MIDI to MP3 converter web page before you do any further research for the detailed steps.
2
Click the "Browse" button to navigate where the MIDI files are and select the one you want and click "Open" to upload the files to the converter.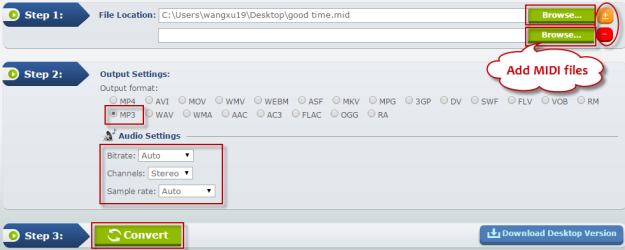 3
Choose "MP3" as the output format and go to "Audio Settings" section to change the bitrate, channels, and sample rate, etc.
4
When it's done, hit the "Convert" button to begin the conversion and after it has finished, go to where the MP3 file locates.
Additional remarks:
This online video audio converter is specifically designed with Windows and Mac in mind. It provides a fully functional operation for converting and editing audio/video rather than just providing you a pure conversion from MIDI to MP3. Video conversion supports the output format of MP4, AVI, MOV, WMV, WEBM, ASF, MKV, MPG, 3GP, DV, SWF, FLV, VOB, RM and audio conversion supports MP3, WAV, AAC, AC3, FLAC, OGG and RA as the output audio file formats.
Apowersoft Video Converter Studio
Are you satisfied with the aforementioned approach? It is pretty remarkable how simply the online application has worked its way on converting files. But perhaps something would frustrate you when you are using it. Quite clearly the critical flaw is the interference of the situation of the internet. If the network got blocked, you need more time to convert MIDI to MP3. Employing a third-party converter saves your time and energy relatively. It is certain this program holds and even strengthens all functions the online application has got.
Difficulty: Easy.
Time required: Setup time: 3 mins max. /Conversion time: depends on number of files and CPU speed.
Advantages: fast and convenient, especially for converting multiple files.
Disadvantages: need to download and install at first.
Here is How:
Install and run it first.
Click the "Add" button to select MIDI files and upload them to the program.
Go to the "Profile" field. With a left hit on the bar to choose "Audio" from the pull-up format menu and select MP3 as the output format.

Go to the "Output" field and determine the folder you want them in.
Hit the "Convert" button to start the conversion from MIDI to MP3.

Additional remarks:
There are a number of people across the world look to some converters to process video/audio files on their hands. This third-party converter is primarily useful, in the long run, as the software for converting, editing and managing videos and audios smartly. Integrated with a shutdown assistant, it helps you shut down the computer as soon as the files are all converted if you have no time to waste on this. That several video pieces burn to one file is possible here. Editing video is much simpler than the online application.