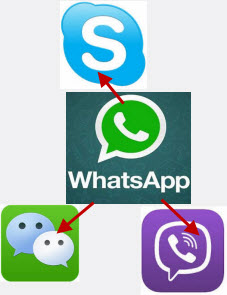 As a pure communication platform without games, ads and tricks, WhatsApp has accumulated over 800 million active users so far. WhatsApp has become the most competitive mobile app against Facebook. That's a major reason why Facebook decided to acquire WhatsApp with USD 19 billion on February 19, 2014. Even with the overwhelming popularity that most communication apps cannot compete, many iPhone users still prefer alternative communication services, for they do not have to pay one-time USD 0.99 fee for using WhatsApp. If you are also part of the people who want to use free message apps, you can look for the following free WhatsApp alternatives for your iPhone.
The best WhatsApp alternatives that you can use
By looking into the alternative solutions, there're renowned apps like Skype, Viber and WeChat, all of which similarly offer you powerful instant messaging function. Services provided by these apps always keep you in touch with friends or families on a timely basis.
1. Skype
2. Viber
3. WeChat
Skype – easy for calling
Skype is famed in the software world mainly for its voice and video calling feature. It integrates a powerful instant messaging, texting, call forwarding and video conferencing. You can make international, national and local calls to mobiles or to other fixed-line telephones at a low cost. Skype empowers you to send photos, videos, voice messages and group messages. Unlike WhatsApp, you approve the people to add him/her into your contact list before you could start chatting. With Skype, you can liaise with others without any charge. Thanks to its reliability and stability, Skype has made itself a famous WhatsApp alternative.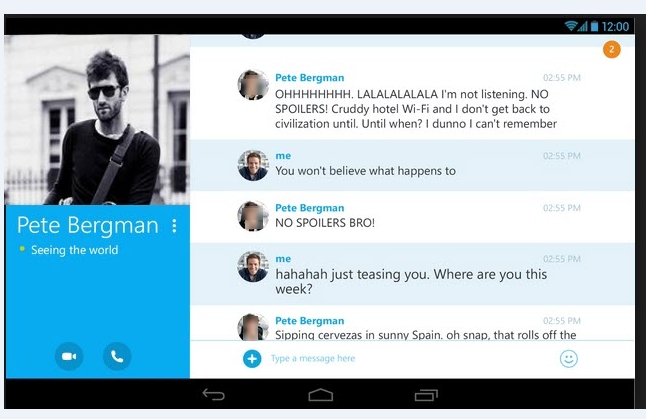 Viber – parallel to WhatsApp
Currently Viber has over 100 million monthly active users. It is widely used to text messages, make HD-quality phone calls and video calls, send photo and video messages worldwide. You will be given an access code on your phone number through text message and then you need to access the address book to see whether the contacts are linked with Viber. It is identical to WhatsApp for it also creates an intrinsic contact list in accordance to the contacts on your mobile. The app synchronizes with the phone's address book and mobile contact list, so it can automatically search which contacts have on Viber. Users call people not inside the list though Viber may charge low fees. Differing from WhatsApp, Viber enables you to make calls with Internet connection.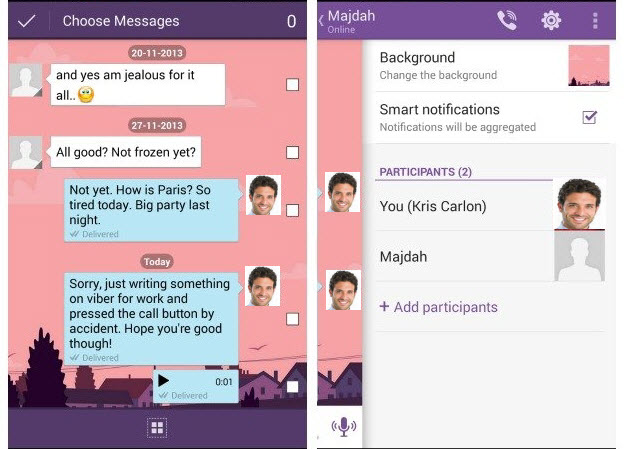 WeChat – popular in China
WeChat is another mobile texting and voice message communication app developed by Tencent in China. It is free, cross-platform and multi-featured. Till August 2014, WeChat has got 438 million active users including 70 million users outside of China. For its steady functionality and unique design, WeChat is regarded as the best alternative to WhatsApp in China. Users can sign up with phone number or register just with their Facebook account. WeChat now supports people from over 100 countries to register with mobile numbers. It supports free cross-platform individual and group messaging, including text message, voice message, stickers and walkie talkie. Users can share images, videos, business cards, lucky money packages or personal positions with anyone of their contacts, or send them to friends in a group chat. With this communication service, you will never feel isolated from your friends.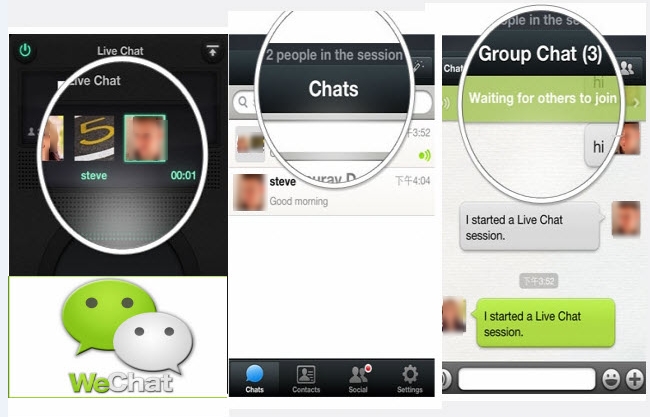 There are many other good but free alternatives like LINE, Kik Messenger and Facebook Messager, all of which offer users more options to make instant messaging. Without spending a penny, you can keep in contact with others.
In order to well manage a communication app, iPhone users nowadays often install a gadget called Apowersoft Phone Manager. This phone manager is uniquely designed to managing different iPhone apps. You can install or uninstall app on iPhone, import pictures, voice memos or other files to your communication app or export files inside of your apps. Now follow steps below to learn how to manage these WhatsApp alternatives on your iPhone.
Download this phone manager from the Internet and install it on PC.
Connect your iPhone to computer through USB connector and download the communication app that you want to install on iPhone.
Go to "App" tab and then click "Install" button for installation of the instant message app.

Double click the installed apps, you can import, export or delete the files insider of the apps.

Click "Disconnect" button to disconnect your iPhone from PC after completion.
No matter which WhatsApp replacement you install for your iPhone, make sure you know the right way to manage these apps. If you do not have further interest in exploring other similar communication apps, welcome to try the ones mentioned above, as these apps are not just alternatives but better than WhatsApp in some aspects.