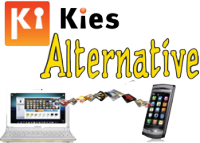 Samsung Kies is a free program. It is used for managing files and updating operating system of supported Samsung phones on a Windows or Mac computer. However, you may need to search for an alternative to Samsung Kies if your device is not compatible with the application as it does not support all Samsung phones. Other users also have problems with their phones not being detected one the list of Kies's devices. What's worse, it tends to be slow at times.
Top 5 Alternatives to Samsung Kies
If you are having difficulties using Samsung Kies or you do not have a supported device, there are some other software that you can use that would also allow you to manage your files on Android in better way. In this article, we will go through five of these options. We'll tackle them one by one so you could decide which one works best for you.
Apowersoft Android Manager
The first application that we will talk about is Apowersoft Android Manager. This is a program that does not just work on Samsung phones but on other Android devices as well including HTC and Motorola phones. You can use this Samsung Kies alternative for Mac to manage, restore and backup files like videos, images, music and contacts, etc. that are saved on your mobile. Connect your device to your computer with a USB cable or via WiFi and start managing your files after your Android device is detected. It has a clean, organized and easy-to-understand user interface making it convenient to navigate and use.
Click the name of your device on the left side of the window.
Select the files that you wish to access. You may click on "music", "videos", "photos", "contacts", "SMS" or "apps".
Clicking on any of these options will show you the files on the right column and allow you to manage them.
For instance, clicking on "music" will list the songs saved on your phone. You will then see various options on top of the screen including "add", "delete" and "export".
Clicking on "add" will let you transfer files from the computer to your Android phone.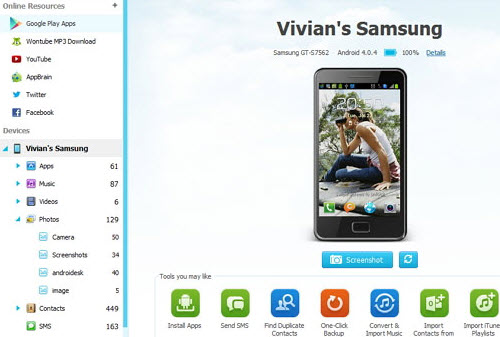 Mobiledit
The second application that you can try is called Mobiledit. One of the good things about this program is that it supports almost all types of phones. So this means that you would not need one application to manage your Android files and another one for your iOS device. It offers several helpful features but it is not for free. Some of these features include automatic backup of files, drag and drop, phone copier, etc. Its interface is similar to Windows Explorer so you would be instantly familiar with how to use it.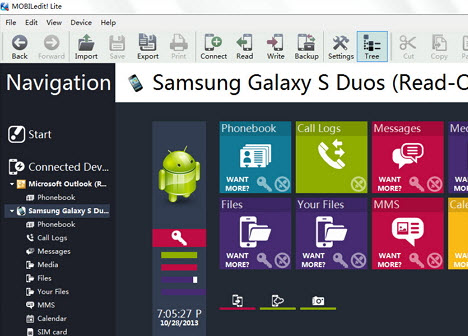 AirDroid
Our next application is AirDroid. This one is web based so you don't need to install anything on your computer but you need to get AirDroid app from the Android Market. Please be sure that your Android device to your PC should be on the same network. When you start the app, you will be given an address that you need to access on your computer and a password to log in. Once connected, you can view and delete files, transfer files between your computer and phone, even listen to the songs saved on your device on the big screen. There's no need to use a USB cable for this method but you need to have Internet connection.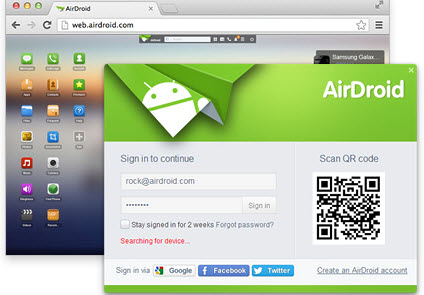 FloAt's Mobile Agent
The fourth software that works like Samsung Kies is FloAt's Mobile Agent. This freeware like Samsung Kies is compatible with Windows 95, 98, Me, 2000 and XP. It also lets you better manage your Android phone's files on the computer via wireless network or Bluetooth. With this program, you can synchronize your calendar, notes and contacts with your PC. Images, ringtones and various files can also be transferred between your mobile phone and computer. However, not all devices are supported as it mainly works on Sony Ericsson phones.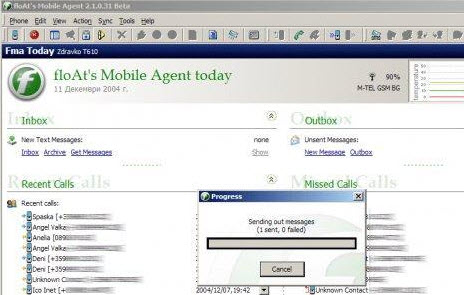 MyPhoneExplorer
The last one on our list is MyPhoneExplorer. It also comes without a cost and it can be used on Sony Ericsson phones and other Android devices. You can use this to browse and manage the content of your mobile on your PC via Bluetooth, infrared or a USB cable. However, some people find it difficult to navigate.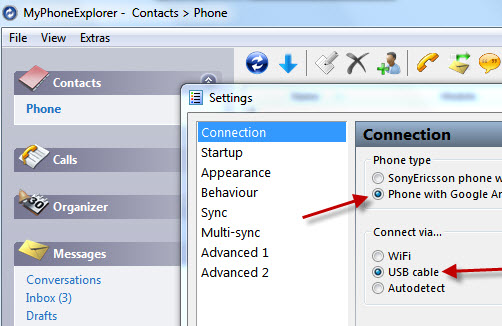 After learning more about the different Samsung Kies alternative applications available, we could conclude that Apowersoft Android Manager works on a wide range of Android phone brands and models, it also offers several great features making it the best choice. AirDroid is the best if you wish to use a web-based option. Mobiledit offers more features but you need to spend some cash for this. If you want a free application that can be installed on your computer, MyPhoneExplorer and FloAt's Mobile Agent are good options but the number of device they support is only limited.