SWF – Description
SWF, or Small Web Format, is a file extension for Shockwave Flash file format developed by Macromedia. It is now owned by Adobe used for multimedia, vector based animations and interactive content written in ActionScript. An SWF file is a popular means to stream video, vector based animations and sound on the web. It can also contain animations and applets of interactivity and function.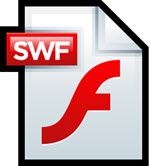 Filename Extension: SWF
Category: Vector graphic animation
Popularity: Very popular
Developer: FutureWave Software, now owned by Adobe System
Purposes of developing SWF Format
SWF was mainly designed to make it easier to deliver vector graphics and animation over the web. They are often used on banners, advertisements, games and videos. Here are the goals that it was made for:
i
Delivery on Unpredictable Bandwidth – SWF uses techniques like bit-packing to reduce file size. The files compressed in this way can be delivered over the Network with limited and slower network connections.
ii
Display on Screen – The format was originally created for displaying entertaining animations on screen. It supports anti-aliasing, high-quality rendering to any color format, animations and vector graphics at a fast speed.
iii
Display Files Independently – Files can be displayed independently with no need for loading external resources or settings. For instance, it displays text in the font properly even if you don't install the specific font on your computer.
iv
High Speed to Render Files – Files can be rendered at a high quality with a fast speed.
v
Backward compatibility – The format is an extensible format so it can be integrated with new features yet still remains compatibility with old media players.
File Formats Related to SWF Format
Other file formats associated with the SWF format such as FLA, which is the editable version and extension of SWF format. Take look at the most common ones.
FLA – FLA file extension is a widely used format for website construction including graphics, audio and video sources of a web page. The format can be edited and compiled into SWF format with Flash authoring software. Most of the time, when a file is already compressed to SWF, the FLA files are no longer accessible. However, you can use a decompiling tool to extract the FLA files from SWF.
FLV – FLV or Flash Video is a file container format for embedding videos on the web or delivering video over the Internet. FLV encodes audio and video data is in the same way as SWF. It requires Adobe Flash Player or the Flash Player plugin to play this file.
F4A – This file literally means Adobe Flash MP4 audio stream file. It is an Adobe suffix file for M4A files on iTunes that only contain audio.
F4V – F4V files are similar to M4V files in iTunes. The file format is developed on the basis of MP4 format. Flash Player 9 Update 3 and above can be used to play this format file. The file format is a container format second to FLV format for delivering flash video files.
Default Software Related to SWF Format

Adobe Flash – Previously known as Shockwave Flash and Macromedia Flash, this is an authoring application used for creating websites with vector graphics, animations and video contents. It also supports to stream audio and video.

Adobe Flash Player – Adobe Flash Player is an add-on to web browsers that used to play files created using Adobe Flash, including SWF files. It has versions for computer and mobile device for playing flash videos, games and applications in different scenarios.
Solutions for SWF format
i
Convert Video to SWF – SWF format is well known for its small size, good quality and fast delivery speed. It is still the industry standard for video on the web. Video sharing sites or social networks like Facebook also allowe flash videos to be uploaded or published on their sites to let people to comment, follow and like. If you wish to share your interesting personal videos to these websites, convert these them to SWF format would let your files be spread easily.
ii
Convert AVI to SWF – If you have AVI files that are needed to embedd to webpages, you'd better turn the files to Flash video SWF files as SWF format is designed for delivery over the internet.
iii
Capture Flash Video – Flash videos or animations on the websites are accessible if there is internet connection. But it comes with problems when you download them for offline use. Some of them are protected from being downloaded for personal use by DRM. In such circumstances, the best way to bypass the DRM is to record the videos with a screen recorder program.