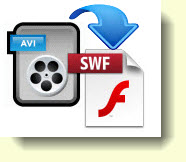 Many people want to convert AVI to SWF for the convenience of inserting AVI video to HTML webpage. We all know that SWF is a kind of video format offering good image quality with less video size when compared with AVI. It is able to be played normally on nearly any kinds of digital devices like windows, mobile phones, or others. So, it's really a good choice to choose SWF video due to its smaller size and good image quality. Yet, when search solutions from internet, seldom people know which is the best solution they should refer to. For that group of people, you can look here for the most convenient solutions as follows.
1. Free Online AVI to SWF converter
2. Professional solution for Windows
3. Powerful converter for Mac
Apowersoft Free Online Video Converter
This tool is suitable to the people who need instant solution as it can be employed as soon as you go to the website. The interface is neat and user-orientated that you are able to utilize after a browse of the page. What's more, this converter may additionally help you on the aspect of editing as it is also a basic editor, which enables you to trim, crop, rotate, mirror, speed up or slow down video and others. You could personalize the video waiting for upload according to your demand. This converter is really convenient to turn AVI to SWF online that you could have a try.
Go to the website of Apowersoft Free Online Video Converter.
Click on "Browse" button and load a target AVI video from your hard drive.
Choose "SWF" as your output format.
Click "Convert" to initiate conversion and wait for a moment. The process will be end soon.
If you are a Windows user and want a professional tool, then this converter is correctly suitable to you. It enables you to convert AVI to SWF in different resolutions such as 240p, 360p, 480p, 720p, 1080p and others. And if the site waiting for upload has some specific regulations on screen size or resolution, you could use this converter to adjust as the demand. The converter contains a built-in player, enabling you to watch and crop the video on the player's screen straightly. That unique design is really considerate for users. Moreover, it is also an easy-to-use editor which allows you to add subtitles, adjust brightness or saturation effect, trim or crop video, etc. It is a comprehensive tool helping you to upload a demanded video to your webpage. You could download and install this converter for an experience.
Launch the program.
Click "Add" to load a target AVI video.
Click on the option of "Profile" and choose SWF as target format.
Click "Convert" and wait for the completion of conversion.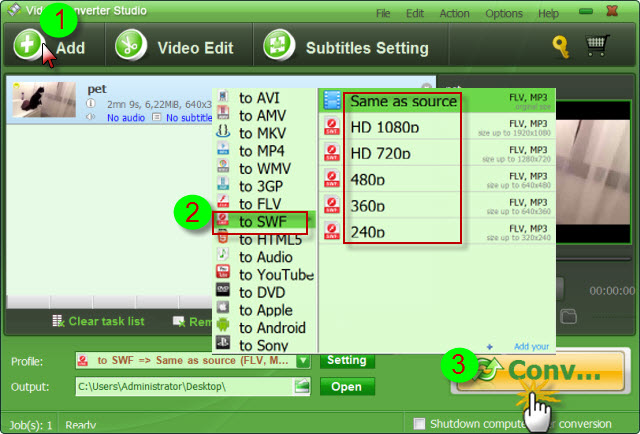 Apowersoft Video Converter for Mac
If you are a Mac user, then you could turn to this specialized tool which is tailored exclusively for Mac computer. It enables you to turn AVI to SWF on Mac as well as other formats available to various digital devices such as iPhone, iPod Touch, Apple TV, PS3, PSP and many others within ultra-fast speed. Moreover, this converter is unique due to its other function like downloading. You could use it to download videos from website directly. Thus, you can choose demanded videos from website straightly. It is really a good tool for video fanatics that you could download and install it to have a try.
Open the software.
Click "Add" or drag the target video to blank area to load the demanded video file.
Click on "Profile" bar and select SWF as target format.
Click "Convert" to initiate conversion.
Wait for a moment and the process will be end soon.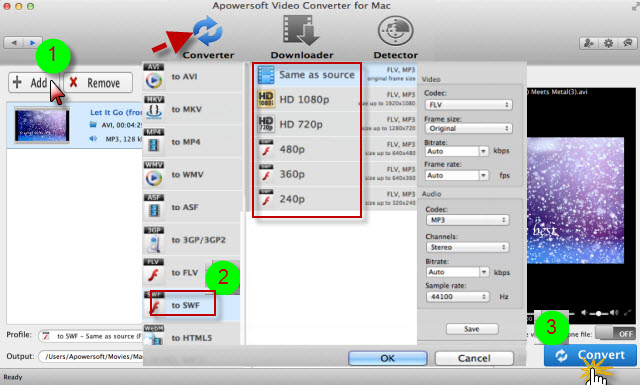 Summary: All of the above methods are accessible solutions to you. The first approach is convenient and flexible to transform AVI to SWF free. While the second and third methods are respectively suitable to Windows and Mac users who demand professional tool. You can choose an appropriate one according to your preference.