Ask
Hi, I have difficulty in reading Word documents on my iPhone. I have used iTunes, but I failed to transfer Word documents to iPhone. Can anyone tell me the solution or recommend a better software ? Thanks in advance.
Answer
Hello, thanks for your question. Actually, many people have the same problem as you. As we all know, with the Microsoft Office unveiling Word app for iOS, most of iPhone users tend to view word documents on iPhone. Yet, just like you, they often feel frustrated as they also have no idea about how to move a Word document to iPhone. Under this situation, we have searched lots of relevant information and summarized two main methods which can help you solve this problem.
Two ways to transfer Word files to iPhone:
A traditional yet free way to view your Word documents on iPhone
Through email, you can read Word documents in attachments. Before these three steps, make sure that your devices have connected to the internet, or you are not able to send or receive emails.
Sign in your email on PC, such as Gmail.
Send an email with attachment of the Word you want to read on mobile.
Sign in the same Gmail on your iPhone and load the email and simply click on that document in attachment field to read it.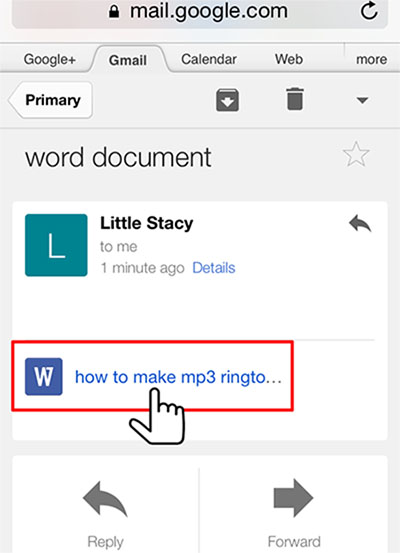 Pros: With this email method, you can view your Word documents on other iPhone or device as long as you connect it to internet and sign in your email. What's more, it's completely free.
Cons: It also has too many demerits. For instance, you need to ensure that these operations are performed under smooth internet connection. And you could only read the documents but cannot actually save them to your device. Therefore, there's no opt to edit it, too. In fact, Your Word document is still stored on email server while you're not able to actually save it to your iPhone. Now a better method will be introduced.
An efficient way to transfer Word document to iPhone
Apowersoft Phone Manager is one of the best mobile devices management tools available on the market which allows you to transfer documents to iPhone with just a few clicks. It's very easy. What you need to do is following the process below: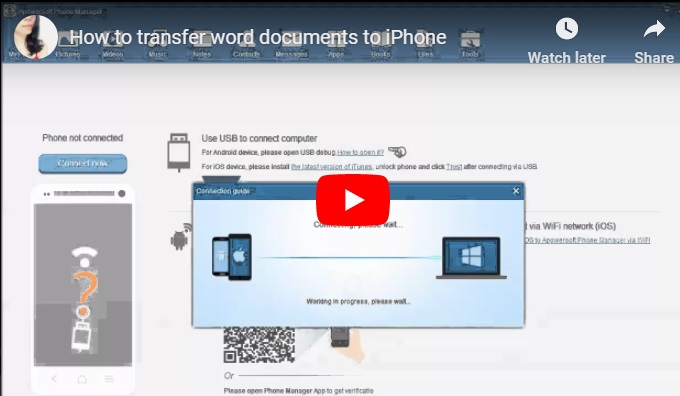 Download and install the Word app on your iPhone. If you have downloaded it before, then just skip this step
Download and install the phone manager on your PC
Open it and connect your iPhone to PC through USB, then hit the "Apps" icon on the main interface and find the Word app
Double-click the Word icon and select "Import" to load Word documents from PC which you want to view on your iPhone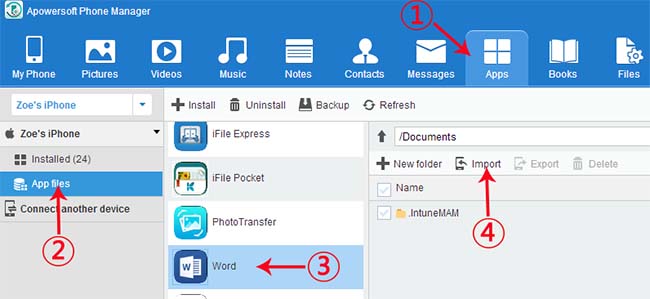 Disconnect your device, then you will see this document available under the Word app, simply load and read it with ease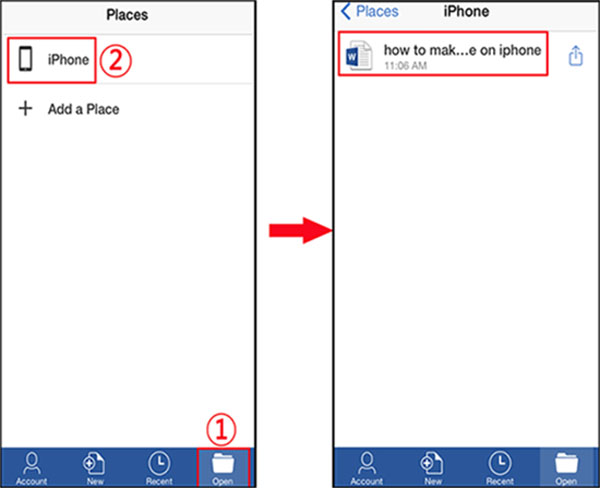 Tips: Please make sure that you have downloaded the Word app on your iPhone, or you cannot find the word documents transferred to your phone. Only in this way can you view and edit them. In addition, if you prefer to delete them, you can also do it via Apowersoft Phone Manager. With just several clicks, documents will be deleted easily. On the interface, open "Apps"> "Word", and choose documents you don't need any more, and then click the "Delete" button.
Conclusion
From the detailed introduction above, We have discussed two handy ways on transferring word documents to your iPhone. While, taking into every aspect into consideration, Apowersoft Phone Manager stands out in most of the aspects. With this software, you will know how to save Word documents on iPhone easily and view or edit them further. Additionally, this software is also famous for its versatile capability in managing both iPhone and Android phone's files such as photos, music, videos, contacts, messages, apps, documents and any other folder. It also helps you transfer, view, restore and backup your mobile files conveniently.