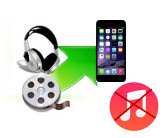 The iPhone is without a doubt one of the most portable gadgets ever present today. Aside from the ability to take pictures, make calls, browse the internet and communicate with others, you can likewise use your iPhone as an all-around multimedia device. This smartphone made by Apple is very much capable of streaming music, viewing photos and playing videos. However, transferring videos from one source to your device is yet another story.
Most of us will probably think that transferring videos from PC to iPhone is super easy with the help of iTunes. Though, this isn't always the case especially for non-techie individuals. With its strict PC requirements, tons of procedures to follow, repetitive synchronization pop-ups and sometimes confusing media library, is there another way to transfer video to iPhone without iTunes? Luckily the answer is yes. Check out below to know more.
Concrete steps to copy Video to iPhone without iTunes
1
Convert Video to iPhone Compatible Format
First off, before using any transferring tool or application, bear in mind that the iPhone doesn't support all types of video format. The most widely used video format AVI is not supported by iPhone, same as to WMV or Windows Media Player. Moreover, the FLV video files you've downloaded from streaming video websites such as YouTube or Veoh will not play on your iPhone. The same thing goes for 3GP cellphone formats and AVCHD or videos taken from camcorders.
The iPhone only supports H.264, MPEG 4, M-JPEG, MP4 and MOV video formats. To this end, you need to convert your video file first into an iPhone compatible format before you can actually copy video to iPhone without iTunes. Gladly, there are efficient video converter programs you can use such as the Apowersoft Video Converter Studio.
This program can convert all types of video files including MKV, 3GP, SWF, HTML5, AVI and many more. It equally supports high quality formats from 720p to 1080p. Moreover, it can modify audio formats depending on your desires. Using it to convert videos is relatively easy, all you need to do is:
Download and install the software on your computer.
On the main interface, click the "Add" button and upload the video file you want to convert.
From the drop down menu, choose the output format you want by clicking "Profile".
Tweak the video settings if necessary then click "Convert" to modify your file.

Depending on the video size, wait until converting process completes.
You can also use the same software to edit your videos before conversion. The Video Converter Studio is equipped with a powerful video editor capable of adding external subtitles, inserting texts, adding audios, merging video files into one, trimming certain contents, and many more. After which, you are now ready to transfer video to iPhone without iTunes.
2
Transfer Videos to iPhone without using iTunes
After the successful conversion of your videos, you can now transfer it to your iPhone without using iTunes. The key here is to use third party phone management applications like the Apowersoft Phone Manager. This tool can transfer all mobile contents from your PC to smartphone or vice versa. You can use it to copy contents such as contacts, messages, photos, music, documents, files, applications, bookmarks, call logs, videos and more. The app comes fully compatible with all iOS gadgets including iPhone, iPad and iPod while Android handsets are equally supported.
How to transfer videos to iPhone without iTunes is deemed to be easy with the help of this application. It doesn't require in-depth knowledge about computers and even novice users wouldn't find it hard to copy video files.
Download the program on your computer.
Connect your iPhone to PC using USB cable and when a dialog box appears on your phone, tap the "Trust" button.

On the main interface of the program, click the "Videos" icon on top.
From here you will see all videos stored on your device. Click the "Import" icon and select the files you wish to copy

Wait until videos are completely transferred. You may also transfer music to iPhone without iTunes with the same steps as above.
Compare the phone manager with iTunes method
That's it! Clearly, how to put videos on iPhone without iTunes is very much possible with the help of this software. Although Apple recommends iTunes when transferring video contents, the Apowersoft Phone Manager packs more useful features than the former. Unlike iTunes, the professional can easily backup mobile files and restore it at later times, it can manage multimedia contents, it has the ability to take phone screenshots directly on your computer, you can use it to project your iPhone screen to PC in real time, you can use it to send SMS using your computer, and many more exclusive features only available to this software.
True that there are many ways on how to transfer videos to iPhone without iTunes, but if you want an efficient and trouble-free method, using the recommended solutions above is what you need best. Now you can enjoy all your videos wherever you go regardless of its size, resolution, format or source.